In the music video for "Forever," released in 2009, a 22-year-old Aubrey Drake Graham towers over the camera against a massive backdrop of pyrotechnics and flashing lights. An air horn blares overhead, and Drake sings the song's hook as it moves to the instrumental, his gaze cast downward. The young newcomer's face dissolves thrice, briefly, to introduce his guests: Kanye West, silhouetted alongside pillars of fire, sparks raining from the ceiling; Lil Wayne, surrounded by women, diamonds lining his teeth; Eminem, flanked by his crew, eyes merciless and cold.
As the chorus fades out, Drake glances downward at the three biggest rappers of his generation, the undisputed kings of the last decade, and scowls.
"Last name Ever, first name Greatest."
"Forever" followed that summer's "Best I Ever Had," which introduced the Canadian artist to the public as suburbia's latest contemporary R&B icon: a new one-hit wonder to energize the country's middle school dances.
Writing him off as another urban-lite crooner lost in the wave of the late '00s mess of ringtone rap should have been easy. But while the likes of Sean Kingston and Hurricane Chris all drowned in their indistinct impermanence, Drake refused to do the same. Instead, he fronted "Forever" — one of the most stacked posse cuts of all time — making it clear that he was to be taken seriously. And what better way to establish yourself than have the three gods of modern rap music hand the torch over to you themselves?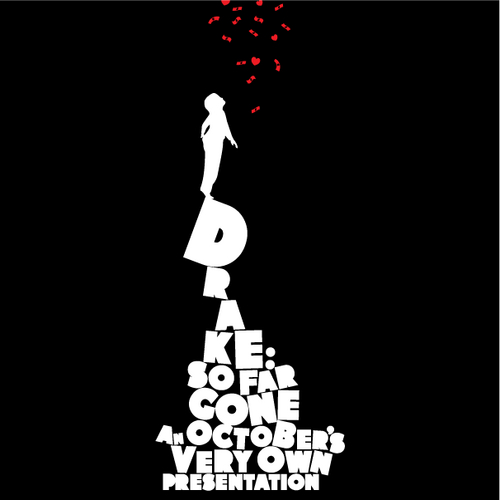 "Forever" and "Best I Ever Had" drew international attention to the mixtape Drake released in February of 2009: the career-launching So Far Gone. Although the project was his third, following mixtapes Room for Improvement (2006) and Comeback Season (2007), it was the first to abandon an independent approach in lieu of a high-profile, heavily produced record.
Stars with widespread appeal like Lil Wayne, Bun B, Kanye West and Just Blaze legitimized the mixtape as a project. Beatmakers from Diplo to DJ Screw drew curiosity from fans outside of traditional hip-hop. The EP reissue was the last time a Drake album would fail to peak at #1 on Billboard 200.
At 12 years old, I had nothing but disdain for So Far Gone. I seethed at the fact that this *Canadian* had ripped off 808's and Heartbreaks and that every girl on Myspace had "Best I Ever Had" on autoplay. In retrospect, it's a good debut mixtape — some call it one of the best. Drake, the newest kid on the block, already sounded like a veteran. Juggling confidence and vulnerability, his persona was atypical, and one of the first to embrace emotionally-charged hip-hop.
There's a weird spot in hip-hop's history that takes place somewhere between 2009 and 2011. It's a time where I'm able to recall more atrocities than classics, when jerk rap was in its death throes, and Lil Wayne released his worst albums, ever.
It was also when Young Money signed Drake.
Drake must have known how Thank Me Later (2010) would turn out, because no one would have thanked him right there and then. Of all the things that made So Far Gone decent, Drake decided that stuffing it with big names was the move to make on his debut album.
It didn't work.
I'm not sure what Birdman whispered in Drake's ear at the YMCMB headquarters, but it must have really screwed the guy up. For whatever reason, 2010 Drake decided to rap through his nose instead of his mouth. His voice is so ridiculously nasally throughout the entirety of the album that it's more thought-provoking than the actual content of his lyrics – ghostwritten or otherwise.
But if Thank Me Later succeeded in one aspect, it was catapulting Drake to the highest rung of the pop-rap ladder. The view must have be great from there, because Drake probably saw the album's colossal banalities and dropped them entirely.
Take Care (2011) was a hard departure from the electronically driven, commercial pop style heard in previous albums. The production remained extensive and expensive, but 40 and his collaborators swapped the high-energy sound for a darker, low tempo atmosphere. There's more R&B than pop, and the rap is delivered through the mouth rather than the nasal cavity.
The tracks are better and include Drake's magnum opus — the frustrated, self-aware "Marvin's Room," which, for many, is still Drake's best work, as well as the first to receive widespread critical acclaim. For a self-proclaimed rapper to succeed on a R&B track like "Marvin's Room" was more or less unheard of in 2011. Drake's artistic reinvention from one album to another emphasized his newfound status as a hip-hop juggernaut, all while showcasing improvements in his overall sound.
Take Care sounds like a deeply private retrospective, but succeeds in encapsulating the 21st century Western temperament through an abundance of accessible themes: heartbreak, selfishness, loneliness.
It became a millennial doctrine.
2013's Nothing Was the Same Drake, however, would've drowned in a bathtub, because his supposedly deep content in the album is so, so shallow. Disregarding all ten thousand of the writers who worked on this record, this Drake is by far the least personal, least relatable variant of the artist he's shown yet. In an interview with MTV earlier that year, Drake stated that he wanted "to sing the world's triumphs and problems on one record." Yet, listening to this album, one would suppose the warped, solipsistic world Drake lives in doesn't share the triumphs and problems of our own.
The myriad ostensible issues on this album are privileged and mundane; Drake simply cannot find a woman to love/fuck/trust, all while being cursed with millions of dollars. Have a problem with it? Kill yourself, bro — Drake "Started From The Bottom" to get here. "The Bottom" being a teenage sitcom star, I guess. I recall when I first listened to Nothing Was the Same, unnerved by how artificial this Drake sounded compared to the barefaced Take Care Drake. The thought entered my head that he was never the best actor.
I stopped taking Drake seriously after Nothing Was The Same. His sound had been shed of any defining qualities; his bold, dynamic persona became rigid and uninteresting. Naturally, I was ready to dismiss If You're Reading This It's Too Late (2015) as soon as it dropped.
But I couldn't. Drake may have ripped Migos' flow, he may have hopped on the trap train for profit, but I listened to the mixtape for weeks. Although his braggadocio remains standard fare, it fit here in ways that didn't on prior releases. And Drake may have the least struggle credentials out of any rapper, but he sells it here with a conviction unlike ever before.
Aside from delivering quality music, If You're Reading This It's Too Late accomplished another purpose: it recalled the idea that Drake was a capable, varied artist. The transition from Thank Me Later to Take Care was crucial evidence of his ability to expand beyond a previous album's sound. So, after Nothing Was The Same presented a puffed-chest, lazier rendition of Take Care, Drake adapted. Reminiscent of the ambitious, yet candid young man from 2009, this album's Drake is a formidable, snarling, at times wounded rendition of the artist.
If only he'd kept it up.
I mean, for a while, he did. Feuding with rapper Meek Mill (known better as Nicki Minaj's ex-boyfriend), Drake dropped diss track "Back to Back." And, in a time where rap beef is about as legit as Taco Bell, the track was a sensation, even making Drake look threatening for the first time. It sounded like a reawakening — as if the self-proclaimed greatest was finally winding up to entrench himself in history.
But the universe had a different plan, and Drake released "Hotline Bling." In essence, he returned to the late-night bitterness of "Marvin's Room," but opted to sing it over the Wii Shop menu screen's soundtrack. The ball had been dropped, deflated, and cast aside.
And then Views (2016) came out.
If the previous album's energy were to be weighed against that of lackluster Views, it would be crushed under the weight of its monotony. Keeping his R&B elements and trading hip-hop for dancehall, Drake released his most bland and uninspired work to date.
On Views, Drake took what made him unique, driven, and visionary — and cast it to the wind. He loaded up on Jamaican writers and producers, adopted an accent he didn't grow up with, and released twenty of essentially the same song. He sounds foreign, and not just in the accent, but in every aspect of the music.
The growth through his discography — the development of his character — was gone, replaced by a hollow, careless imitation of what he once defined himself as.
Of course, it couldn't get worse than Views. But the next year brought More Life (2017).
The title is apt; More Life is filled with more life — producers, writers, features — than any former Drake project. Lost in a sea of randomly assorted atmospheres and instrumentals, the other elements of Drake's music faltered. The attempts to resuscitate his trap sound were lazy, and what appeared to be his efforts at standard hip-hop were pointless. His singer-songwriter tracks are where he sounds most at home, but they were frequently only mediocre — nothing less, nothing more.
A playlist meant to encapsulate a career should sound fluid and consistent despite crossing a range of styles. Instead, More Life is a disoriented collection of songs that vaguely suggests Drake without ever sounding distinct. It sounds like a Drake who, after achieving a spot at the top, lost the drive to impress and stand out. It sounds like a Drake content with releasing a middling array of whatever he wants, because people will still buy it. None of More Life exudes greatness, and is far and away from what the greatest he proclaimed himself as in 2009 should sound like.
When I listen to More Life, I think back to Drake in the "Forever" music video. A rookie, standing amidst legends, with a hunger and staunch determination to rise above them. He wasn't the greatest rapper, he wasn't the greatest singer, but he sounded convincing — as if it were only a matter of time before he became either.
When I listen to old Drake —  Drake on Take Care, or on So Far Gone — I wonder if that Drake is still somewhere in the back of this Drake's head, if he remembers the selfish brilliance of "Marvin's Room" — if he still remembers his mastery over both rap music and R&B.
When I listen to Drake now, I wonder if he still has any desire to be the greatest ever — because he could've been.
I wonder if he still can.
Written by Adil Siddiqee
Illustration by John Lawson
Comments
comments