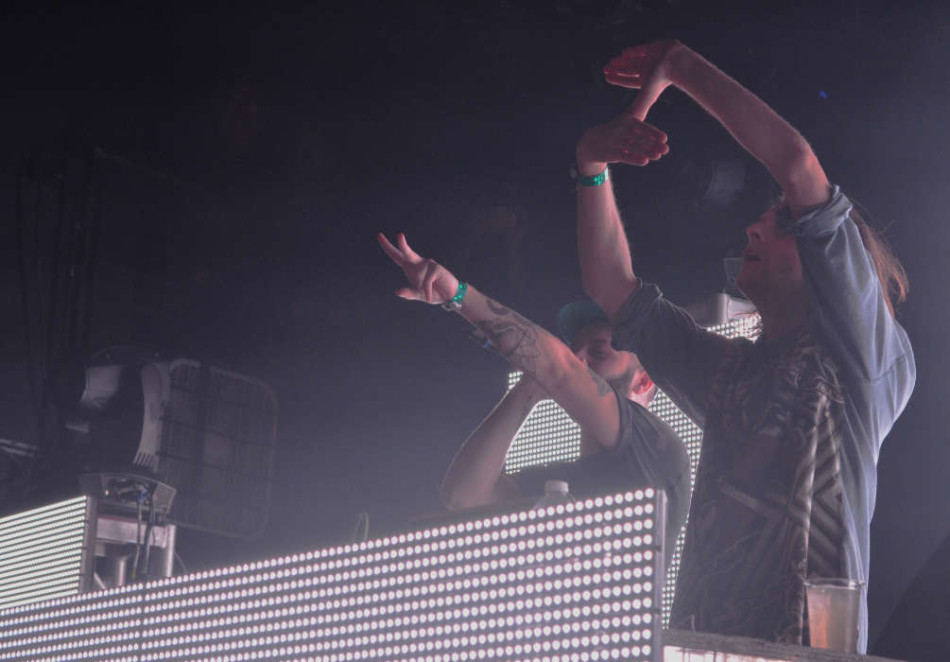 On a somber Friday night, Zeds Dead came out in full force for night one of their 2 Night Stand tour. The show began slow as DJ Oneman opened and played a mixture of UK Grime and slow instrumental electronic music. It was clear the crowd wanted some energy, and Zeds Dead brought it the second they came on.
The set, as expected, was incredibly diverse and bounced around all different types of genres.  Yet no matter what direction the Canadian duo took they always threaded everything together back into their signature dubstep sound. What I really enjoyed about the show was how creatively they would switch from genre to genre. In the middle of playing future house they spliced in Lithium by Nirvana and begin rapidly looping the song eventually crashing it into a heavy dubstep track. They were not afraid to push the limits and the crowd loved all of the surprises that DC and Hooks threw their way.
The first hour of the show seemed to just fly by, as it was very upbeat and quick, but during the second half it felt like there were definitely some slow moments. Whether they were staying in a particular genre too long or the songs themselves were a little slower, there were definitely moments where I felt disconnected with the set.  However, usually within minutes of recognizing the slower pace Zeds Dead would ramp their set right back up either with a classic song of their own, or by playing some crazy drum and bass track. They also played for over two hours, so the crowd definitely needed breaks from the high energy track selection every now and then.
The visuals for the show were fairly tame, but complemented their set well and were about as random as all the different types of music they played. The LED panels would transition from crazy strobing geometric shapes to displaying scenes from old Naruto episodes. I didn't expect a massive visual show on the Mezzanine's small main stage, but was pleasantly surprised with what they were able to accomplish.
The best part of the show by far was the way that they closed their set out.  At the very end the duo called for everyone to hold two fingers up to acknowledge the tragic events that had occurred in Paris earlier that day. Their message was uplifting, as they called for the crowd to be united in the desire for world peace. They ended their show by coming out and playing the VIP version of their remix of Eyes on Fire, the song that arguably jumpstarted their careers.
After a day of tragedy Zeds Dead definitely gave the audience what they needed — a fun, energetic break. They are here to stay, and proved why they are a staple in the American electronic music scene.
Article by Christopher Farmer
Comments
comments