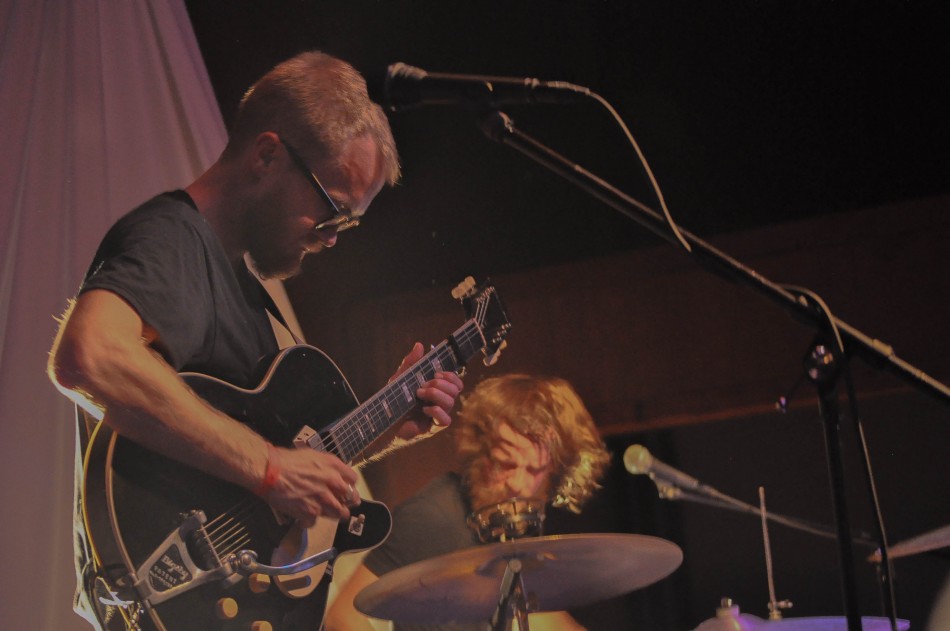 Last Thursday, fans poured into Leo's Music Club in Oakland in anticipation of the sold-out Two Gallants performance in which they would live debut We Are Undone (2015). The record, having been officially released on ATO Records two days prior, was the talk of the room. Around the bar, merch booth, and center soundboard, conversations of Pitchfork rankings, festival speculations, and setlist confirmation could be heard as fans fumbled with their phones awaiting the San Francisco-native duo's first show of their new record's tour.
After a lively jam session from the local opening act Golden Drugs, Leo's quickly filled to the brim, and without much delay, Adam Stephens and Tyson Vogel rushed past the crowd from the back of the room, guitar and drum sticks in hand to take the stage. With one last sound check, Two Gallants broke in to their 2007 hit "Reflections Of The Marionette," paying respect to the loyal hometown fans with a classic heartbroken, self-aware lead to set the course for the rest of the night.
Playing a set that ranged from old to new, Two Gallants rushed into their We Are Undone track "Some Trouble." With a resounding introduction of pounding tom drums, Stephens crouched down next to Vogel's kit, creating an uproar from his Rickenbacker, and filtering through a menagerie of stomp pedals — the duo filled the room with an unprecedented amount of high energy and noise.
The show progressed with upbeat drum solo introductions to tactful guitar outros in songs such as new live debuts like "We Are Undone," or classics like "My Man Go," bringing the otherwise captivated audience into a frenzy of vocal participation. As their set came to an end, the two left with a departure that sparked devastation and complaints in the room for what seemed like eternity. Just as intensely, their return was met with high-fives from crowd members, and with their free hands, Two Gallants held their Coronas and prepared to play out the show. They went into "Halcyon Days" and finally "My Love Won't Wait," before thanking Leo's countless times for the sold-out hometown show, a perfect start to their upcoming tour ventures in support of the new album.
Article and photos by Atreyue Ryken
Comments
comments