Treasure Island isn't natural. It was built by the US government as a site for the 1939 World Fair, then used as a naval base during World War II. The base is no longer be use, but the ruins of the barracks and aircraft hangars remain standing, which makes Treasure Island one of the most unique locations in the country to hold a music festival.
Every year, Treasure Island Music Festival boasts a strong but limited lineup. Their alternating two-stage setup, in which every attendee can see every act with little to no break between sets, can be refreshing next to overbooked festivals rife with schedule conflicts, but the setup can also feel like a constraint when the lineup isn't perfectly curated. Luckily, this year's festival was one of the best yet, with a lineup that boasted as many seasoned veterans as it had surprising young breakout stars.
Big crowds filed in quickly on Day One to catch the early sets of three wildly varying New York-based dance music groups. First up was Skylar Spence (aka Saint Pepsi aka Ryan DeRobertis and his new live band) who performed a refreshingly unique setlist that included an earnest unreleased track, instrumental disco jams, years-old Saint Pepsi favorites, and the sing-along singles off the band's new album Prom King. Shifting gears completely, Bob Moses tore through a set of dark, ambient-inflected dance music that recalled another stellar live electronic duo: Darkside. Tom Howie and Jimmy Vallance made a sunny outdoor set at 1pm feel like a club set at 1am. Soon after, Chris Baio took the stage to perform songs from his funky solo project recorded as Baio. His onstage getup, a freshly dry-cleaned white sport coat, didn't do much to help preconceived notions of preppiness that hold over from his day job as Vampire Weekend's bassist, but his live show puts those expectations to rest with a surprisingly strong stage presence.
Local favorites Viceroy reminded the crowd that summer can exist in October, layering live saxophone solos over tropical EDM remixes. They were the only act of the day that would have just as easily been at home at a Mad Decent Block Party, for better or for worse.
Right in the mid-afternoon, around the time most attendees are just starting to wonder if they should have worn more comfortable shoes, Shamir and Gorgon City got the crowd moving more than just about anyone else. Shamir, in a technicolor coat, amped up the sassiness and encouraged the crowd to "get more ratchet." Gorgon City, meanwhile, plowed through their set of UK house music in front of a crowd eager to dance along.
Enter Run the Jewels. (read: I don't think I even need to describe what goes down at a Run the Jewels set. They've played every festival in existence at this point. Just see them already, it's worth it, they're great, end of story.)
Cashmere Cat started off shaky, but his morphed into one of the best sets of the day. Starting with five minutes of atonal drone after an hour of battering-ram beats from RTJ is a ballsy move, but if that's followed by all of your best songs back to back, it doesn't hurt too badly.
The fun of watching a jam band perform occurs in the free-form nature of the performance, the willingness to experiment with sound, and the payoff that comes with long buildups. Unfortunately, STS9, billed as the electronic music equivalent to Phish, rarely exhibited any of these characteristics and thus failed to win over an ambivalent crowd. Hudson Mohawke faced similar issues in his set. His solo songs and work with TNGHT were adequately performed, but they had no sense of danger or excitement in them.
I endured a 25-minute Über ride home with someone who wouldn't shut up about how much he disliked FKA Twigs and her performance. If I hadn't heard that tirade, I wouldn't have known that it was possible to dislike her set, one that was full of incredible choreography and added unexpected bounce to Twigs's ethereal sound. The only fault in her performance wasn't hers, but rather a scheduling foul. Big Grams, the unlikely collaboration between Outkast's Big Boi and electro-pop phenoms Phantogram hadn't quite figured out how to act on stage before this debut show as they improvised throughout their set.
Then came the headliner. It wasn't even a full song into Deadmau5's performance before I felt like a giddy pubescent preteen again, freaking out about synth distortion. Joel Zimmerman makes a point of showing the audience that he's truly performing on instruments, not just pressing play, and it pays off to create a live show that goes the extra mile. If the impressive number of homemade mau5 helmets in the audience were any indication, the mau5 was who people came to see on Saturday, and he delivered.
Sunday on Treasure Island proved once again to be anything but casual. While the lineup announcement was slightly less than exciting in comparison with those of previous years, Another Planet and Noise Pop defended their unique ability to stitch individual performances into a comprehensive flow.
Swedish-Argentinian Jose Gonzales set the mood early in the day with deep cuts from his prolific catalogue, highlighting his organic style of acoustic guitar playing paired perfectly with contemplative and emotional lyrics. In a soaring ode to last year's headliners Massive Attack, Gonzalez infused the group's track "Teardrop" with a folk fusion that played out before a stunning backdrop. Sampling from all of his albums, "Heartbeats," "Crosses," and "Leave Off/The Cave" transfixed — if not slightly pacified — the afternoon audience and infused the space with a warmth to combat the blustering winds.
Drummer for the now disbanded Fleet Foxes Josh Tillman proved that drummers can be frontmen too, delivering an electrifying performance as his alter-ego Father John Misty. Opening with the title track from I Love You, Honeybear (2015), a chorus of cries echoed this delinquent preacher in a visceral tribute to love. Tilman was a maniac on stage. With his mellow band members for a point of contrast, Father John ran from stage right to stage left to stage off, swirling mic stands overhead and throwing acoustic guitars cross-stage to flustered technicians. Refusing to take himself seriously, Tillman delivered a sermon on festival culture, encouraging all to enjoy our "orgy of illicit pleasures" in the "endless vomitorium" that encapsulates these exhibitions of societal debauchery. Cynical as always, Tillman called the band to "kick it up a notch with a meta-ballad about despair" before dropping into the stripped-down "Bored in the U.S.A." "Hollywood Forever Cemetery Sings" was the only bone he threw fans of Fear Fun (2012) where heavily distorted guitar and galvanizing vocals elicited a hallelujah from the congregation. Dropping the mic with explicit force following an ecstatic performance of "Ideal Husband," some say Father John floated rather than walked off stage in glorious rock-star style contradictory to his satirical self-image.
The sunset set was delivered in a euphoric fashion with the ambient alt rock of the War on Drugs. Riding the high of their latest Lost in the Dream (2014), this East Coast ensemble maintained momentum, building tracks upon tracks, suturing a story with each transition. The rolling peaks of both old and new material blended into a fluorescent wall behind the stage that deceived the lenses of cameras and presented an optical illusion that blurred the silhouettes of the band members into the background. Dedicating the final track to The National and following Father John's lead, frontman Adam Granduciel threw his guitar down at the end of "Under the Pressure," leaving the stage suspended in droning feedback.
Scottish synthpop group Chvrches surprised with a powerful performance that oscillated between heavy drops and blissful choruses. Lead singer Lauren Mayberry flew around the stage like a fairy without missing a beat or a breath, stringing out a vocal performance that defied the physical limitations of her small stature. She won over the crowd with her unassuming attitude and had fans and non-fans alike glowing in response to a radiant performance of "The Mother We Share."
Animal Collective's Noah Lennox was in attendance this year representing his solo project Panda Bear. A humble booth was set in front of a visual array that displayed a kaleidoscope of fractalized images, morphing from human mandalas to reptile eyes, from gaping shark mouths to monochrome geometric vortexes. The experience was dissociative in the midst of a more alt-indie lineup where melting tracks were decorated with trippy utterances of Lennox's voice run through a series of effects and delays. At times dark and intense and at others whimsical and incomprehensible, Panda Bear added a thought-provoking, albeit confusing, note to the day.
As someone who has held strong reservations and sustained perplexity concerning the widespread popularity of this group for some time, The National blew me — and my fellow bystanders — away. Whether it was a day's worth of artists leaving it all on the stage, praise from earlier acts, or the pressure of having to close the festival out, The National delivered in a big and unexpected way. The lower register of lead singer Matt Berninger is at times inaccessible via recorded material but that evening, it mesmerized and enraptured listeners in concert. Each song oozed sentiment and the instrumentals moved between periods of ambient calm and explosions of sound. "Sea of Love" set the bar high for the rest of the set with musings on love and pain.
Bringing Lauren Mayberry of Chvrches on stage for "I Need My Girl" off Trouble Will Find Me (2013), the spirit of collaboration and mutual respect between all the artists present made for an unconventionally cooperative festival environment. Somehow from the deep, stirring melancholy of the lyrical content sprung a sensation of bliss. One was ready to run to the edge of the cliff and scream at the sea and during an extended "Terrible Love" where we were all exclaiming "Its terrible love and I'm walking with spiders … It takes an ocean not to break!" Berninger launched himself into the crowd for the duration of this final song, plunging deep into the mass that had assembled in front of the stage. The National projected a calculated chaos, equal parts dark and light, sorrowful and exuberant, unsettling and uplifting. They tapped into a vein of raw humanity and reminded us of how we are all subject to the same sensations and experiences that transcend beyond the festival gates.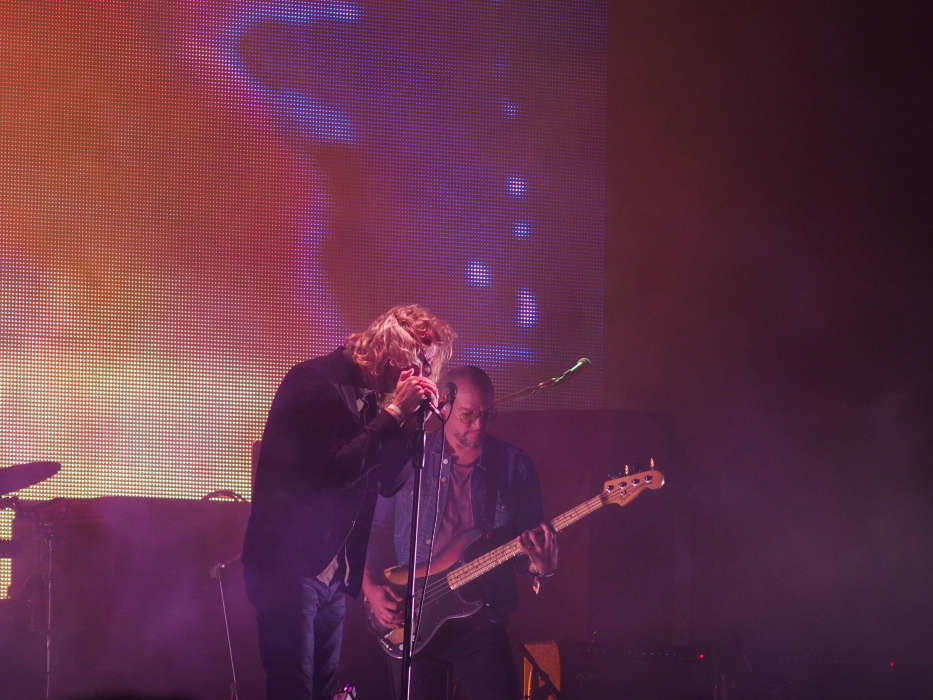 Originally underwhelmed by this year's lineup, Treasure Island has defended its title and still waves its unmistakable flag as one of the best parties of the fall and an excellent decompression from festival season. While the growing prestige of the event has undoubtedly contributed to the inflation in ticket prices as well as the slightly testy attitude of some of the staff, it is always a spectacle and brings the East and West Bay together figuratively and literally as we converge on a pile of (historical) trash in the middle of the Bay for a weekend-long celebration of life and leisure.
Article and photos by Matthew Sater (Day One) and Conner Smith (Day Two)
Comments
comments