Saturday: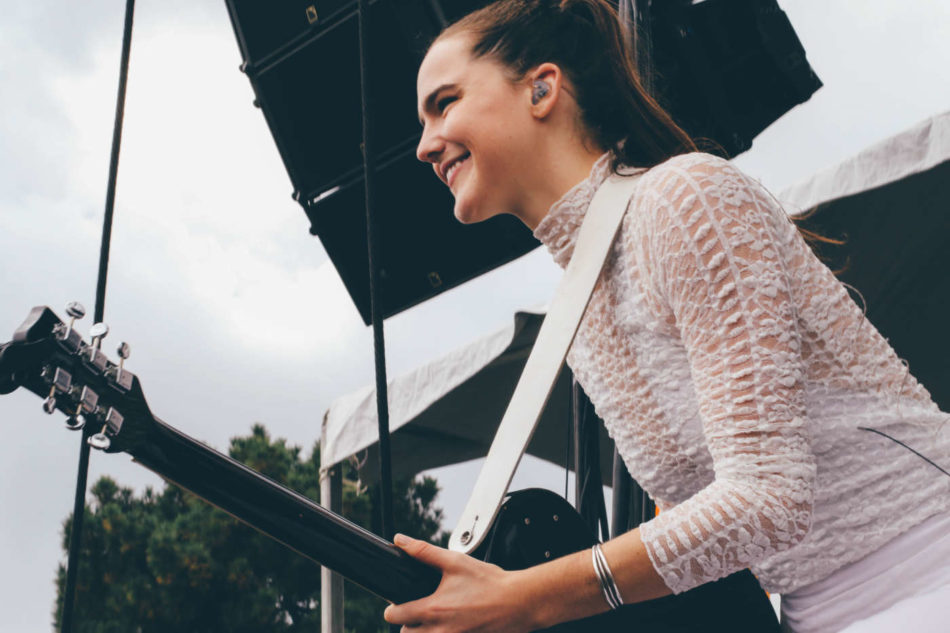 The little bit of sun between the rain
There's a lot to be said about Treasure Island 2016. But to be concise, it wasn't great. Having been to many different festivals including Coachella and Outside Lands, I was looking forward to attending the festival on the artificial island for two reasons in particular. First, Treasure Island has only two stages – one artist plays at one stage and then is directly followed by another artist on the other stage – this means no overlapping showtimes, no stressful decisions. Second, I was looking forward to the rain. I have never been to a festival in the rain, and I knew it would be wet and cold, but I thought I might as well embrace it for what it was and look forward to the experience. Perhaps the rain would enhance the experience.
It was around ten minutes before Young Thug was supposed to come on when I began to feel a drizzle. Prepared for the wet, I put on the hood of my waterproof North Face jacket, but quickly realized it wouldn't do much as the light rain turned into a pour. My friends and I were quickly soaked, but it added to the mood – we were ready to turn up to Young Thug in the crazy weather. Ten minutes turned into thirty and we began to get a little antsy though our spirits were still high. That's when we heard "Antidote" by Travis Scott. Everyone went crazy—the energy was great. The DJ played a couple more bangers to keep us going, "Farther Stretch My Hands Pt. 1" and "Lord Pretty Flacko Jodye 2" were among them, but then the music stopped. More time passed. That's when a man who was by no means Young Thug came on stage and told us that Young Thug was running late and should be there by 5:30, an hour after he was supposed to come on. Keep in mind it's pouring. We had already been waiting a while, and now it was getting a little too cold and a little too wet, but sure, we could wait an hour.
To keep things short, "Antidote" was played three more times, close to three hours passed, and Kamaiyah performed before Young Thug finally came out. Yes, Kamaiyah was dope and did her best to lift our spirits in the weather, but after such a long wait everyone was a little annoyed, soaked to the bone, and the excitement around dancing in the rain turned into fear about getting pneumonia by the time Young Thug made it to the stage. Even though he played many of his old hits including "Stoner," "Power," and "Best Friend," it was almost impossible to revive the hype the crowd had two hours earlier. Yet perhaps the worst thing about it all was that every other artist had their performance either shortened or canceled. I was excited for Duke Dumont, but I heard it got canceled, so I left—wet and sad.
But somehow Treasure Island wasn't all bad. The very first show I saw when I got to the festival was Mura Masa, and it was amazing.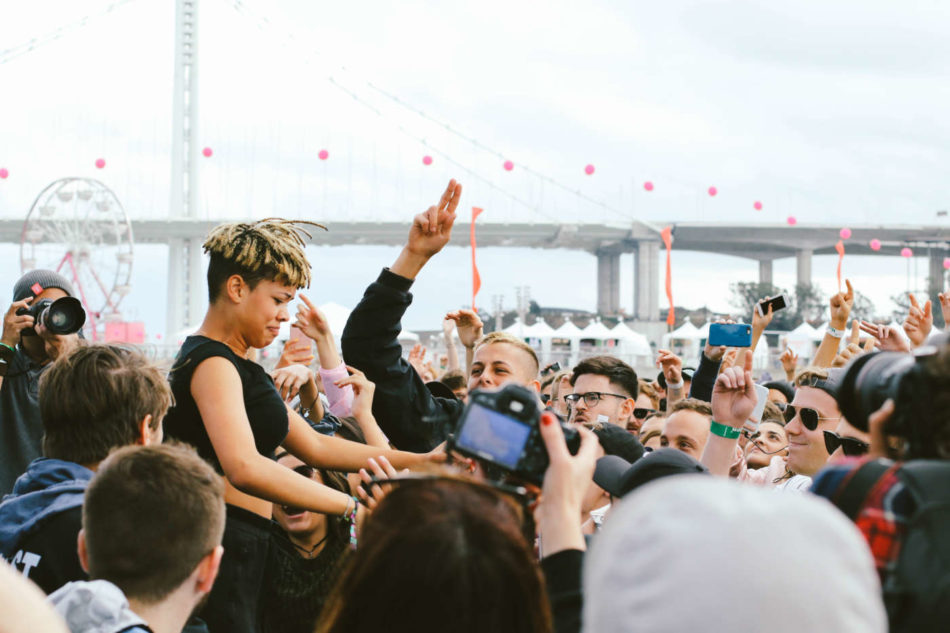 The 19 year old British producer and DJ was accompanied by London based singer bonzai, and they absolutely killed it – a big party the entire performance. They played all their most popular songs including "Firefly," "Lovesick," and "Lotus Eater,"; we even got to hear some new stuff. It was a great mix of upbeat dance music with a very groovy and soulful feel. I would highly recommend going to see a Mura Masa show if you get the chance.  
Sunday: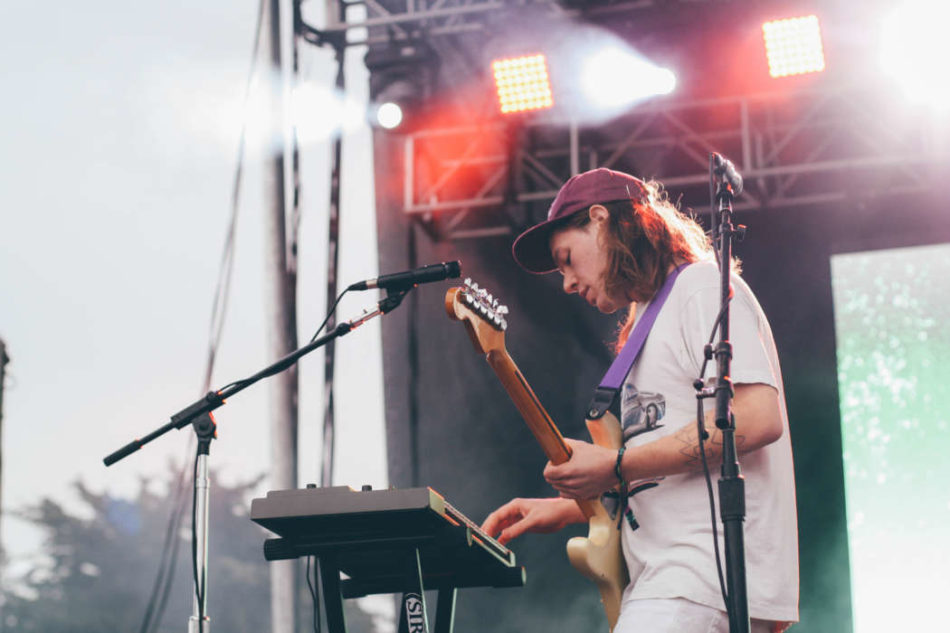 The calm after the storm
I arrived at the swampy festival grounds Sunday afternoon, just after the rain had passed. Following several apologies by Noise Pop for the chaos of Saturday, and many promises of improvement, I sludged through fields of standing water towards the main stage for a mellow performance by Mac Demarco. The Canadian singer-songwriter had the crowd gently moving, rather than rambunctiously participating, to avoid splattering mud on their neighbors to hits like "Salad Days" and "Chamber of Reflection."
The gray gloom put a damper on the afternoon. And all the fleeting sunshine and Michael Jackson-inspired antics of Neon Indian frontman Alan Palomo couldn't sell the poorly-mixed sound and group's goofy, all-white attire. Tantalized by a preview of the visuals to come, I left early in hopes of a change in pace with Tycho.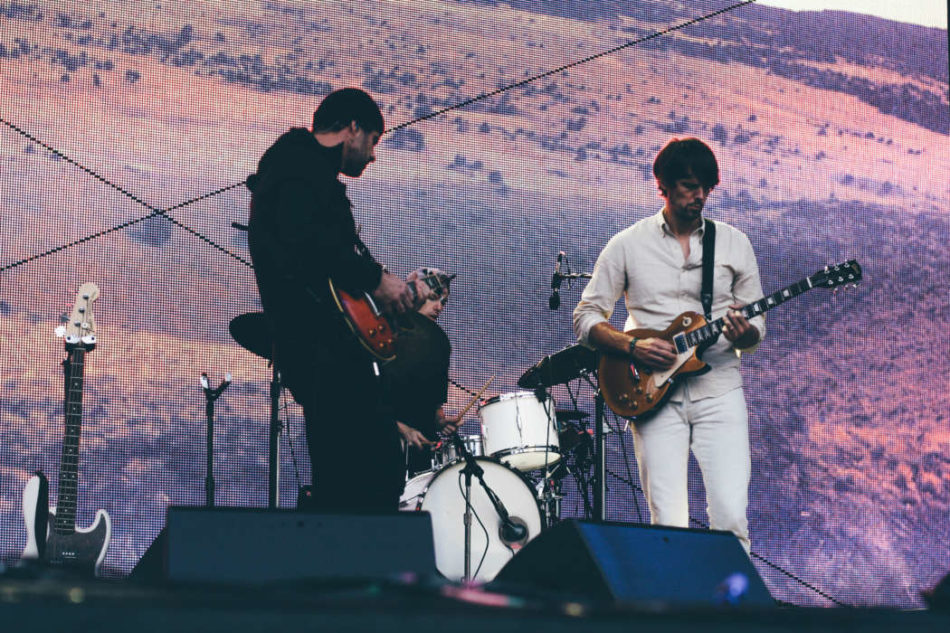 The Bay Area veteran applied almost-full live instrumentation to semi-electronic tracks, dragging us out of the day's doldrums with a visual and auditory experience that proved to be the highlight of the day. Within range of Sylvan Esso on the far stage, I decided to listen to their characteristically stellar set while fortifying my position on the guardrail in anticipation of James Blake.
Shortly after, however, the darkness returned. And so did the rain.
I watched with excitement — and later, concern — as the stage hands begin carting off equipment they had set up offstage. After several prolonged moments, an announcement came on the stage screens. Blake's set would be an hour delayed due to high winds. We waited.
After an indefinite amount of time, another announcement appeared, reiterating that the show was delayed but that Tycho would perform a surprise DJ set in the interim — a replay of the exact same incident that occurred with Young Thug a day earlier. Twenty-or-so minutes after the delay time, an announcement on the festival Facebook page appeared. The show had been cancelled due to weather. It took organizers still another fifteen minutes of uncertainty before they posted the announcement on the stage.  
Noting that the wind and rain were visibly less intense than earlier, I decided to ask some stagehands and security guards what what happening, only to receive mixed reports. Some cited equipment failure due to rainy conditions; others cited scheduling conflicts due to the delays. A brief investigation into several comments made by Duke Dumont regarding Saturday's cancellation revealed mismanagement and unsafe equipment configuration. Yet what was painfully clear was the flagrant mis-advertisement of Treasure Island as "rain or shine" — and a serious lack of communication on the part of the organizers. Defeated by an exhausting wait for James Blake and hesitant to trust promises that Purity Ring and Sigur Ros would still perform, we decided to cut our losses and head home.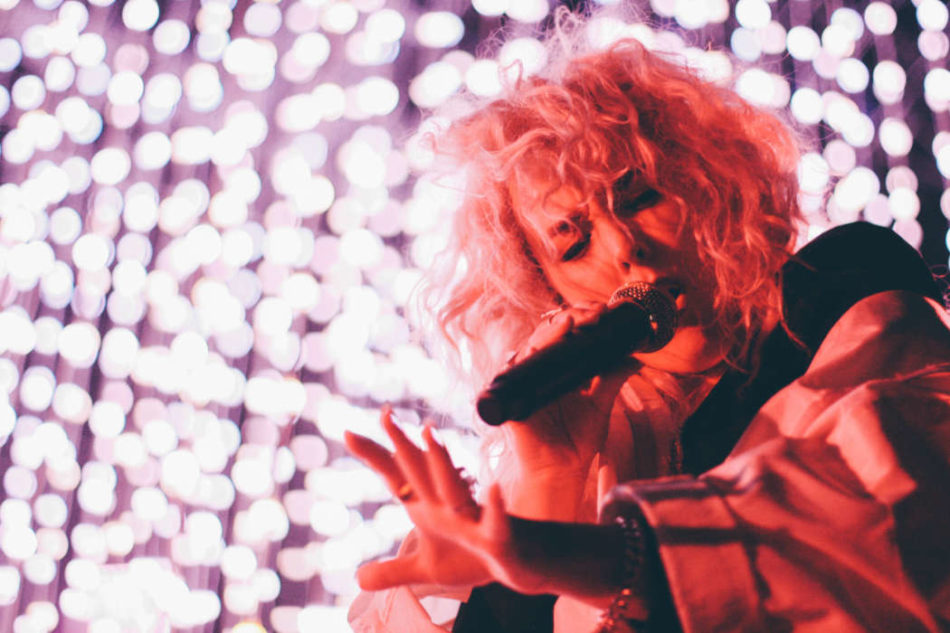 Unsurprisingly, this debacle generated a fair amount of controversy that remains unsolved. A seemingly insensitive note from Another Planet Entertainment vice president Allen Scott only fanned the flames. Eager to salvage what was left of their reputation, the organizers issued a formal apology and a conciliatory James Blake concert at the Fox Theater Monday night, free for all festival ticket holders. The line wrapped around the block of the venue, and the interior filled quickly with the murmur of thousands of weekend warriors who decided to push through and witness their rightful reward.
And a reward it was indeed.
James Blake captured our souls like a messianic savior. His show was spectacular, featuring minimalistic live lighting, and a set that oscillated between thunderous electronic anthems to tender, heartrending ballads. 2016's The Color in Anything featured heavily, with the title track framed by a burning, glowing comet tracing shapes on a dark screen behind the stage. Blake masterfully built "Retrograde" live, growing it from a mere suggestion into the gripping vocal loop. Flashes of dull red light exploded in a blazing white and orange supernova as the chorus dropped.
Humble to a fault, Blake reiterated his shock at the amount of people who had lined the block waiting for the show and how "unusual for us" it was. After rounding out a soaring rendition of Joni Mitchell's "A Case of You," Blake obtained total silence from a reluctant audience in order to build "Measurements," a looped track that required live recording. After layering harmonies in a sonorous and deeply spiritual hymn, he departed the stage in the darkness, without goodbye, as we all stumbled numbly into the streets.
As we left James Blake, we were almost relieved that Treasure Island had cancelled the show, and that Blake was able to ascend to his full, illuminated glory in a private show. While the fault for the weekend's missteps can not be fully attributed to any one source, we should continue to be critical of the way art is shared with the public and cherish the heavenly moments of genuine exchange that graced the Fox Theater last Monday night.
Words for Saturday by Nathaniel Wartzman; Sunday by Conner Smith
Photos by Fiona Duerr
Comments
comments