Last week, the Offspring played an intimate show in Berkeley at Cornerstone (the new venue no one knows about) as a benefit show for 924 Gilman (the old venue everyone knows about). They played their 1992 album Ignition in full, and I am not ashamed to admit that I had not listened to the album in full until I heard it performed at Cornerstone. Instead of assessing the symbolic undertones in the songs or praising Dexter Holland's performance, I'd rather give you a play-by-play of my night, accompanied by shitty iPhone photos and videos to enhance the experience.

For reference, the doors opened at 6PM and music was set to begin at 7PM.

GETTING READY TO LEAVE

7:20 PM – I text my dear friend Natalie, ask her when she can leave.

7:50 PM – Natalie and I finally decide on a meeting place and time. I am very nervous we are going to miss the Offspring, Natalie seems indifferent.

Approximately 8PM – We shotgun beers in Natalie's stairwell (well, she shotguns one and spills it all over the floor so I decide to merely chug mine enthusiastically, discouraged by her experience).

GETTING IN

8:30 PM – We arrive at Cornerstone. A sign on the door tells us that we are supposed to use a different entrance. We walk to that entrance, and I show the man at the door — who has control of will call tickets corresponding with the last names at the beginning of the alphabet — my ID.

8:32 PM – Said man seems to be having a difficult time finding my will call tickets, but I know I purchased them, so I pull up my confirmation email. At this moment, I also (a) lock eyes with someone I know from high school, but pretend not to see them in hopes that they do the same, and (b) feel a wave of relief as I notice the music inside is clearly not that of the Offspring, but that of a lesser opener. This wave of relief comes to a halt as the Will Call Dude tells me I do not have tickets.

8:33 PM – Other Will Call Dude who is responsible for will call tickets corresponding with the last names at the end of the alphabet intervenes.

8:40 PM – Will Call Dude #2 tells me that his friend outside is giving away two tickets, thus: a random nice lady appears, and gives me two tickets. This is very cool of her, and I try very hard to resist the urge to hug her. Despite the miracle-like nature of the situation, I feel an undeniable tension between the Two Will Call Guys and me. But it doesn't matter, because now we're inside, and they can't touch me.

BEING INSIDE

8:45 PM – Natalie and I go to the bathroom. We begin to notice we are the youngest people at the venue. Natalie voices her concerns, "Dude, there's definitely not going to be a pit. Like, do I even put my hair in French braids?" Her concerns are emphasized even more as she sarcastically retorts, "WOW, I didn't know MUMFORD AND SONS* was opening for the Offspring." I laugh, because it's funny.

Time Unknown — I'm not sure exactly what time and I've been making up most of the times anyways so it doesn't really matter:

The Offspring takes the stage. I am in disbelief. I am surrounded by fat, sweaty 50-year-old men and I couldn't be happier. We may have been among the youngest people there, but wow, those adults sure did know how to mosh. I am overcome with embarrassment — how dare I assume there would not be a pit at the Offspring. Throughout the whole performance, there is thrashing, there is smashing, there is an extensive amount of crowd surfing. I am reminded of all of my high school weekends spent at Gilman, and all of my flash judgements about the crowd are proved false. I find myself having the time of my life, even as a chunk of my hair is yanked out.

As the Offspring walk offstage, everyone knows that they aren't done just yet, especially the drunk man next to me who yells, "WHERE DID YOU GO?" about 50 times. As they reclaim the stage, they play every commercial hit (except for "Pretty Fly For a White Guy") and give a performance I can guarantee every single one of the 412 people in the audience thoroughly  cherish – that we will never get the opportunity to go to a show like this ever again, and that makes it all the more special.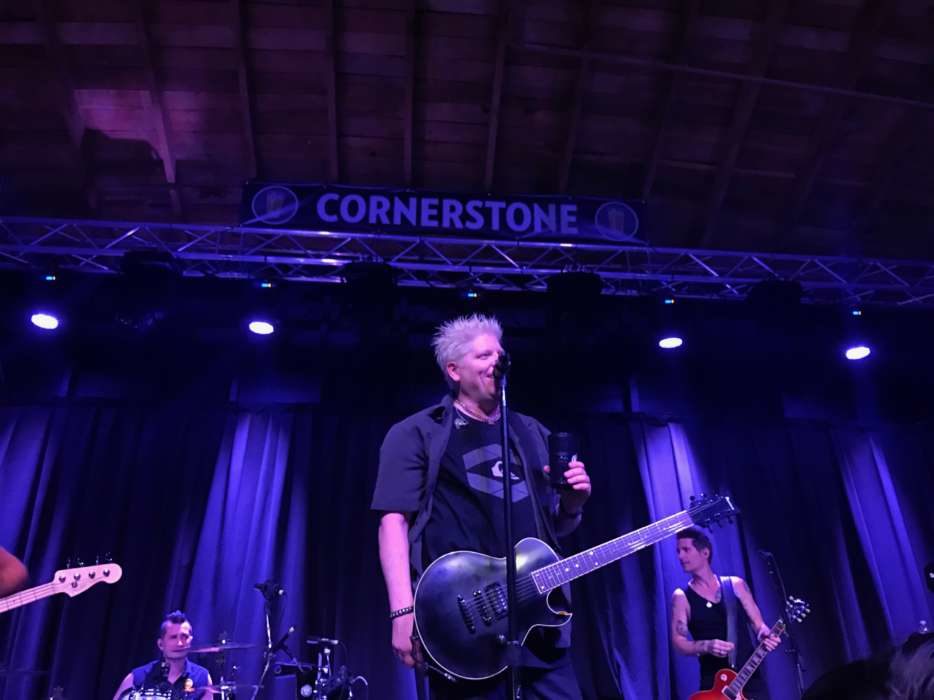 *To clarify, this was a joke made in a sarcastic fashion. Mumford and Sons did not open.
Written by Rosie Davidowitz
Comments
comments