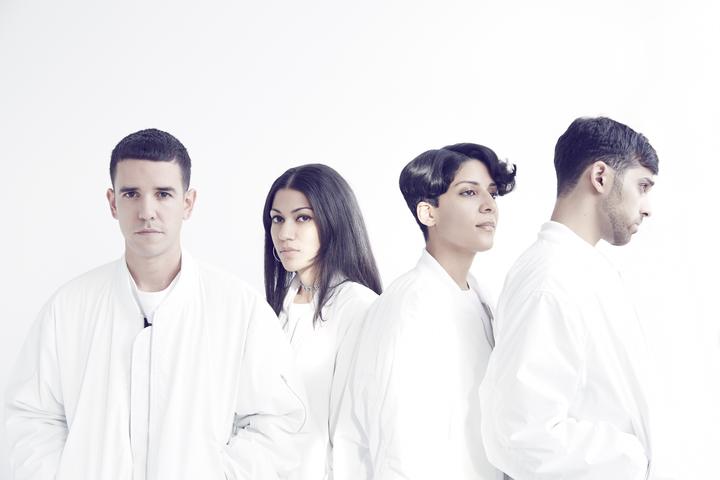 It might be hazardous to make comparisons between Future Brown and Afrofuturism, but the DJ-quartet certainly strike a similar chord.
Dressed in neither sci-fi nor Egyptian garb, the producers have all mythologized the notion of foreign/marginalized identity in their works: LA-based Nguzunguzu's Daniel Pineda and Asma Maroof blend Angolan zouk and kizomba with R&B in their Perfect Lullaby mixtapes, the second of which came out last year; Fade to Mind labelmate Fatima Al Qadiri explored a China filtered through Western lenses on Asiatisch (2014); and, on the East Coast, J-Cush's Lit City Trax label has pushed regional underground sounds from Chicago footwork to Portuguese Batida. Even the name "Future Brown" hints at Afrofuturistic conceptions of the supernatural 'other,' referring to "an artificial shade that doesn't exist in nature."
So it seems significant that the quartet's self-titled debut, out February 24 via Warp Records, calls upon a diverse cast of vocalists to fill in this shade. Spotlighting icons of American hip-hop and R&B as well as UK grime, along with reggaeton emcee Timberlee and Dominican-American artist Maluca, Future Brown suggests the existence of common hues between these diasporic urban cultures.
Take the LP's microcosm of Chicago hip-hop: Future Brown had already collaborated with drill-scene rapper-cum-songstress Tink for last year's single "Wanna Party"—which Tink describes as a "fight… in slow motion"—and the album picks up on her side of chi-town again in the street-seductive "Room 302." Two tracks later, "Big Homie" takes auto-tuned bop duo Sicko Mobb (who are sometimes pitted as the light to drill's darker tones) on a glistening dancehall vacation. In between, Shawnna proves that she's still the queen of the city on ghetto-fabulous "Talkin Bandz," matching high-impact grime snares with her cutthroat bars.
This is by and large how the album operates, zooming in on specific locales even as it recognizes the osmosis of other, more global, stylistic forms across its territorial lines. Indeed, much of the album sounds like a an American record produced by a Brit, balancing 'hood violence with restraint—as witnessed in Tink's "slow motion" brawl. Given Future Brown's tie to Fade to Mind, sister-label of UK dance-constructionists Night Slugs, it is difficult not to trace this back to the minimalism and force of grime.
The LP gives a shout to this heritage on two furious cuts, "Asbestos" and "Speng": the former linking up two legendary grime crews in Ruff Sqwad emcees Dirty Danger and Prince Rapid, and ex-Roll Deep member Roachee, all of whom appeared on last year's "World's Mine" (the flipside to "Wanna Party"); the latter, a personal favorite, features Riko Dan's warmongering patois on dungeonous productions.
Placed adjacently, these variant styles (of hip-hop and grime, bop and drill, underground and mainstream) somehow proceed logically from one to the other, tied by sleek productions and the artists' braggadocio.
In some ways, this is nothing new; the musical exchange between Afro-Carribean, American, and UK sonic cultures is a well-established fact of dance and rap music. But this triangular exchange is also rife with diasporic undertones, and most of the figures on Future Brown, as well as the communities they associate with, denote some form of geographical displacement or marginalization. And we haven't yet talked about the album's relatively high-percentage of female artists: Maluca and R&B-singer Kelela are first-generation Dominican and Ethiopian-Americans respectively; Fatima herself was born in Kuwait; even New Orlean's battle rap star 3D Na'Tee faced dislocation in her hometown when Hurricane Katrina struck, an event that led to the release of her debut solo mixtape in 2006.
Certainly, foreign identity, signified by a touch of exoticism, is central to the LP—most likely the work of Fatima—where bells and other mystical idiophones bloom out into large, resonant spaces. As in Fatima's Asiatisch, this idea of foreign-ness is presented as a Western construction. For instance, dancehall diva Timberlee already represents something 'foreign' to American and British listeners, but her menacing contribution, "No Apology," is still punctuated by hollow gamelan-esque bells, where instead one might expect steel drums. Even in more familiar territory, Oriental sounds float throughout Kelela's underwater ballad featuring Ian Isiah "Dangerzone", where cerebral flutes evoke a sense of zen at the chorus. Though these are caricatures of East-Asian temple sounds, perhaps (like Afrofuturism's redefinition of the 'alien') Future Brown seeks to place exoticism on itself rather than have others define that for them.
Future Brown therefore presents supposedly-disparate artists as attuned, and in flux, with one another, occupying some nebulous, exotic space in the continuum of bass music. There's a catch though: when mixing too many colors, the album runs the risk of melding into some homogenous shade (chances are it's brown), and a few of the tracks might disappoint beside Future Brown's lofty ambitions. Sometimes, it is easy to forget that the academia and pretense surrounding an LP such as theirs can cloud its musical intentions, and that, at the core of all this is simply a desire to make original, banging tracks. In that sense, these are immaculate club beats—with no sound out of place, and exquisite compositions that are in equal parts rowdy and intelligent. However, those expecting the darker, sparse instrumental or sample-based music that the group-members make individually might be better off looking elsewhere.
Article by Jay Kwok
Comments
comments