Friday April 10 at the Fox Theater in Oakland, Stromae poured out his raw, gutsy artistic soul in a performance which did not simply delight the audience like one of those cozy, subtly-drunken summer days. No, his delivery intoxicated us like a fiery night in a forbidden cove; it was like staring into the eyes of your paramour, heart-racing, with electric currents coursing through your body.
Born Paul Van Haver in Brussels to a Rwandan father and a Flemish mother, Stromae mesmerized and delivered to his audience in every respect, from his ecstasy-inducing set design to bold dance moves which would have otherwise looked dorky, had he not succeeded in commanding — or rather stealing — our respect with brute force the moment he stepped on stage.  As an audience member quite bluntly put it: "He's a god."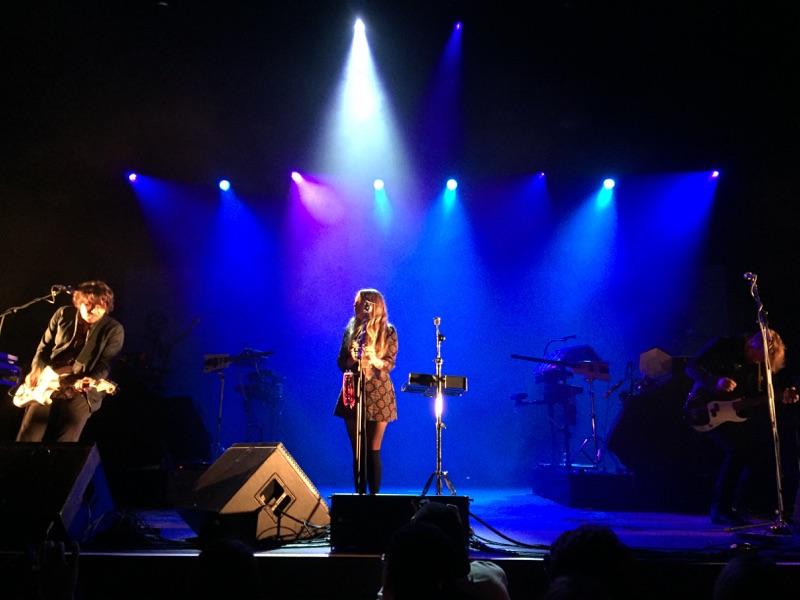 Stromae's performance was preceded by a debut showcase by indie-pop band Freedom Fry. The Los Angeles-based band announced that this was their first time on tour, but their youthful euphoria was ripe. In style and sound, they were reminiscent of 1960s flower children; lead singer Marie Seyrat had the fashion sense of a neo-hippie and her dress, combined with her mannerisms, undoubtedly made her the band's centerpiece.
Seyrat's vocals felt effortless as she held a beat on the tambourine. It was by the third song that I got a feel of their musical style; "Shaky Ground (Hey Na Na Na)" was followed by "Yeah You." In the latter, Seyrat's whispery vocals echoed guitarist Bruce Driscoll's.
"Shaky Ground"'s indie guitar riffs and "Yeah You"'s syncopated rhythms give the kind of overall laid-back beachy vibe you would want on your summer playlist. Freedom Fry's indie-hippie vibe is not dissimilar to that of Phoenix's, but their talented female lead is refreshing. Freedom Fry ended their showcase with a performance of "Home," a song that showed off their SoCal affinity.
Stromae's performance began with an animation that was admittedly anxiety-inducing. Depicted as a young school boy undergoing a psychedelic Alice in Wonderland-esque adventure, Stromae's character eventually falls off a cliff in a rusty train-wagon, a less-than-child-friendly ending that triggered blinding white strobe lights.
With this entrance, the headliner eased the tension brought on by this neo-noir short, immediately segueing into a rave-style performance of "Ta fête." Those of us on the floor could fully appreciate the dance music.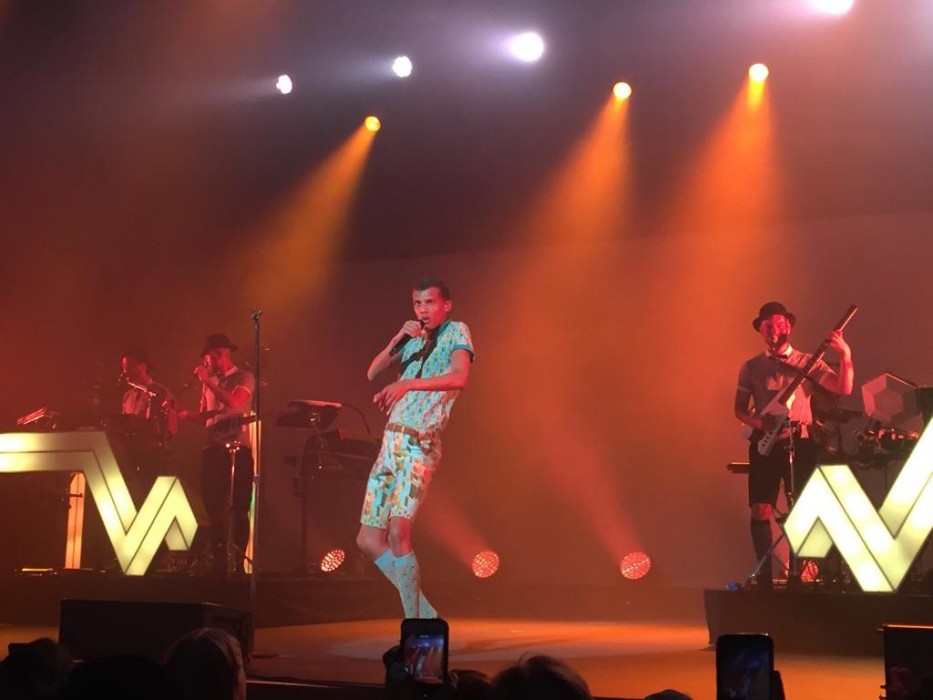 Watching Stromae strut down the stage and talk to the audience between songs, it was evident that he was very at ease with himself and wished to impart this hands-up, care-free attitude to his audience. During one break between songs, he nonchalantly pulled out a bottle of whiskey and poured himself a glass.
He performed crowd favorites "Papaoutai" and "Alors on danse," the latter of which was extended for ten minutes. His dance moves seemed spontaneous and unrehearsed as he strutted his tall, lanky frame across stage.
Between songs, Stromae came off as hilarious with a sarcastic edge. In flawless English, he expressed his woes at constantly being called French when he was Belgian. And no, they are "not the same thing" as Stromae not so quietly emphasized, going on a spiel about how the French fries we so happily devour are not French but actually Belgian, in fact.
When performing "Formidable," Stromae transformed into his famous role as the drunkard, getting deep into character going so far as to stage cry and have a supporting musician drag him back to his feet as he acted like he was passed out drunk. The song itself is both catchy yet haunting, with an emotional intensity captured in the verses where he presumably cries out to a lost lover in a state of drunken despair. Repeating piano and guitar riffs accompanied the gloomy air. Here, Stromae showed not only his acting prowess but also his prominence as a hip-hop artist, established in both the hip-hop and electro-pop genres, and his influence from singers like Jacques Brel and Congolese Rumba.
"Quand c'est?" was another hauntingly beautiful song in the repertoire in which Stromae showed off more of his vocal chops. Heavy synth riffs at the beginning of the song gave the air of a funeral march as the black and white noir projections behind him gave a visual to the deep suffering which this song alludes to. Eventually the entire visual faded from trembling spiders' legs to black, just like the silence that accompanies death.
Stromae would not leave us on a gloomy note for long as he concluded the evening with an encore of "Ta fête" and an a capella version of "Tous les mêmes," during which he took the opportunity to thank his entire team; both songs are characteristically of the electronic dance style. Fittingly, the name Stromae is a syllabic reversal of the French word Maestro meaning master — and Friday night, Stromae earned this title.
Article by Angelica Zocchi
Comments
comments