The appeal of (Sandy) Alex G's music to Bay Area twenty-somethings isn't too difficult to understand; his unique songwriting and DIY production captures an experimental spirit that's simultaneously ambitious, casual, and comforting. While the specifics of the diverse array of characters in his songs aren't always easy to discern, the resulting feelings of adolescent nostalgia and somber familiarity can be intoxicating, and those emotions coupled with Alex Giannascoli's instantly-recognizable artistry and catchy melodies have attracted a devoted audience.
Likewise, Sunday night's jam-packed crowd at The Chapel was definitely a devoted bunch, singing along enthusiastically to the obscure lyrics from the artist's over 100-song catalogue—all from just the past seven years. But despite the three acclaimed albums in the past three years, and even helping arrange and play guitar on two tracks from Frank Ocean's Blonde (2017), 24-year-old Giannascoli's presence is incredibly casual—almost to the point where the sold out performance felt like a house show. No fancy lighting or stage setup, no top-of-the-world stage persona, no dramatic entrance—just someone who looks, dresses, and acts like everyone in the crowd, playing music with friends for those who want to listen. In fact, the closest Giannascoli and his band had to a formal entrance was walking on stage to the hilariously-mismatched glory of Rascal Flatts' "Life is a Highway" (which is also how they left the stage). In short, (Sandy) Alex G doesn't take himself too seriously.
Since Giannascoli's Garageband production is so essential to the unique sound on his recordings (featuring layered midi instruments, pitch shifting, and major contributions from guests), it's important to note that his live performances are not quite the same experience as listening to his albums. Accompanied simply by a bassist, drummer, and another guitarist, the music's lo-fi rawness was the predominating force of the night. Tempos were generally faster than usual, guitars were often more distorted and reckless, and each song moved to the next almost immediately.
While this live approach sometimes meant that standouts from May's Rocket felt like they were missing their defining voices (such as Molly Germer's violin and Emily Yacina's alt-country vocals on "Bobby"), or intimate atmosphere (as on "Big Fish," which recalls early Elliott Smith), the overall effect of the energetic guitar rock felt largely fun and cathartic. For instance, guitar-heavy fan-favorites like Trick's (2012) "Bug" and Beach Music's (2015) "Kicker" felt right at home with the straightforward setup. The crowd was also at its most visibly enthusiastic with the rougher sound, swaying forcefully into a near-mosh pit whenever the chance was there.
Though that isn't to say that driven electric guitar carried the show completely—many of the night's highlights were the most subdued and melancholy performances. Particularly notable was when Giannascoli traded his guitar for the keyboard for a few songs from Rocket, resulting in pensive renditions of dreamy "Alina" and cocktail-jazz-influenced "County," and an especially beautifully nude version of "Sportstar," benefiting well from removing the mask of its auto-tuned recording. The whole crowd was in awe as the song's soft piano chorus instilled a refreshingly calm stillness, speaking well to the quieter beauty of Giannascoli's work.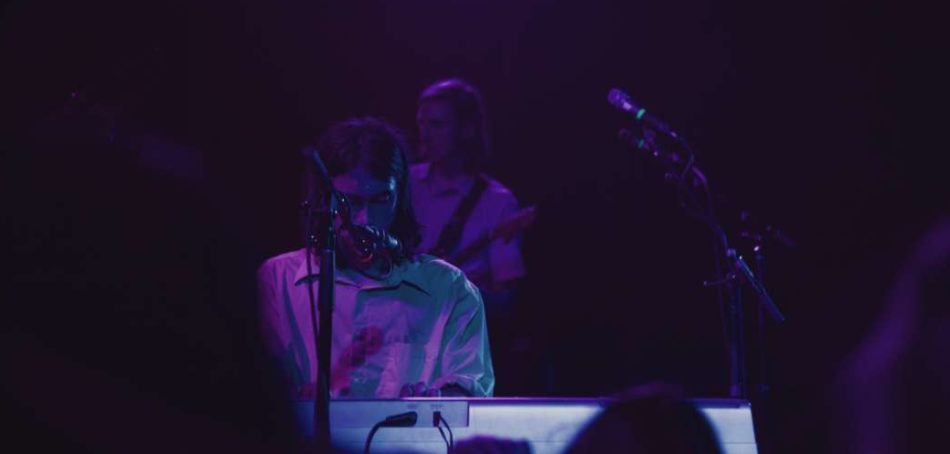 That being said, as stated earlier, Giannascoli and his band really don't take themselves too seriously. After almost starting a requested older song from the audience, Giannascoli told the audience he needed to alter something on the keyboard (which he wasn't using), and the band promptly played Randy Newman's "You've Got a Friend In Me" (of goofily joyful Toy Story fame) as waiting music while he fumbled around. Upon finishing the oddly placed cover, the guitarist offered that they could play anything, then pretended to hear a request for Newman's track and started up again. Once Giannascoli was ready and started the actually-requested song, it only took about a minute of its performance until a slip-up and momentary pause to rethink a chord, which was immediately filled with "You've Got a Friend In Me" once more.
Audience requests comprised about the last half hour of the show, and featured some of the most satisfying crowd-pleasers from Trick (2015 re-release) and Beach Music (2015) that have helped build (Sandy) Alex G's fanbase. "Mary"—perhaps his best known track before Rocket's release—summoned sing-along from practically the whole theater, and a stripped version of "Salt" (featuring active electronic drums on the recording) thrived in its raw execution. Michelle Zauner (of captivating opener experimental pop Japanese Breakfast) even filled in momentarily for vocal duet "Brite Boy." Giannascoli closed the show with his own choice—"Change," which united the crowd and band one last time as the theater filled with the repeating lament of "I don't like how things change." It was a fitting end for the venue full of audience members presumably grappling with early adulthood anxieties. If only for one night, we at least got to connect with and indulge in the music of (Sandy) Alex G that somehow makes getting through it all a little bit easier.
Written by Dylan Medlock
Photos by Olivia Song
Comments
comments