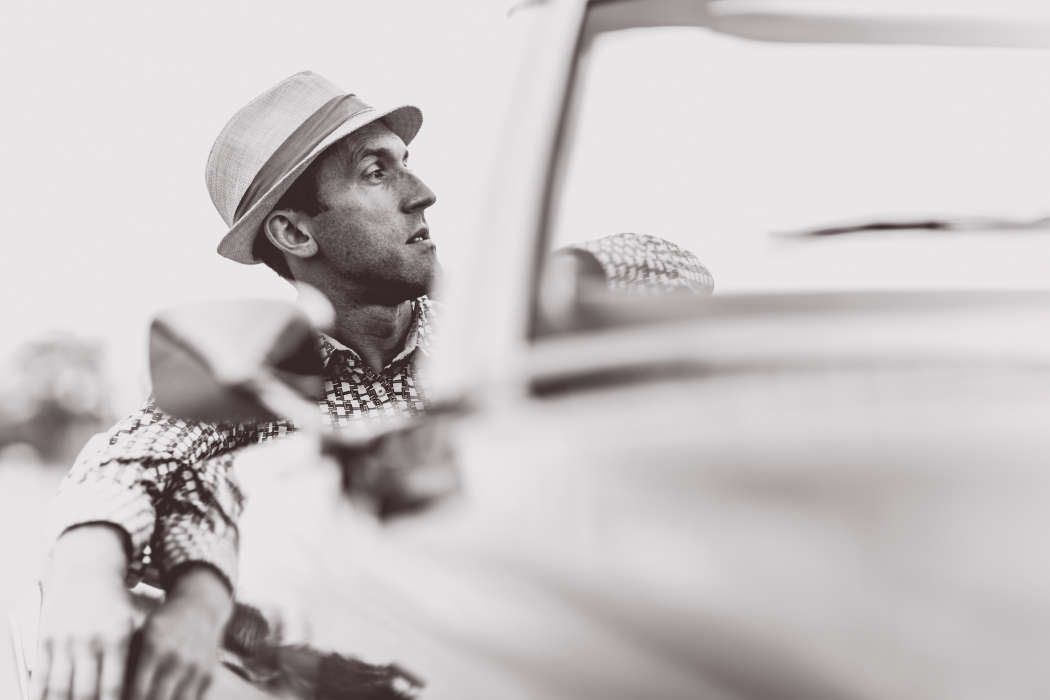 Hip hop producer RJD2 (real name Ramble Jon Krohn) attributes Philadelphia with the "context for a lot of soul music that [he] had liked" and having "the same musical vocabulary" for deeper connections to it. His latest, Dame Fortune (2016), is the last in a trio — if we may choose for a minute to ignore We Are the Doorways (2011), a collection of interim tracks funky enough to release under an alternate pseudonym — of solo Philly releases, completed just before his move back to Columbus, Ohio, where he grew up.
Dame Fortune spins away from last year's self-titled collaboration with Philly/Atlanta rapper STS. Literally. RJD2's sixth album is STS x RJD2 (2015) without STS spitting on each track. After all, the two were created during a similar phase; both feature brassy orchestral sections, jazzy piano, and cinematic strings. This year's solo release covers for a general lack of rap vocals with tinny, erratic percussion, present from the start in "The Roaming Hoard," which also incorporates sparkly guitar lines and low brass that are almost Eastern-sounding at times.
For reasons unknown (to me), standout single "The Sheboygan Left" seems to pay titular homage to the Lake Michigan shoreline town in Wisconsin. Call me ignorant and untravelled, but if not for one commenter on SoundCloud, I'd imagine the town draped in funky horns and celebration. Meanwhile, mid-album interlude, "PF, Day One" ("Post Ferguson, Day One") is a reference to recent Ferguson events and more accurate in depiction. Its pensive, resolute string harmonies and scattered, restless synth runs seem to evoke a morning-after calm to the storm.
But it's the woody claps, incessant revving, and spiraling scales on "A New Theory" and the sparse, hollow first half of concept piece "Your Nostalgic Heart and Lung" that captivate as a sideshow of what Krohn is able to do as a novel soundscape composer. They're a departure from the run-of-the-mill RJD2 that pervades the rest of the album, the fresh linen in a basket of familiar tees and comfortable denim… the fleeting moments of what could be in "an orchestral composition for the societal unrest experienced in this day and age." And if this societal state sounds like it always has, albeit a little more agitated, it's due time for a change.
The unexpectedly sweet Blueprint ballad, "Up in the Clouds", dreams of walking healthily again: "Been about three years since that event / Been picking up the pieces ever since / Nobody expects he'll ever walk again / Ride a bike, stand, or play ball again / But he's about to show them what's up […] Today, he takes his first steps."
Upon Dame Fortune's March 25 release via Krohn's own Electrical Connections, the RJD2 discography can be neatly split into two even parts: B.P. (Before Philly) and I.P. (In Philly). Will there be an A.P. (After Philly)? We can't be certain yet, but considering his prolific history, fans of the producer are probably in luck. Will people inevitably describe whatever comes next as a "movie soundtrack?" This I'm almost certain of. RJD2 has infallibly done what his audience singularly depends on him for: hip hop production for a nostalgia-tinged rhythm and flow. His success derives from his ability to keep it interesting, and his market isn't about to die any time soon.
Krohn will be on tour following the release, with two West Coast stops, April 8 in Los Angeles and the next day in San Francisco. Tickets for The Independent 4/9 are now sold out.
Article by Joanna Jiang
Comments
comments