Day One
It's a music festival. Flashy hipsters in animal costumes, neon-glo face paint, and flower crowns flocked into San Francisco's Golden Gate Park. Early risers were already trekking deep into the 7th annual Outside Lands, to catch the beginning of Nahko and Medicine for the People. This Native American/Filipino/Puerto Rican singer-songwriter culture leader graced the Panhandle stage, a smaller theater tucked into the trees. His narrative folk songs set a psychedelic feel-good mood for the remainder of the weekend; "Warrior People," a reggae-studded tune sounded off in front of kaleidoscopic visuals. It's a quaint pit stop before heading off to Twin Peaks for a special treat.
Progressive indie rock femme four-piece Warpaint hooked in their ultra-fans with sonic originality. Automatic and refreshing, the band exceeded high expectations with perfect siren-like harmonies — Jenny Lee Lindberg's soft industrial bass lines accompanied multi-instrumentalists Theresa Wayman and Emily Kokal while they swapped leads, guitar parts, and keys, both constantly and effortlessly. Kokal's iconic blue hair was mimicked by several front row festival-philes. Behind the trio, Stella Mozgawa could've been considered one of the greatest female drummers of our age.
On the way back, the edgier members of the crowd snagged the Panhandle again for indie stoner pop band Bear Hands. It was space cadet city when bassist Val Loper asked, "Are you still with us?" Spiced at times with a grungy backdrop on eclectic pop, Bear Hands introduced 22nd-century hard rock. Or something like it.
Early birds typically got the good headliner seats. They also got treated to sweet openers, like Tegan and Sarah. The twins went through quite the evolution during their set, from indie rock ballads to catchy pop tunes, bringing all the lovers together under the setting sun.
Arctic Monkeys performed in eerily frigid Bay weather before a colossal Twin Peaks crowd. Natural fog clashed with fog robots as the Brit rock gods opened with "Do I Wanna Know?" Jamie Cook and Nick O'Malley provided prominent and powerful backing vocals to Alex Turner's distinct croon. Meanwhile, drummer Matt Helders threw himself down in a rock rage. It's like Grease and The Beatles had a baby in the modern age. Diving into "Arabella," Turner reminds us of a grungy Elvis and Cook or of an angry Hendrix. These lads from across the pond deserved the hype and held their sizzling voltage. The crowd swelled as the night wore on, receiving the taste testers from another headliner, some dude named Kanye West, across the way. A shocking end to a festival just beginning.
Day Two
The weather shot downhill fast, turning treacherously cold and drizzly, and concertgoers could hardly see in front of themselves through the thick mist. With prominent indie names like Duck Sauce, Capital Cities, and Death Cab for Cutie dominating the park, it was easy to forget the small yet budding artists sprinkled in the time slots between.
At midday, The Districts threw together a harsh dose of heavy blues garage rock. Frontman Rob Grote possessed a Jack White ferocity to him, drawing influences from heavy-hitters Cage the Elephant and Modest Mouse. Never had such an intimate performance felt so physical. With a snapped snare drum, a duct-taped guitar, a knocked over microphone, and occasional sound check issues, the band wailed on as if it were the last time for everything. Onlookers swayed and danced in what felt like a big wet ocean in below 50 temperatures. Grote exclaimed, "this is beautiful weather," before The Districts serenaded the troopers with high-intensity rock.
People awoke momentarily from the daze to flourish amidst the festival's various "lands"—Beer Lands, Wine Lands, Cheese Lands, Bacon Lands, Choco Lands, and more. A large handful of local wineries, breweries, and highly-acclaimed restaurants made appearances at the park for a much-appreciated field day. Businesses represented included the Michelin-Starred AQ, 21st Amendment Brewery and Pub, Wine Gap Wines, and Humphry Slocombe Ice Cream.
Jagwar Ma bursted forth on the big stage, transmitting complex dance beats through their listeners' ears. Singer Gabriel Winterfield rocked an outer space-themed guitar and bounced along to his own musical impressions. They churned out a memorable performance of the single "Uncertainty" from their debut Howlin' (2013).
On the rocky hillside at the rather isolated Sutro stage, Americana rock outfit Deer Tick strummed confessions to a mellow group of tipsy hipsters; at this point, the cold had numbed all their worries.
In time, the park and its inhabitants appeared to be taking a beating. Abandoned drink containers, food wrappers, and the inebriated began to litter the grounds. However, it soon became apparent that Outside Lands had foreseen this: medical tents distributed blankets, Sober Lands held hourly meetings, security enforced borders, and volunteers ran a tight ship of eco-friendly consumption. After receiving a healthy dose of headliner — take your pick from rock classic Tom Petty or rapper revolutionary Macklemore — the masses turned in to recharge for the next day's finale.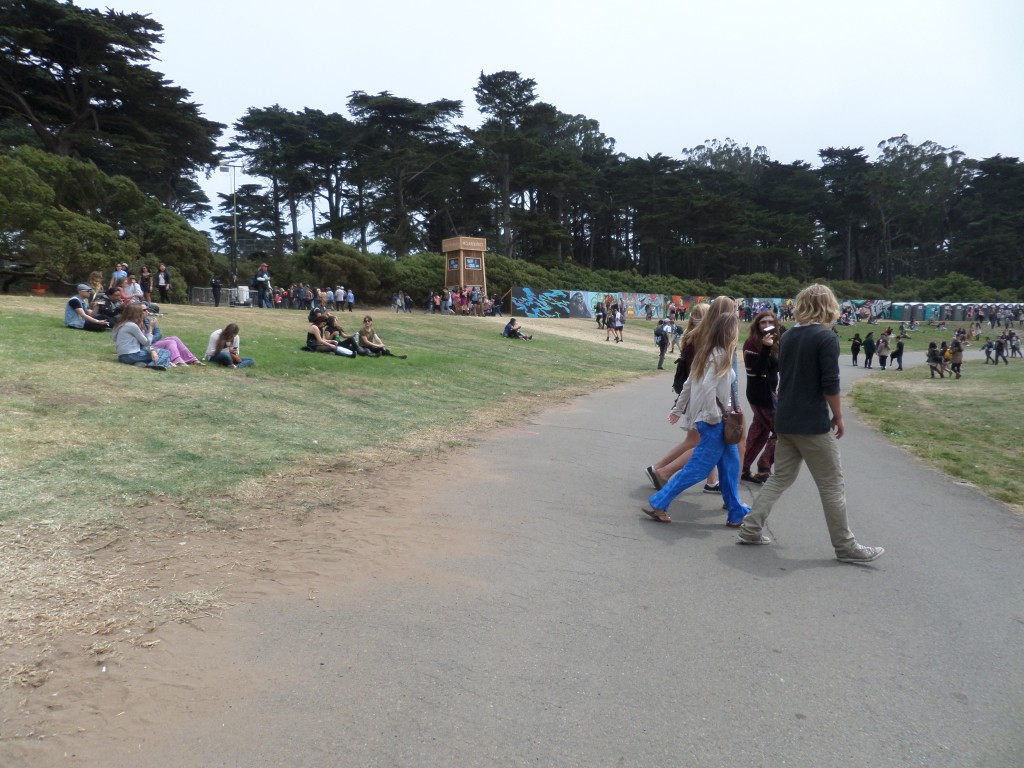 Day Three
The last day received the fabulous Imelda May, a leader among the festival's many woman rockers, at Lands End. Hailing from the Irish isles, May owned that jitterbug '50s rock with a bluesy Winehouse voice and a rockabilly flare in her striped dress paired with red stilettos.
The bands on Day Three were split clean down the middle. Rock acts funneled down to open for modern Brit-rock sensations The Killers, while, across the chasm, EDM groups set up camp. It was the day of the DJs.
He looked like a dude and sounded like a god. Flume preached a swishy ear-piercing sermon to the neon-stained masses at the temple that was Twin Peaks. Girls popped up on shoulders, like buoys in the harbor, only to collide with speeding crowd surfers. Songs like "Insane" and "Holdin' On" sounded better than they ever would on any other speakers. The day-rave moved to the live sound of many computers, like a celebration of the right to party. Lykke Li followed with her own indie electro pop set. It's safe to say that very few Flume fans actually migrated away; this Swedish artist twisted the minds of her fans into musical euphoria.
Back at Lands End, The Flaming Lips led the rock band procession with a fantastic neo-psychedelia performance. Each band member donned face paint and big hair as they played on in front of freaky anthropomorphic dancing suns and moons. Even the farthest fan could see swirls of glittery performance art descending upon the music. The set primarily contained songs from their latest album The Terror (2013), but fans were also able to catch old favorites like "Do You Realize?"
The sun set once again as tensions escalated, people separated, and headliners geared up to do justice to their respective genres. A dance party spiraled into formation around Dutch DJ Tiësto's sick beats. Throwing down that EDM since 1985, Tiësto sounded as contemporary as ever, mixing pop artists with trance dance licks. His new studio album, A Town Called Paradise (2014), features artists such as Icona Pop and Krewella, leaving nothing to be desired. Live, the drops are long enough to skitter into dubstep territory while each song melted into the next without pause. Those feel good vibes from Day One permeated time and injected the crowd, which stretched for what seemed like miles.
Ultimately, it's difficult to tell if anybody truly remembered the actual end times. Festival after parties extended on through the night. Memories had blurred and sunburns had reddened as the days cycled through; the masses had left with empty wallets, new friends, and warm hearts.
Photos by Erika Castillo
Comments
comments