"We have one more song," Mogwai's bassist Dominic Aitchison lied before his band played four more tracks — three of which were in an encore. "But first, I have a question. Are a lot of you wasted?"
Left and right, the audience cheered, enunciating that standard San Francisco Friday night high. Mogwai "ended" their twelve-song set with an epileptic rendition of "Mogwai Fear Satan," a 16-minute track from their 1997 debut, Young Team. But the night didn't start out with that energy.
Mogwai took the stage at the Regency Ballroom thirty minutes after an underwhelming opening performance by Steel City's A. E. Paterra, who performs under the moniker Majeure, which one crowd member dubbed "rubbish". Paterra created loops and beats situated almost entirely in midtones, and the uncomfortable BPM of his set meant the audience was stuck trying to move in ways that were somewhere between swaying and dancing. Paterra also had a lack of interaction, which didn't do much to win the crowd. Confused showgoers attempted to headbob, and a couple of brave souls wiggled. Most everyone else drank in preparation for the headliner.

To Paterra's benefit, his slow builds were great, and the coordination of simultaneously working several keyboards, two soundboards, and a laptop could not have been an easy task. Despite his ingenuity, Paterra was engrossed in his instrumentation and the main focal point of the set became a glowing Apple logo. His was a sort of Digitalism meets East Berlin sort of vibe, one that would've better suited a smaller, niche venue rather than the larger Regency. But he was a perfect gentleman at the end of the night, bidding San Francisco a "good night, and thanks for coming."
Mogwai, conversely, were the holier-than-thou friends-of-a-friend. They acknowledged the audience, partied with them, but didn't try any pickup lines or deep philosophical bondings. They were the kings of post-rock playing down to their loving subjects. And the audience – having prioritized The Regency Ballroom's bill over equally notable lineups at the Greek Theatre, The New Parish, and Rickshaw Stop – was absolutely loving.
The Scottish five-piece-plus-one could do no wrong, from the introductory "Heard About You Last Night" onward. They made up for not having a distinctive front- or hypeman by incorporating the crowd into a visual lightshow that changed from song to song. "Friend of the Night" panned lighthouse-style searchlights over the audience; "Blues Hour" contrasted vocal segments and instrumental choruses by pathetic fallacy; and anyone with epilepsy would've been royally screwed during the bleeding tones and flashing floodlights of "I'm Jim Morrison, I'm Dead".
However glorified Mogwai was, there were some serious blunders in their program, too. A bipolar delivery of "Blues Hour" recommended that the band stick to their characteristic instrumental-only sounds; Stuart Braithwaite's guitar playing (and at one point, shredding) was first-rate for most of the night, but his vocals here were drowned out by the rest of the band, and pitchy regardless. There were moments in the show where the band slaughtered the venue's audio system; "Jim Morrison" and "Remurdered" made the crowd's ears bleed. The way the stage was set up, there were several band members' backs to the audience during multiple songs, such as "Heard About You Last Night" and "Deesh".
With the audio, however, they mostly redeemed themselves within a minute or two, adjusting, scaling back, or in the case of "Mogwai Fear Satan," simply entering a mellower movement of the piece. The mellowest part of the night might have been "Mexican Grand Prix," which got everyone grooving in a consonant euphoria after a gradual, driven build in "Master Card". The plus one Friday night was Luke Sutherland (Bows), who provided the violin melody on "Hunted by a Freak," and additional tom pounding on "Deesh". Guitarist John Cummings sported a red solo cup throughout.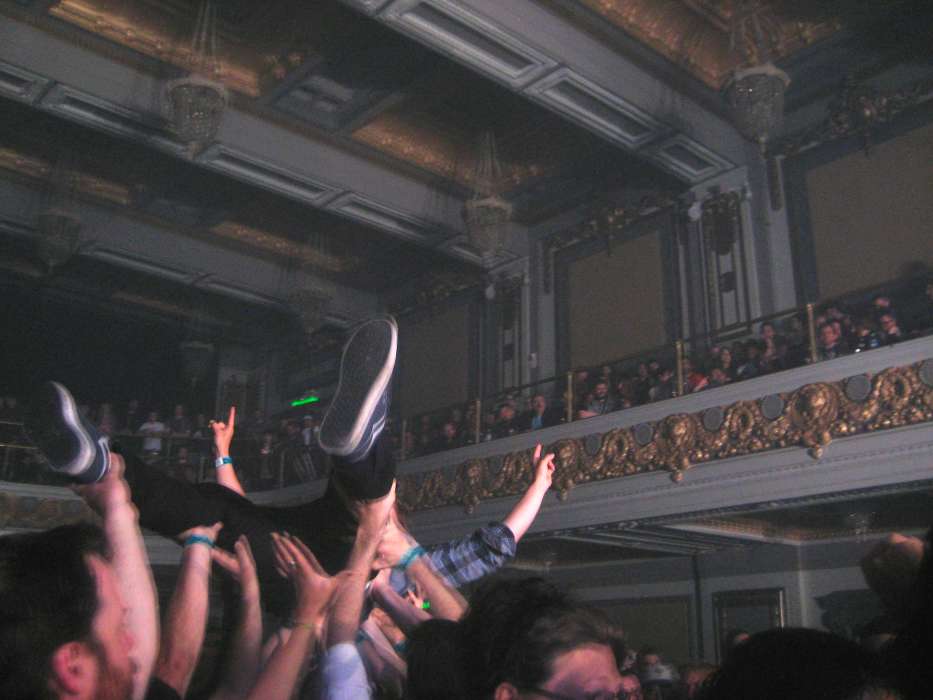 Overall, Mogwai created an aesthetic, branding the stage as a live version of their latest album, Rave Tapes, and draping the audience in viscous guitar harmonies. If there were any instrumental post-rock band able to sell-out a mid-sized auditorium of 2500+ capacity on the same night as Disclosure, Lana Del Rey, and Surfer Blood, it'd be Mogwai. Kings, much?
Comments
comments