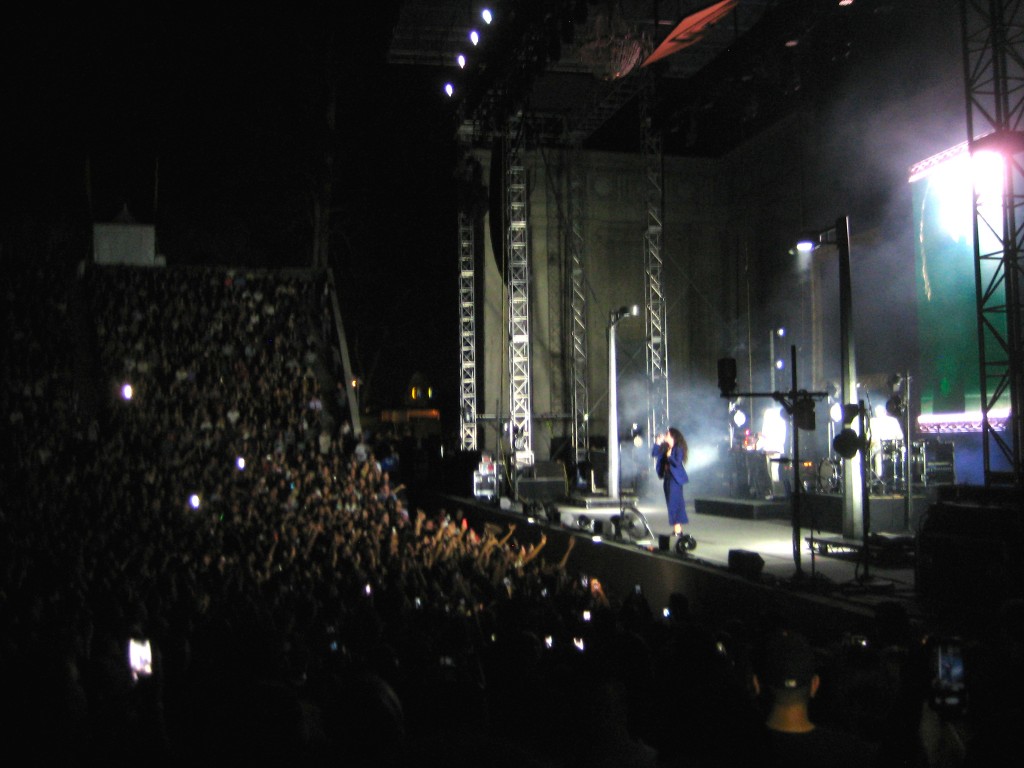 The first performance of two nights in Berkeley, Lorde brought her tour to the Greek Theatre on Thursday October 2, 2014. Hailing from New Zealand, the young 17-year-old singer-songwriter attracted a diverse crowd, ranging from young teens with their parents, the expected crowd of twenty-somethings, to middle-aged couples on a night out.
The crowd settled, the lights dimmed, and the opener, Majical Cloudz, took the stage. With heavy fog rolling onto the stage, it was a simple two-man performance. Canadian vocalist/guitarist Devon Welsh and instrumentalist Matthew Otto delivered minimalist, indie synth-pop songs, including "Childhood's End" from acclaimed Impersonator (2013).
Wearing simple t-shirts and jeans, the pair were fairly modest as Welsh walked around the stage filling up the theater with his dramatic, resonating voice. Although Majical Cloudz put on a compelling performance, their songs carried a melancholic tone, and it was clear that the audience was ready for a more youthful and uplifting performance.
Soon enough, when the lights flashed back on to introduce Lorde, the crowd cheered relentlessly.
Having released her first album, Pure Heroine, only last year, she performed all ten of the songs from the record, but also surprised the audience by throwing in short but sweet covers of Kanye West's "Flashing Lights" and Bon Iver's "Heavenly Father." Perhaps best of all for the fans, Lorde debuted the first live performance of her new song, "Yellow Flicker Beat" towards the tail-end of the set, telling the audience, "We were waiting for just the right crowd, and frankly it's you." Between the mysterious verses, the choruses erupted with big pop beats that the crowd could not resist dancing to.
With a simple stage set-up, featuring just herself and two supporting musicians on DJ and drums, she had a mature stage presence beyond her years. Donning three different iterations of a crop top and gaucho-style pants, the young singer danced wildly, with her iconic brunette locks flying about. Her strong, sultry vocals were often joined by the echo of the crowd singing along, and different lighting effects added to the tone of each song, such as the green shades for "Tennis Court" and the bright white for "White Teeth Teens."
Her hour-and-a-half set flew by with a well-orchestrated setlist that maintained its momentum with punctuation at all the right moments. While the confetti released into the crowd did a great job of emphasizing the excitement during an energetic performance of "Team," Lorde's passionate vocals carried their own, ensuring us that this is only the beginning for the young artist.
Article by Ryuka Ko
Photos by Joanna Jiang
Comments
comments