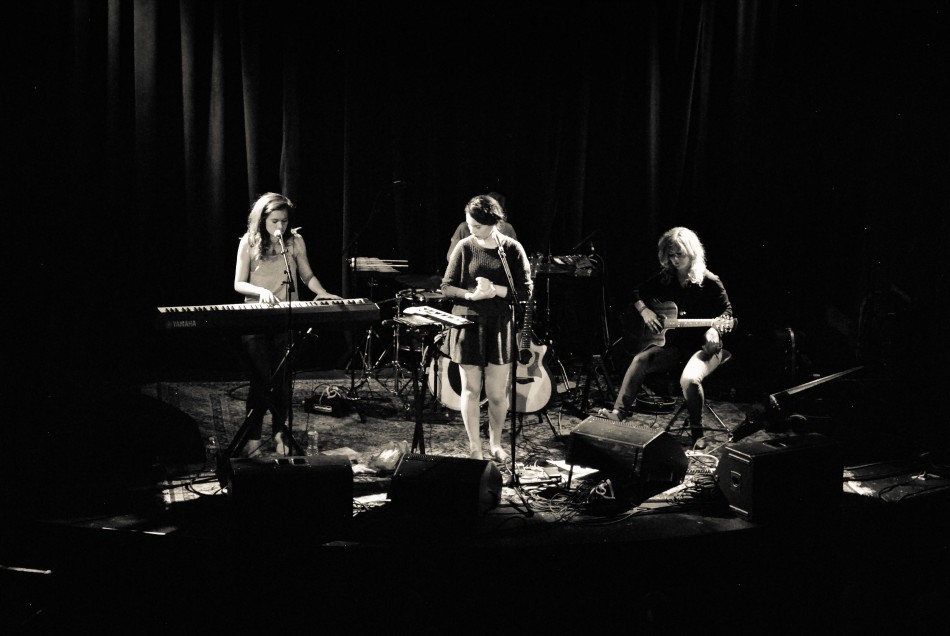 The Jurkiewicz' first spoken words to their SF crowd on Saturday were compliments on the "lovely West Coast weather." Charming and conversational, the Indianapolis-based Lily & Madeleine seemed very much at home on the stage of The Chapel where they performed an unforgettable set for an intimate crowd of polite fans.
The sisters, like many rising stars in this day and age, are quite young. However, Lily, 18, and Madeleine, 20, don't let age question their musical maturity. While the composition of their lyrics and instrumental parts is impressive, their voices are what really capture the ears. Rich, full, and developed far past what one might imagine a teen and a 20-year-old to be capable of, both young women women lend a sense of peace and clarity to their music with their voices.
Perhaps a byproduct of growing up together and learning to speak and pronounce words in the same way, their harmony is unlike any other. Eyes closed, the seamless merging of two voices into one could be heard, their pitches mixing flawlessly and creating an altogether unreal experience.
The set included numerous tracks from Lily & Madeleine's latest album, Fumes (2014), released this past October. This latest work maintains the same vocal-heavy style found on Lily & Madeleine (2013) and The Weight of the Globe (2013), while developing a more pop-oriented sound. The pair delivered older favorites, including "In The Middle" and "Devil We Know," and also gave the crowd a taste of their newest, unreleased work, performing two songs off their in-progress demo of ten songs. These new tracks separate themselves from their current discography with more pronounced storytelling such as lyrics talking through a uniquely painful heartbreak and the process of moving on.
Ending the night with their soulful cover of "Sea of Love" — fitting for a February 14 concert — Lily & Madeleine floated off stage, leaving patrons to contemplate the depth and intensity of the sound still reverberating among the crowd.
The Jurkiewicz' sisters have a few weeks left in their current tour, dates here.
Article and photos by Kavitha George
Comments
comments