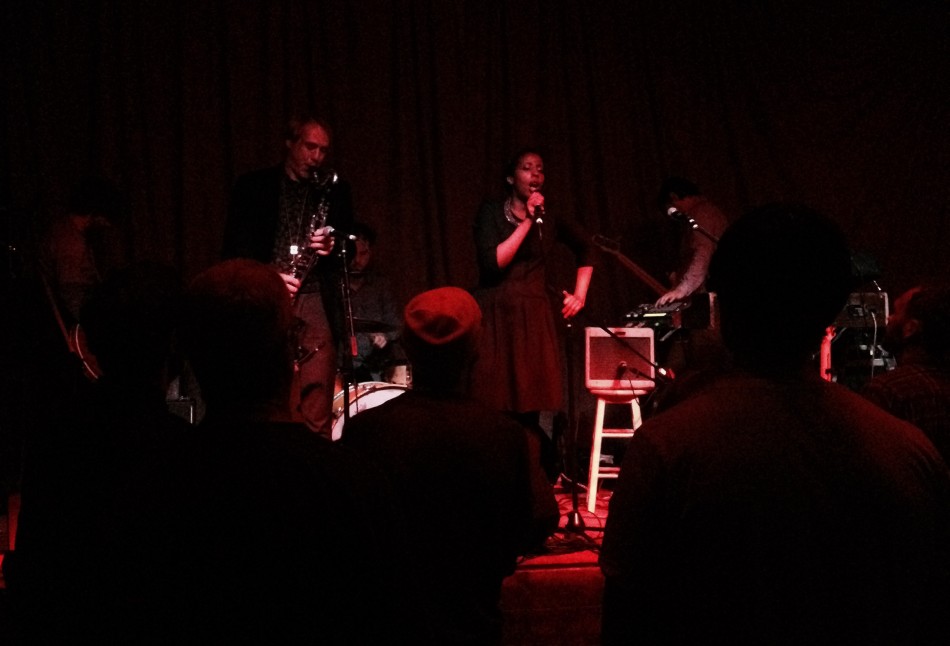 There are these rare moments during a show when I wonder if a single instrument, such as a solo voice, would have been enough to fulfill a night's performance. When Canadian singer/songwriter Al Spx sang a cappella during her Friday night's show at Brick & Mortar Music Hall, the thought crossed my mind several times. Under the stage name Cold Specks, and with an accompanying band, Spx blew the Mission audience away with her dark goth rock and hollow, yet soulful voice.
The night began shadowy and gloomily with "The Mark," the opening track of her debut album I Predict a Graceful Expulsion (2012). Cold Specks has enlarged her band since her first record and during this chart, she gave us a taste of what's to come with the deep-ranging tones of a bass clarinet foreshadowing the fuller instrumentation of her new material. We were met by the full band for "Let Loose The Dogs." By the time they performed "A Broken Memory," there was no doubt that this year's release Neuroplasticity gave way to Cold Specks's expanded and vitalized sound.
"Do you like cover songs?" Spx asked the room after doing an a cappella version of Elvis's "Peace In The Valley." People were hesitant to answer the question with the exception of one man who loudly confirmed. The following cover of "We No Who U R" by Nick Cave & The Bad Seeds channeled some of Cold Specks's more rural folk nuances found in her own work, before she resumed her more gothic vibe on "Blank Maps."
While Al Spx's voice can melt the coldest heart, the brutality and torment her lyrics conjure will unfailingly give you the chills. There was a weird, yet comfortable sense of warmth and ferocity to her performance. Her body language signaled shyness while her spoken language signaled much more confidence and boldness. Even though she told us to "shut the fuck up and have a good night" before leaving the stage, the audience somehow managed to trick her back in for one more song.
Cold Specks delivered both a flawless and raw vocal performance at Brick & Mortar this Friday, with the support of an incredibly tight band. The musical width of the show, impressive in every way, rightfully crowned Cold Specks as the reigning queen of doom soul.
Article by Ane Skjølaas
Comments
comments