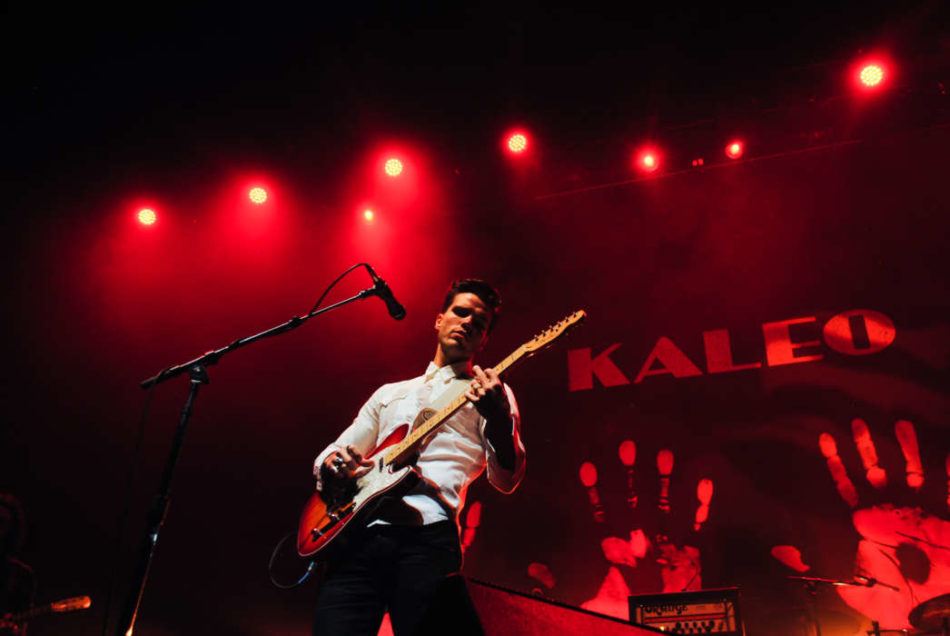 Kaleo, or as the internet appears to regard them, "Jökull Júlíusson and some other guys," carved a permanent spot for themselves in the heart of San Francisco Thursday night. There were your usual declarations of love called out for a lead singer resembling an Icelandic Elvis, with the crowd finishing verses in unison and dancing en masse. Just halfway through the set, I also found myself in the middle of a standing ovation following a banger called "No Good." It was a surprise, and the best kind at that, to find that a band I've listened to for months and loved the way one might love a nice bowl of soup is so uncommonly spectacular live.
Particularly uncommon, I found, was that the magnetic attraction the band had with their crowd seemingly based almost entirely on a raw appreciation for their music and not on a personal connection with the musicians themselves. In fact, apart from thanking us and the occasional shoutout to San Francisco, the band hardly spoke at all.
Of course, given their performance, they really didn't need to. Kaleo have managed to forge a niche within the more generic label of "indie rock" that combines Robert Johnson-esque soul, delta blues, and some good, solid shredding, complete with a resonator guitar. The result becomes Icelandic rock mixed with early American blues, folk, and some subtle country influence. With such far-flung components to their sound, I found myself regretting my inability to line dance during "Automobile." Moments later found me needing to headbang along to guitarist Rubin Pollock's solos in "Hot Blood." "Broken Bones" is anchored in gravelly lyrics and a heavy, pounding blues rhythm, while "Vor í Vaglaskógi," their only song in Icelandic, was reminiscent of softer ballads from James Bay or Tom Odell. Júlíusson's eyebrow-raising scream punctuated the shreddier bits of the set, as well as a heavy, stripped-down cover of Cher's 1987 hit "Bang Bang."
The two sides ("A" and "B") of the album's vinyl are meant to "show the diversity and the two sides of the band," says Júlíusson. "If you look at it, we're just a blues band at the end," he continues. "The same formula but with a different kind of vibe to it."
Kaleo is currently on a tour of North America and heads to Europe in June. Catch them in San Diego on Wednesday and at Coachella next weekend. Find tickets and see their full schedule here.
Article and photos by Kavitha George
Comments
comments