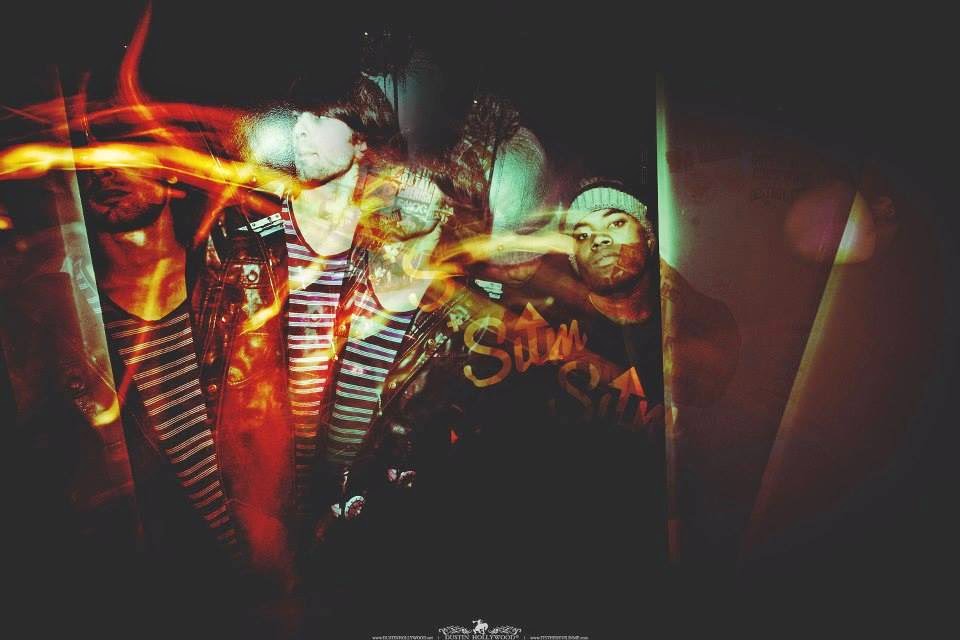 Rising San Luis Obispo electronic tag team TastyTreat returned to the Bay Area Friday night for a single show with Madeaux at Leo's. Their set was a thick, heavy one (material-wise) spanning sampled vocals from Rihanna's "Pour It Up" to AOBeats's refined, prog-house edit of "Sprezzatura" by Testudo.
With performance qualities similar to Bassnectar's skull-pounding aggressiveness, they closed the evening with great diversity – at its worst, sloppy transitions sent us back into post-finals house party mode; however, at its best, the duo must be commended for their creativity – most samples were added to boost original loops and the selection was a balanced combination of accessible and obscure.
After an afternoon of driving and an evening of competing for dinner with locals out during the city's annual Restaurant Week, John Smith and Devin Hardy sat down to give us updates and their game plan for the new year prior to showtime. They reveal busy times ahead with more collaborations, more live shows, an EP in the works, and a to-be-released CATHEDRALS remix.
Without further ado, here we are geeking out over hidden gems in the genre, Canadian gems in the genre, and pizza:
How was SNOWGLOBE? Have you played anything between then and now?
J: Control and Ruby Skye did an official afterparty with Trippy Turtle. And it was SNOWGLOBE, so we got to wind down and turn up.
Will you introduce yourselves?
J: I'm John Smith.
D: And I'm Devin Hardy.
There's no space between Tasty and Treat. How do you deal with people — like Earmilk occasionally — who think it's two words?
J: Did they?
D: They've covered us so many times; I'm surprised they did that.
J: It screws with our search.
Yeah, [the moniker's] considerably harder to Google as two words.
D: We don't take it personally, though.
J: I'd rather a space than "TastyTreats." We've had that before… like, just look at our Facebook. It says "TastyTreat."
Are you still based in SLO? What's it like being smack in the middle between the Bay Area and LA?
J: Yes.
D: It's nice being able to travel between the two – we can hit either airport.
Where do you spend more time, and what's the biggest difference between the two?
D: One month I was home for four days a month. We have a new agent who's been awesome.
J: She's been doing a lot in the Bay Area and helping us with shows in Canada–
[Wait, hold up.] Whereabouts in Canada?
J: Medicine Hat.
Damn, that's a little obscure. [Medicine Hat is a random city in Alberta.]
D: But it was the most turnt fucking show ever.
J: It was great.
D: Last year we did shows in Colorado, Utah, a couple shows in Vegas, Reno. This year, we're hoping to partner up with a couple of guys in our agency: DIVERSA, great guy; Intellitard, who's opening here who booked us once at Wormhole at The New Parish.
J: We've played with the whole crew at 1015 Folsom. We play in the Bay Area a lot. We love the Bay Area — John's from Palo Alto, I'm from the Central Valley originally. Born and raised. It's fun to play in LA, but we have personal attachments in the Bay Area.
D: We love both of them.
You just answered my next question [Where are you originally from?]. So y'all met at Cal Poly?
J: Yeah, we met at Cal Poly, through DJ culture.
D: We met at a ski club party.
J: We hung out all the time and started producing together…
And it worked. The logo for TastyTreat… is it based on something? Who designed it? It reminds me of the Pillsbury Dough Boy.
D: The guy who designed it is Chadwickmak, who's done a lot of art for Hucci, Slander, Brillz… we just told him to make us a mascot that represented what we wanted in music. I think he borrowed some ideas from the Krispy Kreme guy.
J: He's got sharp teeth, but he's smiling. And he's got a knife, and music… it works really well. It's a cool mascot.
If electronic music fizzles out, you can just go into the bakery business and keep the same logo.
J: Yeah, we'll start a doughnut shop.
D: Dude, maybe we'll add the S ["Tastytreats"] then.
How do you choose your remixes? Are they more often officials or bootlegs?
D: We first started by listening to things we dug.
J: We found a cappellas and made remixes.
D: If it was clean, and it worked, it worked.
J: As time went on we got more creative.
D: The unofficial remixes started turning into remixes. We just did one for Dim Mak — Autoerotique & Max Styler. We just finished up one, that's not out yet. It's with CATHEDRALS, who are up-and-coming in the San Francisco Bay Area.
Oh my god. [We, like everyone else in the Bay Area, adore them.]
D: Yeah, we did "Want My Love."
J: For a while, we'd just find really cool or bizarre a cappellas, to layer over original tracks. It would make the songs connect with everyone. Rather than just making a song and gambling, we'd throw a really nice a cappella in to bring us forward to everyone.
Okay, your new track: "Up Late" with Father Dude. What is that modified brass bit? Is it brass?
D: Yeah, we did three layers of brass and added distortion.
That was great; it gave me the chills. But I wasn't sure — it was modified like hell.
D: Yeah, it was pretty destroyed.
J: It's great that you bring it up; the brass section was our favourite part. The thing with horns and brass is that it's so easy to be cheesy. The horns fit so well, but we wanted to make it a little different with the distortion, detuning… to make it not a standard brass section.
Does one of you play? Is that you on the recording?
D: I played saxophone growing up, but the part was just done on piano.
J: We messed with it as a sample.
How did you meet Father Dude?
J: The Internet.
D: Another URL friend. We're Internet kids.
He's from New York, right? Did you guys have to meet up to do this or did he just send you the vocals?
J: Brooklyn, yeah. He was super professional and recorded all of his vocals.
D: We just sent him an instrumental over the web, he said, "yeah I can do this," and sent us back some stuff on top of it. Then we glued it together.
J: We do love the Internet.
I started following your Facebook feed over the summer and there's this one moment I have to bring up: mid-July you posted, "brb. dying. 'It's You' is the first track of the Mad Decent Block Party mix by Thugli." Really great track by the way.
D: That track was with a duo from Lithuania, Red Milk.
J: And it came out fucking epic. We loved it.
D: It was on the front page of The FADER and we were like, "shut up."
I brought it up because I love seeing electronic acts get excited about stuff like this.
J: Our friend sent it to us, like "hey just so you know, you're the first song on the Mad Decent Block Party mix."
You had no idea THUGLI was going to use it?
J: Our friend was showing our music to THUGLI, but we had no idea they were into it.
D: The friend was Biz Davis, who's from Toronto also. He's part of a group, The Killabits, he helped us out so shoutout to him, for sure.
Another duo who worked with Father Dude, SLUMBERJACK, was recently freaking out about Porter Robinson dropping one of their songs mid-set. Just how significant are moments like these for you? Like, is there a noticeable surge in popularity?
D: Obviously, we love it [just for what it is], but yeah, getting put on by a media outlet like The FADER and being promoted by a label like Mad Decent really does help. [To have people] just seeing the first track on the mix and being like, "who the fuck are these guys, TastyTreat?" It's definitely significant and gets you one step closer to your goal.
J: People will look us up to see what else we're doing.
Though I suspect 90% of it is still the fact that people you look up to are listening. Do you think that excitement will ever fade?
[unanimously]: Nope. Absolutely not.
Who would you consider the biggest tastemakers right now? Mad Decent a big one, Diplo's BBC segment is doing big things… A-Trak's been setting some good precedents.
D: Diplo's a good one. I'm really looking forward to Kaytranada's residency. If we're talking labels, Future Classic are awesome, Big Beat has some cool shit.
J: … OWLSA, Nest. Nest is OWLSA's sister label, and called Nest for a reason — they just find people and send them up to the next level.
Any individuals?
J: Plastician; his show is great.
D: Even people we work with personally, like our artist collective, Hebinomichi.
J: It means "the serpent's path" in Japanese.
D: Basically it's us, Maxx Baer, StéLouse, KRNE. Everyone's amazing.
I love StéLouse. Is the collective locally-based?
J: No, it's worldwide. We've got Colorado, Australia…
D: Germany, Belgium.
How did you get caught up in all this?
D: We played a show with StéLouse back in the day, an LIB showcase in Hollywood. We met there, linked up, had a good time, and stayed in contact. He was like, "yo man I'm trying to start a collective."
So it was StéLouse's thing.
J: Yeah, he got in talks with us.
D: Shouts to him; he did a good job.
J: Being part of an artist group is super crucial in this day and age; teaming up, sharing information and ideas… it's a pretty cool little group of people. There are other ones that ones, like Moving Castle, that are doing great things.
D: Brett Blackman is a tastemaker for sure. Love that guy.
J: Brett Blackman is the ultimate tastemaker. Shouts. He's awesome.
That's actually part of the answer to this next question, a place where you find stuff to play in your own mixes. You definitely include other producers and artists, too. Where do you guys usually find these sound?
D: Soundcloud, blogs.
J: I was just talking to Max [our management]–
D: Oh yeah, management has great tastemakers there.
J: He writes for Run The Trap, The Music Ninja. But like, Soundcloud is our generation of cratedigging. Back in the day, people searched for that hidden track or album no one's ever heard of before at the record store. But with Soundcloud, there's so much music out there – good, bad, indifferent – to dig through. John and I spend tons of time on Soundcloud listening to thing. We always listen to what we're sent via email, because you never know. Soundcloud is the new cratedigging where you can find those gems. We love finding new music.
Good [so do we]; Soundcloud's probably a good place for new musicians and producers to start out, yeah?
D: Yeah.
What about you? What's in store for 2015?
D: We're working on an EP.
J: You're the first person to hear that.
D: We'll be putting out more music, and hopefully hold on to the fanbase we've worked so hard to collect. So thank you to everyone who's been supporting us this past year.
You've come along way! So finally, three artists you've been listening to lately and three pizza toppings you'd get if we ordered a pizza right now:
D: Pepperoni, triple chicken, barbecue drizzle – that's pizza toppings. Artists – Snakehips…
J: Mura Masa… um…
D: It's so hard to name three – this is torture.
J: KRNE. We're gonna leave it at that. He's our homie. Another pizza: bacon.
D: Mmm, bacon's good.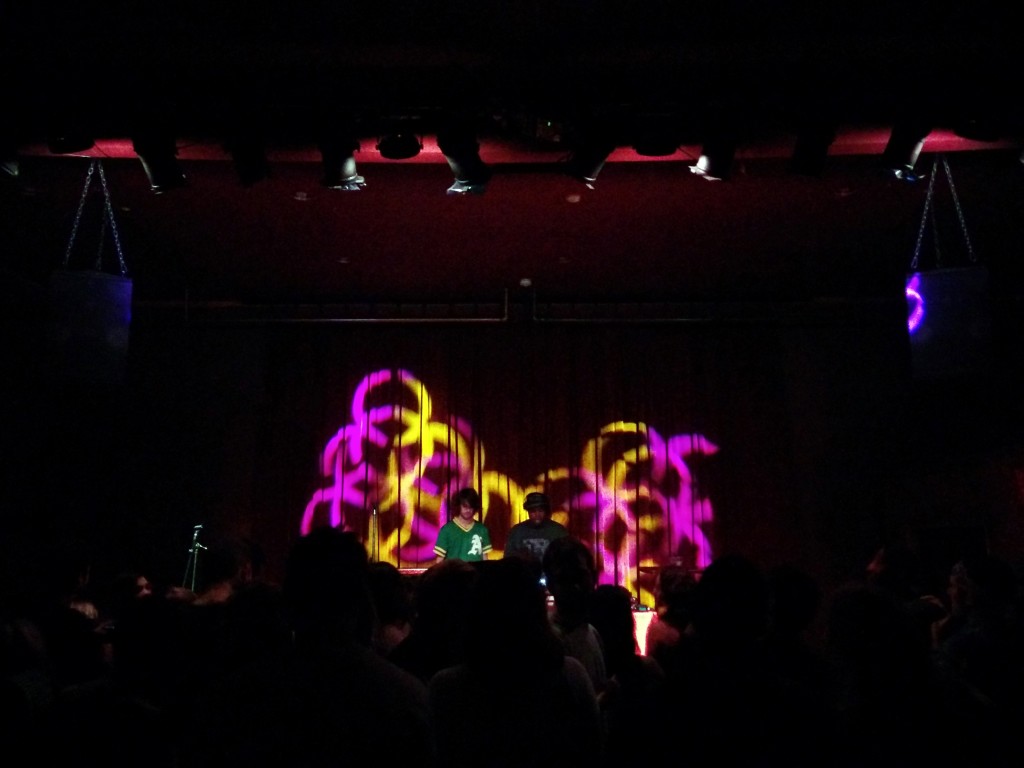 Article by Joanna Jiang
Comments
comments