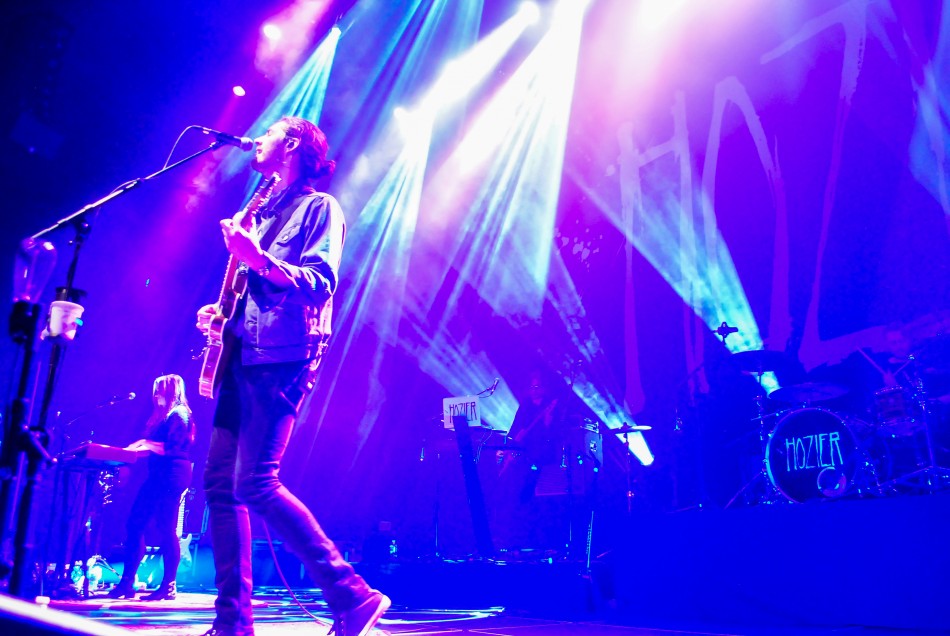 Impossibly tall, wavy hair in its distinctive bun, and bewilderedly shy as if he couldn't believe the throngs of screaming girls were waiting for him, Andrew Hozier-Byrne – known by his stage name Hozier started his first of three San Francisco shows with the ironically bold, blues-rock track "Angel of Small Death & The Codeine Scene" off his self-titled album, Hozier (2014). The sixteen-year-olds behind me shouted the punchy ends to each verse, nearly overpowering the amps lining the stage in front of them. Even I will admit, it's difficult not to get caught up in the thrill of Hozier-Byrne's inexplicably magnetic stage presence.
"From Eden" came next, Hozier's low, rumbly voice soulful and easily manipulated stretched out words like "honey", "tragic", and "innocence" with a slight trace of his Irish lilt. Switching through several different guitars over the course of the night, he rendered each darkly dramatic and poignant melody without a pick, kicking back his right foot into its signature birdlike stance with every downbeat. With each new song, the volume of the crowd's screams grew, along with the width of Hozier's crooked, almost surprised grin. His cheekbones could cut souls, that Irish flamingo.
Raised on soul, jazz, rhythm and blues (an upbringing he plans to transfer to his future children as the song "Jackie & Wilson" would suggest), Hozier spent his adolescence in soul and blues bands, dropping out of a music program at Dublin's Trinity College to pursue his solo career. He currently tours with cellist Alana Henderson (also his live duet partner for the sad and sweet, carefully harmonized piece, "In a Week"), a keyboardist, backup singers, and percussionists – each of whom he profusely thanked at the end of his set.
"Take Me to Church" was, of course, his last performance before the encore, followed up by the wistful acoustic discourse, "Cherry Wine", and finally "Work Song", a dark love letter with a heavy bass beat. Hozier seemed just as wistful to leave as we were to see him go, his modern blend of folk and dark soul wafting out into Nob Hill long after he'd left the stage.
Check out the rest of Hozier's tour dates here.
 Article and photos by Kavitha George.
Comments
comments