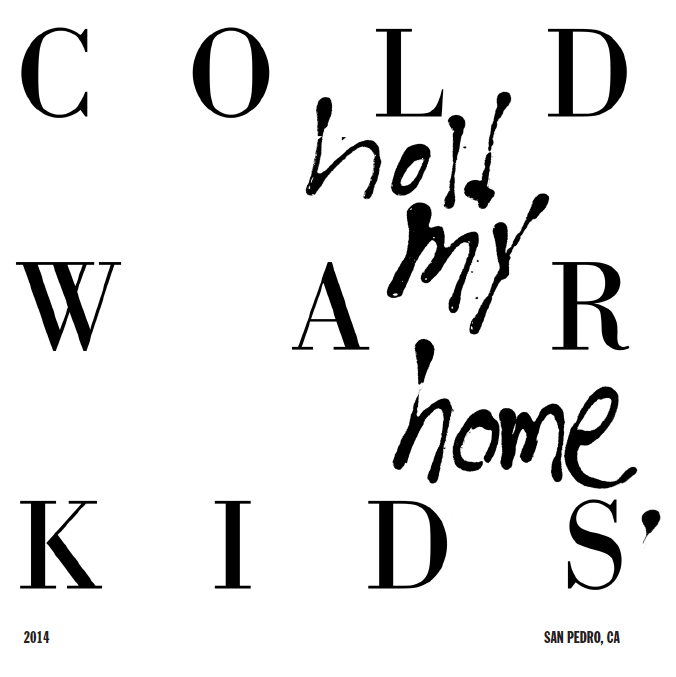 Long Beach indie rock outfit, Cold War Kids, released their new album Hold My Home on October 20th, as their fifth full length studio album, arriving just one year after Dear Miss Lonelyhearts.
It's safe to say that the band is a group of rock veterans, tested endlessly by the toils of tours, hours in the studio, and the tensions of artistry. But on Hold My Home, Cold War Kids shift from the macabre, sinister sounds that define their first two albums and decided to lean toward a more accessible, mainstream rock. This is a curious trend. Perhaps it has to do with Jacquire King, with whom they worked on Mine Is Yours (2011), the album that paved the stylistic path the band now follows insistently. Perhaps the band's recent addition of Modest Mouse guitarist Dan Gallucci has something to do with it. One thing is for sure: if you're a fan of Loyalty to Loyalty (2008) and Robbers and Cowards (2006), then Hold My Home is very likely going to take some getting used to.
Immediately, we dive into shallow pop-rock with "All This Could Be Yours," the first track on the record. For some reason it's reminiscent of "Can't Hold Us" by Macklemore and Ryan Lewis, if I can make such a blasphemous comparison. (You'll know what I mean when you take a listen.) The introductory piano chords are unwavering, providing little musical variety through the entirety of the song. This seems to be a common theme among many songs on Hold My Home — the song begins with a promising hook, only to disappoint with repetitive, unimaginative filler for the rest of the song. Part of the magic and novelty of Cold War Kids' early work is that it was unpredictable. It was fun, it took unforeseeable turns occasionally accompanied by seemingly nonsensical miscellany and of course the punk sneer that is crucial for any dark indie rock sound. Rather than continuing in this deep, powerful style or even establishing a new one, Hold My Home merely adheres to common standards that flood the indie rock repertoire today, and in doing so, summons nostalgia for their early rollicking artistry.
If there was one word to describe Hold My Home it would be "cautious." In taking few risks, it sets itself up for few failures, but also few successes. Cold War Kids have been in the game for a while, and we know exactly what their abilities are. At their best, they are a truly exciting group with profound messages and a full, confident sound. If you can listen intently you might catch moments in Hold My Home that are indicative of its potential. Unfortunately, those moments are fleeting, as Hold My Home plays it too safe — it is duly formulaic. A recycled sound is exactly the antithesis of what this group used to stand for and represent.
In contrast to their changing musical style, Cold War Kids' killer stage presence and live performance ability remains inflexible. They are set to come to the Fox Theater in Oakland on November 21.
Article by Darius Kay
Comments
comments