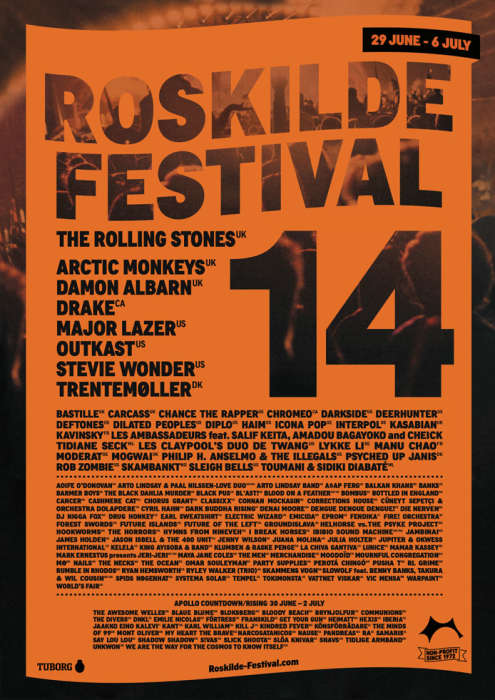 Copenhagen, Denmark* — Attended by over 130,000 concert-goers, Roskilde is one of Europe's largest festivals; yet, few in the States have caught wind of this amazing nordic event.
Located in the town of Roskilde, a small rural town north of Copenhagen and Denmark's fourth largest city, the event lasts for more than a week and fans camp out in tents that sprawl miles around the festival site. Despite acts like The Rolling Stones, Jack White, Outkast, Interpol, Major Lazer, Stevie Wonder, Arctic Monkeys, and many up-and-coming Danish bands, the festival is not just about the line-up. Camps are set up in advance, four days before the festival even begins, and feature impromptu concerts, mobile DJ sets, temporary DIY buildings, and various events organized by festival-goers throughout the week — musically, think Coachella, but with the feel of a more trendy Burning Man. Roskilde is also primarily run by volunteers, so if you can't afford a ticket, volunteer in a field anywhere from picking up trash to working with artists backstage and get your admission and camping free, along with access to VIP volunteer lounges.
Tuborg in hand, nothing seems easy to find at Roskilde. 'Which tent is mine, how will I find my friends again, and where can I shower,' were all common concerns of first-time campers. Walking through the crowded dirt paths lined with empty boxes of wine, Jager, and øl bottles, one sees a seemingly endless line of tents — the blue canvas broken up with small gatherings or even larger parties taking form around a camp furnished with an ample sound system. The larger stages don't even open until the fourth day of the festival. Camping is a major part of the Roskilde experience. With a mainly Danish crowd, many people look forward to the event every year as a way to simply camp with friends for a whole week or meet new ones.
In the miles of temporary residences there are opportunities ranging from building speakers, participating in a naked run, being apart of the human rights tattoo, watching the worlds-best rollerbladers, viewing street art by HuskMitNavn, playing a pick-up game of football, climbing the rock wall, chilling in Dream City, participating in a live-action dating service, or even making some extra kroners collecting all  the discarded Carlsberg cans.
Camping is not just a way to see shows, but a reason to attend in itself. This is something I find missing from festivals in the United States, something that is not just about music or being 'seen.' This is the ability to engage with other people and be part of an environment where festival-goers actually become true participants and in doing so, they create an idealized, urban environment. And to top it off, all the proceeds from Roskilde are donated to charity.
Check out the photo set above for images of the unique festival and camping experience, then maybe consider experiencing it yourself next July.
*This summer, The B-Side reports from locations worldwide including Berlin, London, Los Angeles, and Toronto.
Comments
comments