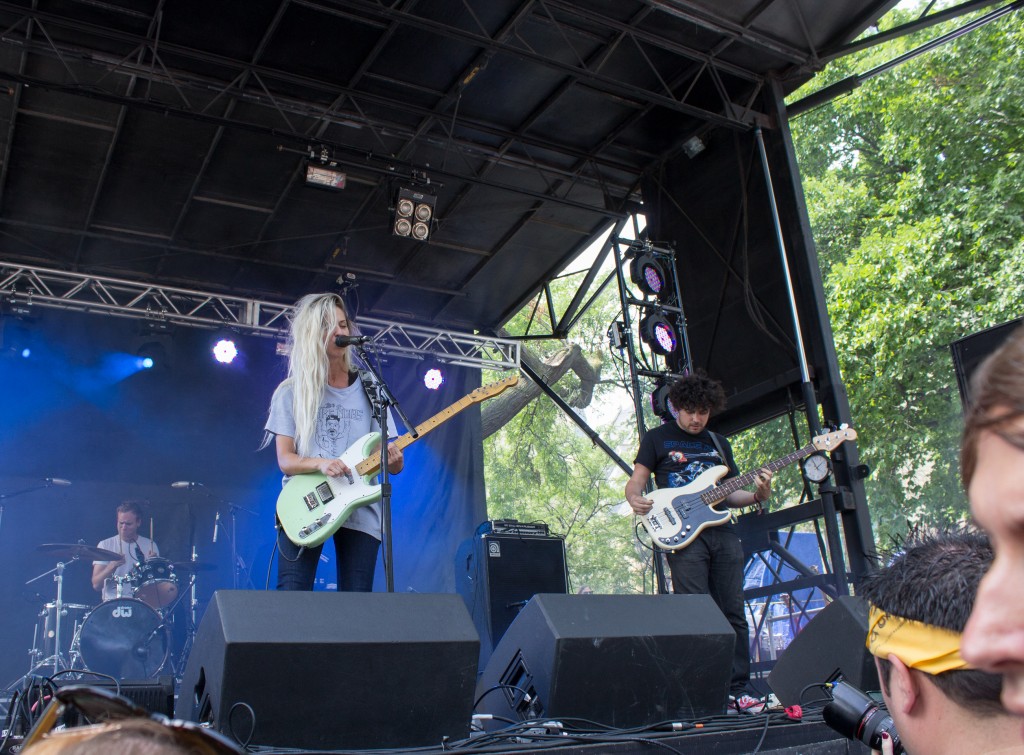 On the thin line separating grunge and polished rock, there stands Bully: a band that manages to blur, tear, and ultimately distort this distinction.
While they render well-produced tracks, the Nashville-based group still conjure many critics to label them as sounding "distinctively 1990s." Maybe it's the vocal comparisons to Kim Deal or the sticky-sweet album art on Feels Like (2015) that's visually akin to The Breeders' Last Splash (1993), but Bully receives the label while being constantly cited as different from their musical peers. Most point to their quality of recording as the band's defining feature (frontwoman Alicia Bognanno was an intern at Steve Albini's legendary Chicago studio and did the audio engineering on the band's first record), but Bognanno herself also renders the band distinct with intimate lyrics opposite the raging, anthemic melodies of Bully. Nothing manages to mask personal sentiments — insecurities become triumphant in "Trying," introverted recollections are made voluminous in "I Remember."
We got a chance to speak with Bully at Chicago's Pitchfork Music Festival after their set on Friday afternoon. We'll admit we were a little intimidated to interview (especially in the midst of the heavy thunderstorm that evacuated the festival grounds), but the band graciously helped out by providing a rain poncho to hold over our gear.
Who is Bully?
Alicia Bognanno: I'm Alicia.
Clayton Parker: Im Clayton.
Reece Lazarus: And I'm Reece.
AB: That's Stewart over there, he's just getting a poncho out.
How would you describe Bully in three words?
AB: Energetic, honest, and – what's that word everyone was using? Cathartic.
What has been your favorite part about Pitchfork Festival so far?
AB: Well, we just got here and played. We got to Chicago last night around 12 in the morning, so we couldn't see anyone yesterday. But the show today was fucking awesome. The crowd was unbelievable.
RL: We did not expect that many people.
AB: We were thrilled.
Are there any bands you are looking forward to seeing tonight or tomorrow?
AB: Yeah, there's a ton! I mean, I wanted to see Sleater-Kinney tonight but we are playing at Scuba's so I'm kind of bummed I have to miss that.
RL: Same with Future Islands —
AB: New Pornographers, Courtney Barnett, Perfume Genius.
RL: It's a really good line-up.
AB: We also missed Protomartyr, but we're playing with them tonight. They played at the same time we did today.
I saw you guys mention you were vegetarian. Have you found any good spots in Chicago yet for veg food?
AB: Yeah, all three of us are.
Stewart Copeland: Chicago City Diner.
CP: Chicago Diner is the go-to.
AB: We've also had a lot of really good Ban Minh sandwiches.
CP: We had some dope Falafel in Chicago.
Where are you guys from originally?
AB: I'm from Minnesota.
CP: I'm from south of Nashville, a small town in Tennessee.
SC: I'm from St. Louis.
RL: And I'm from Seattle.
The band formed in Nashville… do you think you would have all been so involved in music without moving to that area?
AB: I definitely think we would all be active in music if it wasn't for it. I don't know where Bully would have been because we all meet in Nashville.
SC: There's a cool music scene of professional people in Nashville that really help push us to be better and work harder because we live there.
RL: I think we all moved to Nashville for at least relatively musical reasons in the first place.
Everyone seems to ask about older influences, you've mentioned The Pixies, are there any newer bands your particularly interested in?
AB: Newer bands? Yeah, there are a ton.
SC: METZ.
AB: Yeah, I really love METZ. Love Protomartyr, Fake Limbs, Courtney Barnett.
SC: Jeff the Brotherhood.
Didn't you guys play with Jeff the Brotherhood?
AB: Yeah, we just went on a month-long tour with them.
SC: We've been touring constantly since March.
You've mentioned trying to mimic the energy of a live show on your recordings, did you guys play many live shows before putting out the album?
AB: Yeah, we played a ton of live shows.
What are some of the more important steps in your recording process?
AB: Bully in particular — I hate the word over-produced because I look at myself as an engineer – but I would say not "over-produce" or throw too much shit in there just because you're excited you're at the studio and stray away from what it really is. I would say that is the most important thing. And personally, just because I like engineering, trying new microphones and different techniques everytime you go in [to the studio] just because learning is half the point of doing it yourself so you can get better.
Any advice for someone wanting to become an engineer?
AB: Just listen to as many people as possible and try your own stuff out.
Is there a recording technique that you favor?
AB: I mean on the Bully record I think something that is very prominent is the use of the ambient mic during certain vocal part and also in some drum takes. We really used it to cater to the mixes.
RL: It really seems like you recorded to the room. She would pick a room she liked and really worked within the boundaries of the space.
You work with tape instead of digital. Are there any specific techniques or advice you have for that?
AB: I would say take really good care of your analog gear because you will never know where you'll be able to find those parts when they die and they can get really expensive. Take care of your tape and make sure not to put gummy tape on a new tape machine.
What's your favorite song to play live?
AB: My favorites are "Trash" and "I Remember."
CP: I like them all.
SC: "Trash."
RL: It's usually the newest one for me. Someone told me "your newest song is your best song;" "Picture" is still the newest song in my brain so it's really fun when we get there.
Veggie hot dogs or veggie hamburgers?
AB: Veggie dog. I love both but I love veggie dogs, they're harder to find.
SC: Both! Put 'em together, mix them.
AB: Veggie dog on a veggie burger.
SC: The more the merrier.
RL: Definitely a veggie dog, they are harder to make well.
SC: Go to Austin Texas, go to Easy Tiger, get their vegetarian sausage on a pretzel with the pepper mix.
AB: It's so good!
SC: Easy Tiger all day long.
AB: Owned by the best man in the world.
(In succession): Chad!
AB: We love you Chad!
Shoutout to Chad!
Bully will be in town playing San Francisco's Rickshaw Stop on October 19.
Article by Penelope Leggett
Comments
comments