Garters and CamelBaks seemed rather inappropriate for the evening, but people still wore them October 24 at The Regency Ballroom. Regardless of whether they were rave-ready or simply unwinding after work, the audience had started the weekend strong: Bonobo's San Francisco following had sold-out the Friday night performance — not surprising, considering California reportedly listens to the English DJ more than any other state.
It was the second of two consecutive dates in the city for Simon Green as Bonobo; he had been at 1015 Folsom the night prior. But for a producer with material as versatile as Green's, each night would be an entirely different show. Known for performing his set in no particular order, Green whisked up a wave Friday, and he did so in waves.
In fact, the entire evening was a storm — it came, it conquered, and then it fizzled out rather uneventfully — from supporting act Jeremy Sole's opening address ("Brothers and sisters […] music is eternal […] bullshit borders genres fall to the wayside with rhythms, beats […] be open, wide") to Green's post-"Cirrus" chill-out.
The evening began with a dimming of spotlights, a heuristic that the performer was about to come onstage. But the lighting remained dim even after Sole arrived, and in a strange purple hue, we were intergalactic for a moment. Then he put on this jungle bass.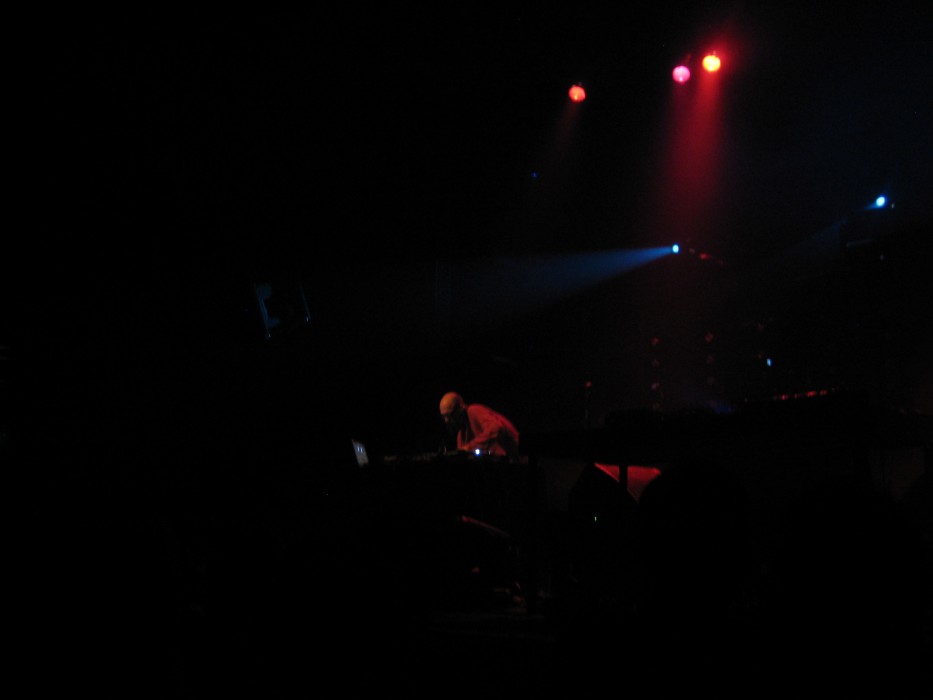 Within seconds, weed and cigarette smoke staunched the air, the crowd was grooving, and we're not kidding about the jungle bass — Sole topped it off with a strange Tarzan yell. For the most part, each of his changes started strong before eroding into complex polyrhythms and experimental tangents that fell just short of danceable. Despite a sinister yet sexy "For What It's Worth" edit (of the Cher version) and the addition of a live trumpeter, Sole's transitions left a lot to be desired.
Ultimately, we think Sole is onto something, but if he's going to sustain the energy, he needs to develop his own tricks — for this reason, his introduction of Middle Eastern and West African beats bordered on offensive; we don't quite know how The Gaslamp Killer avoids commidifying them, but this avoidance is key here — once Sole figures this out, he's golden.
A near seamless set change — 15 minutes tops — was not enough for the audience. Acting as though 15 months since his last Bay Area appearance (May 2013 during his North Borders tour) had actually been 15 years, and as though those 15 minutes had been 15 hours, the audience hollered and jeered at every sign of motion on stage.
They were met with "Prelude" and an overconfident yet approachable, gimmick-free Brit. Green had hands in the air on the Ballroom floor, but the balcony was a different story. Four transitions in, he announced "some new stuff" and delved into "Flashlight," a single released at the start of last week. Throughout his set, Green held a good variety and pace, but nothing was quite as exciting as the icy motif that foretold "Cirrus;" at this point; the balcony finally saw some movement. It was also at this point that those of the drug persuasion really got in the zone.
When Green brought in a tribal beat, the crowd dug it. The evening was part light show — albeit one that appeared as if it had been designed by an eighth grade boy — and part human connection. At moments, it felt feasible to hop behind the board and whisper song requests and sweet nothings in Green's ear; at others, "it was boring," according to an audience member I spoke with afterwards.
But when Green put his headphones on, he was in a different world — here, he made one rookie error early in the set, clearly revealing a drop via cue playback. Later, a red and green visualizer reminded us of Christmas, inevitably leading to the conclusion that Bonobo, too, was like Christmas morning: highly-anticipated, intimately familiar, and euphoric, if only briefly.
Boring stretches followed by redeeming grinds seemed to be the trend all Friday night; the brilliant moments were brilliant, but unsustainable, if you will. Perhaps the nature of the venue, whose woodwork unfortunately matched Bonobo's resonant frequency, was to blame. Without coherent knowledge of the previous night, our best advice is to go for the good bits and drink during the boring ones; upcoming dates here.
Article by Joanna Jiang
Comments
comments