I first heard Bear's Den in the summer of 2013 – on the precipice of college and actual adulthood – sitting on some grass in southern England with my best friend and someone named Charlie, sipping the sorcery that is strawberry beer. The band was awkward and shy, unaccustomed to the size of a crowd that was waiting for Mumford & Sons. Andrew Davie, in his characteristic snapback and horn-rimmed glasses shyly tuned his guitar and thanked us for coming out, his voice cracking a bit as he added, "It's scary, but really awesome". As with many young, but very talented artists, the shyness slipped away as soon as the three began playing. Kevin Jones switched seamlessly between a drum kit and the bass guitar propped on his lap, Davie harmonized with ease, and Joey Haynes seemed in his element in a wifebeater and trucker hat, a banjo strung over his chest.
At the time, Bear's Den had the sort of nu-folk acoustic vibe common to so many British bands that grew out of the late aughts (Noah & The Whale, Johnny Flynn, Stornoway, etc.) – a Mumford-esque sound, with fewer "haa-ah's". Early EPs and interviews paired with the occasional busked set in a church or street corner followed this same pattern of introverted, unprocessed creativity, steeped in untapped talent. Much of their success in a niche saturated by acoustic guitars and folksy harmonies came from a close relationship to fans, and the honesty and relatability they projected as three lovable twenty-somethings trundling around the world in a van they drove themselves, playing music produced from real emotions. Their first EP, released in 2012, featured a rough bear paw print on the cover that the band hand-stamped using cut potatoes.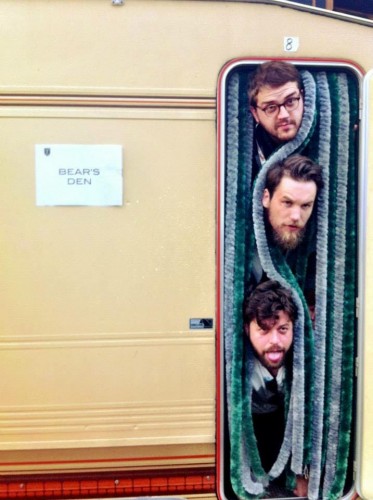 Over the last couple years, Bear's Den has, understandably, begun to shift out of this "just starting out" phase, evolving its sound and even changing lineup. In February, Haynes announced his exit (as he kiddingly put it, a "conscious untripling") due to the stresses of tour life. On tour now, Kev and Davie have been joined by a rotating cast of brass players and other musicians to help fill out a once more minimalist sound. With Islands (2014) and more so with the April release of Red Earth & Pouring Rain the unproduced, rough-edged quality to Bear's Den music has been replaced with smooth, wind-like synths, electric guitars with the reverb turned up, and pounding bass lines. Davie's voice remains unchanged – lightly accented and tenor, heartfelt like he's singing directly to you.
As an ardent folk lover myself, I can't hide my disappointment that the term no longer really applies to Bear's Den, that banjos and unadulterated three person harmonies have been replaced with spacey, at times even vaguely 80's dance beats. The honest and unassuming personality that drew me to them remains, however, and each new milestone – becoming mainstream enough that Spotify began to include them in indie playlists, hitting number 6 on the UK Albums Chart with Red Earth & Pouring Rain – is just another sign that the young band that shepherded me into my twenties is growing up too.
Bear's Den is currently on tour for their latest album, Red Earth & Pouring Rain. Find the album here and tour dates here.
Article by Kavitha George
Comments
comments