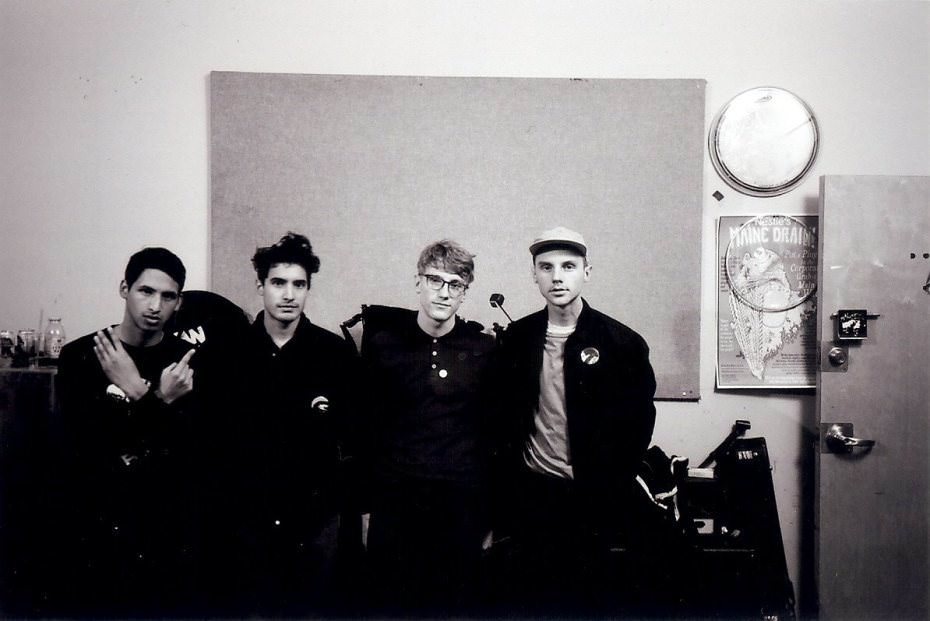 In the world of noise rock, it's easy for artists to adhere to recurring structures when attempting to craft an avant-garde tone, resulting in music that tends to fall flat and indistinguishable. However, Bay Area band Never Young show that noise rock is a genre they are capable of mastering, beginning with their self-titled EP released on March 10, 2015 on Father/Daughter Records.
A project formed by Nikolas Soelter and Christopher Adams after the breakup of their previous California post-hardcore band Calculator, Never Young is joined live by Samuelito Cruz and Niko Escudero. With recent attention from publications such as Noisey and NPR Music, the Bay Area noise rock breakout is notably one to keep your eyes out for.
In a similar fashion to their 2014 debut Master Copy, the latest EP notably features various audio clips juxtaposed with gutting, rhythmic vocals that pay homage to emo legendaries of the past, propelling the group forward through their crafting of a notably mature, distinct production that challenges the scope of what noise rock has to offer audiences today.
The EP is composed of four tracks, starting with the standout "Like A Version," where a digital intro transitions into opening riffs reminiscent of a '90s post-hardcore sound. "Ur a Front" continues capturing the heavy sound of the EP, albeit on a more upbeat tone. The band advances into a more relaxed aura on "Spectacle Boy", still laden with the riffs and beating vocals that we begin to feel all-too familiar with. Concluding with the track "Crigsaw," we circle back to the aura of the EP's opening track, this time showing that the band has the capacity to capture melody in the dynamic nature of the style.
Never Young's sophomore effort is indeed one that finds a sense of allure and refinement in the juxtapositions of various noises that one may consider musical dissonance; in this instance, the dissonance proves to be one that is satisfying. Although their self-titled release centers itself as an amateur effort for a band that has much to look forward to, the future looks bright for Never Young, a band hopefully able to go the extra mile to stand out amongst their contemporaries.
Article by Patricia Villon
Comments
comments