The B-Side caught up with UC Berkeley student Jake Olshan, a freelance photographer from Los Angeles. In this interview, we talk to him about the merits of film, counterfeiting press passes, and shooting Rihanna.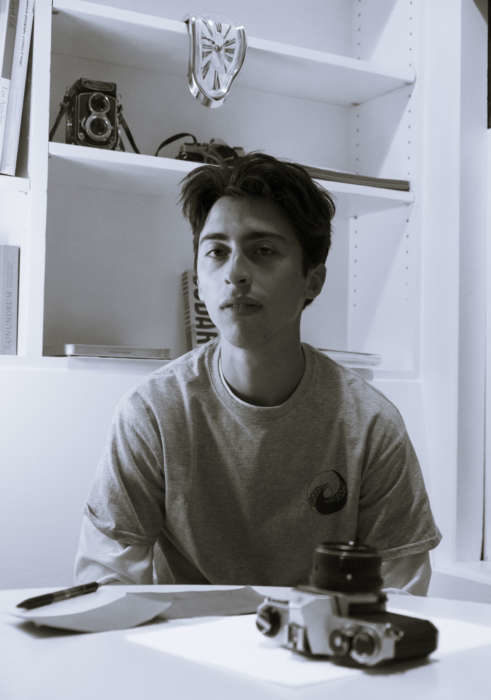 B-Side: How long have you been taking photos?
OLSHAN: I got my first digital camera when I was 13, but didn't start taking photos seriously until I was 18, which is when I started experimenting with film.
B-Side: The age old saying in photography is that it's about the photographer not the camera. What does your normal rig look like?
OLSHAN: I have a pretty basic 35mm film camera, and a disposable for back up.
B-Side: Many of your subjects are extremely famous entertainers. I think most people would wonder how you managed to even come into such proximity with these rare Pokemon. What is your process in this regard?
OLSHAN: I realized all my favorite musicians and rappers were coming to my city on a daily basis to perform, but I didn't have enough money to pay to see the shows. So I would just make a fake press pass on photoshop, laminated it so it looked super professional, and then would enter through the back of the venue with my camera. Usually people assumed I was working the show. I did this every weekend for a few months.
B-Side: You grew up in the entertainment capitol of the world. Has LA shaped your work? If so how?
OLSHAN: Being in an area with so many diverse people and so much going on allowed me to experiment and shoot with many different types of subjects and environments. This allowed me to narrow in on exactly what I wanted to shoot. I also started working for a rapper named Yung Gleesh, so I started to shadow him, go to studio sessions, and concerts with him as well, where I always brought my camera.
B-Side: Describe the role of hip-hop/rap in your photography and your apparel.
OLSHAN: For a while, all I was shooting were rap artists. I was only interested in going to the shows, and having a camera gave me a reason to continue going. It became a rewarding challenge; first trying to sneak into the show and getting back-stage, and then second, getting as close as possible to get the best photo. I had a lot of fun doing it, but I realized I became more interested in capturing images outside of just the concert world.
B-Side: Your photos manage to evoke a feeling of FOMO in the modern viewer, which might be why they are so irresistible. It's as if you aim to capture the objects of desire to millennials in a fast world: money, celebrity, drugs, cityscapes.
OLSHAN: When I was shooting these photos, I didn't really have anything in mind. I was just having fun sneaking into concerts, being backstage, and shooting in the photographer section up front. I think right now with our generation, more than ever before, there is an obsession with wealth and fame; but even more so creating the illusion one is wealthy or famous. I've noticed these photos specifically have gotten more attention than any other photos I've taken, so I'm sure "FOMO" plays a role in that.
B-Side: So what was going through your head when you photographed Rihanna?
OLSHAN: [Laughs] It was pretty spur of the moment. I was just leaving the backstage area at a Bryson Tiller concert and all of a sudden she's just about to walk past me. I took out my camera super quick and shot it at the last second, honestly was surprised that it even came out. There was a lot going on.
B-Side: What projects are you preoccupied with today?
OLSHAN: Growing up, skateboarding in Los Angeles had a huge impact on me. Based on that, I plan to release a project in the near future called 'Drought'. I spend almost all of my time designing clothing, shooting photos, and videos for this.
Interview by John Lawson
Photos by Jake Olshan
Comments
comments