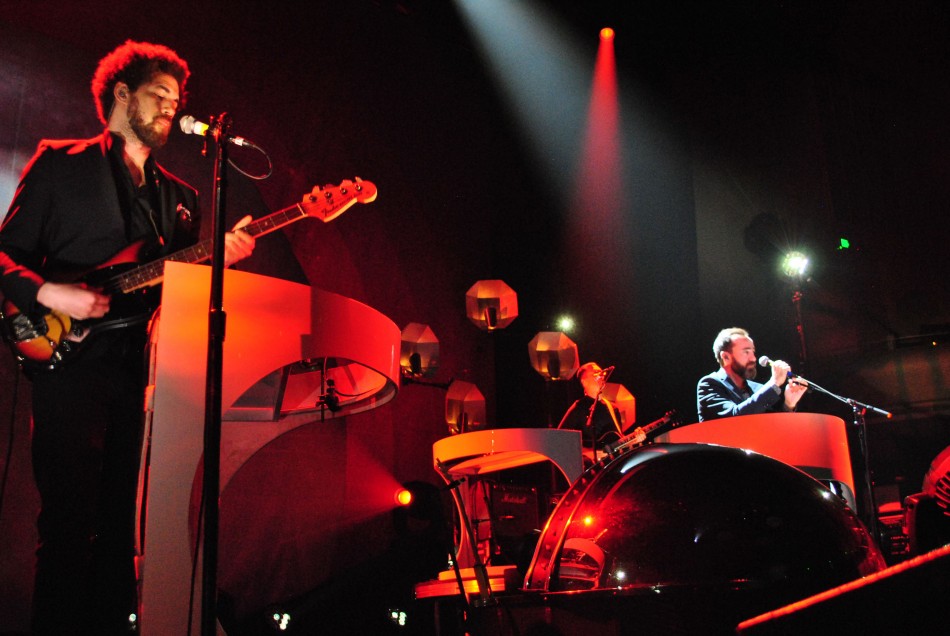 Broken Bells, in all their space-themed glory, hit the stage of The Masonic this week and played a fantastic end to their North American tour. Front and center was a metallic hemisphere that projected the faces of the fans onto the back wall of the stage as members Brian Burton (aka Danger Mouse) and James Mercer took their places. Each alternated between singing and playing a number of guitars as well as futuristic-looking white keyboards.
Their unconventional and uncategorical sound ranges from electronica and funk to alternative and acoustic rock. Perhaps the most fitting description is a blend between Gnarls Barkley and The Shins, which isn't surprising considering the fact that Burton and Mercer are members of the two aforementioned groups, respectively. Broken Bells began in 2004 after the pair met at Roskilde Festival in Denmark and found they were fans of each other's work. Recording began in 2008 in Burton's home studio in Los Angeles, and they announced the largely experimental project in September of 2009 with the release of "The High Road," arguably their most popular song and the peak of their San Francisco concert.
The pair have a very polished look in concert – both in suits, without the usual mess of equipment on stage. Burton is more instrument-focused, often seen playing keyboard with a bass still slung over his shoulder, whereas Mercer seems to take the lead on vocals. Each song appears to be an unrepeatable product of improvisation and a strong beat to groove on — the kind of style an Al Green fan looking for a twenty-first century twist might appreciate, and certainly the perfect antidote for the autumn blues.
Article and Photos by Kavitha George
Comments
comments