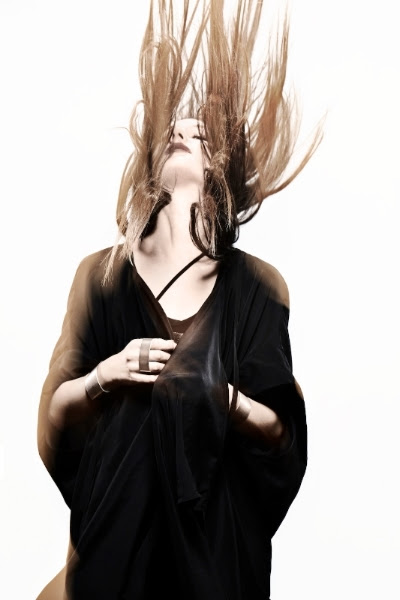 "Do you wish you could go back to it all?"
From humble beginnings and an absurdist Gregorian chant, Nika Roza Danilova and Taiga appear. This is the fifth release for the Arizona-born, Wisconsin-raised, Russian-American experimental / noir / opera-pop darling. Since self-production in a college bedroom, it's been a journey for Zola Jesus — who now performs live with a full ensemble accompaniment.
"To Nika, the taiga represents boundlessness; no law, just survival — at once innocent and raw, embodying naivety from its purity, yet at its core unforgiving and savage," reads an official press release.
"It's in the densest populations that I sometimes feel the most alone, and in barren uninhabited lands that I feel the most alive and human. It's a strange dichotomy, and something I explore a lot on [the record]." As we enter the northern forest, isolated vocals on the titular intro track "Taiga" are made restless by chaotic percussion at 90 seconds, only to be joined by a full orchestral brass accompaniment as cold as Clint Mansell's string arrangements.
Taiga opens at this close.
Truthfully, the switch from freeform "Taiga" to the ensuing lead single isn't the smoothest. Unfortunately for the track-order critic, rhythmically driven "Dangerous Days" doesn't offer much in terms of buildup — it's immediately victorious, with emphasized upbeats and an enveloping sound. As we witnessed in earlier releases, Stridulum II (2010) and Conatus (2011), Danilova's sheer vocal strength (no doubt from her extensive background in classical opera) stands just fine on its own, but the thunder sheets, percussive bass, arca cello, and tambourine add the finishing flourishes on this sunny winter day. It's a blinding startle to follow Taiga's ease-in.
"Dust" and "Hunger" are stark, winter songs separating "Dangerous Days" from second single "Go (Blank Sea)" — yet another powerhouse with upward-lilting vocal melodies and invasive percussion. If anything, the slight static and audio-loss at its bridge is an interesting production choice next to the track's large choruses.
"Ego" is a symphonic confessional, stripped slightly of Taiga's percussive defences, while "Lawless" is, as it prefigures, lawless… and flawless, at that. This midsection provides some of the clearest vocal deliveries we've heard from Zola Jesus in six years, since her debut singles from The Spoils (2009). The latter track, in particular, dispenses all style boundaries at a whim; it is simultaneously anthem rock and Hot 100 pop a la "Boom Clap," and then it incorporates UFO-industrial tangents.
After this fact (or in comparison), the final four tracks of Taiga witness the singer's retreat to her (gorgeous) tortoiseshell. She employs hip-hop beats on "Long Way Down," distracting from what is probably the weakest and least interesting point on the record, lyrically-speaking. "Hollow" is an applaudable last-minute effort at breaking the mould predefined by the first half of the album; but "It's Not Over" is a fairly standard concluding track — it's not memorable, per se, but it sums Taiga up with a reiteration of the record's thesis statement: this is just the start. "For me, it feels like my true debut, because it is the first time I have felt so open and liberated," says Danilova.
The musical maturity of this prolific 25-year-old singer-songwriter is breathtakingly striking, and Taiga, having surrendered to the growing trend of danceable rhythms and horn components, has only made her more accessible to the masses. The album drops October 7 via Mute Records and is currently streaming on The New York Times. The following day, Danilova will be celebrating the release and starting her US/EU tour at Bimbo's 365 in San Francisco.
Article by Joanna Jiang
Comments
comments