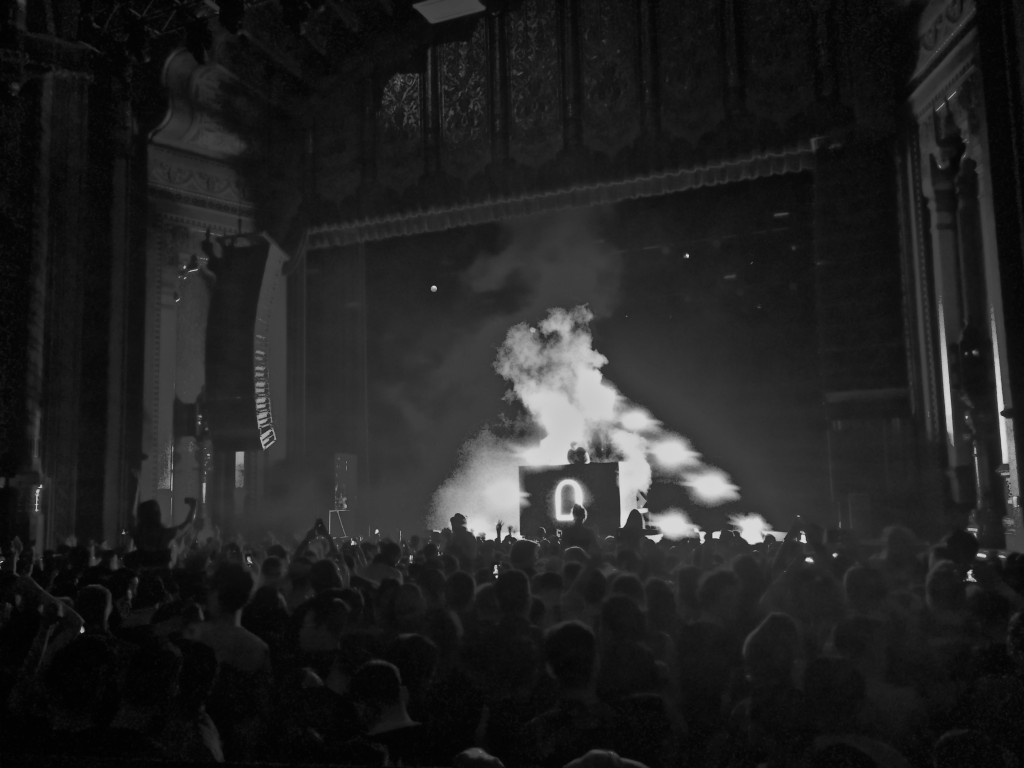 Critics of the modern electronic music scene (myself included) need often be reminded just how young its purveyors are. Just shy of 24, Henry Steinway (better known by his stage name RL Grime and former moniker Clockwork) has built an empire, exhibited by the massively sold out show at Oakland's Fox Theater Friday January 30. The event drew crowds from all around the San Francisco Bay.
For those who had driven a distance to see the LA legend and those who had come out simply to party on a Friday night (some of the silliest utterances we overheard: "the main guy's next" and "I just got out of a rave"), Steinway delivered. Preceded by Montreal boys Tommy Kruise and LUNICE, RL Grime supplied slick interwoven beats, high-energy buildups, sound drops, and non-stop pounding bass.
From behind a tall table fronted by a pulsating outline of a grave (a symbol used consistently in his artwork and promotional material), he began with VOID (WeDidIt, 2014) favourite, "Scylla." A hyperactive DJ, Steinway shifted gears often, lingering on very few tracks for longer than a minute. He progressed through some of his own material, including "Because of U," "Danger," "Kingpin," and "Valhalla," but spent most of the evening torpedoing through recent pop and hip hop charts.
O.T. Genasis's "CoCo," YG's "My Nigga," DJ Fresh and Diplo's "Drop Like an Earthquake," Big Sean's "I Don't Fuck With You," Beyoncé's "7/11," DJ Khaled's "All I Do Is Win," Sage the Gemini's "Gas Pedal," E-40's "Function," DJ Snake's "Get Low," Drake's "0 to 100," and ILOVEMAKONNEN's "Tuesday" all made appearances, in that order, alongside many other hits. The producer tended to fall back on Yeezy tracks, using them often throughout the set — "Power," "Bound 2," and "All of the Lights" all received notable work and set-time (relative to the fleetingly few measures reserved for other cuts, that is). The crowd didn't mind.
Meek Mill's "House Party" accurately described the overall feel of the evening, although Steinway's set was littered with ingenious samples, such as a brief clip from Crystal Castles' "Baptism" that flew largely under everyone's radar and one particularly outstanding moment towards the end in which he snuck "Core" into the nostalgic, tribal intro measures of "Circle of Life" from The Lion King (1994). "Core," VOID's lead single, a hard-hitting cut with substantial builds and drops focused on a repeated "who do the shit that I do?" mantra was perhaps the track Steinway held onto the longest Friday evening.
Despite this, Steinway's youth peeked through during boring shifts and overextended build-ups that reached ear-splitting volumes before dissolving into, more often than not, less-than-satisfactory club tracks. There was the blatant omission of "Reminder," perhaps the most interesting collaboration from VOID, though for obvious reason — its less-than-party-friendly pace. As a performer, he addressed the crowd every few shifts with a simple, "Make some noise (for me)!" or a booming, "Oaklaaaaaaaaand!" and he was all smug smiles behind his deck.
Backlit, watching his audience lose it, and clearly enjoying himself, Steinway acted appropriately on his throne. By the time "The Golden State" rolled around to close the evening, the crowd had been on their feet for two hours straight. Even more so than "Core," which had simply excited the crowd, the anthemic VOID outro paying homage to California is a song whose live and recorded versions cannot compare; I imagine not a single body could be in favor of the recorded "The Golden State" after hearing it live.
Thoroughly exhausted — and feeling like a patch test sampled with the sweat of at least fifty other individuals — I didn't necessarily agree that the insistent encore chant was a deserved one, but when RL Grime proceeded with "Tell Me," I couldn't argue that it was a bad call. Sure, there were gimmicks galore and spots where he could clean up his set — spots vastly overlooked by a dedicated Friday night crowd — but he's still a young Simba. As a DJ playing to a large, packed hall, Steinway did exactly what he was needed to do — throw a fucking raging party.
Article by Joanna Jiang
Comments
comments