Tyler, The Creator's new album is really weird. But not the "cause I usually just stalk you and masturbate" kind of weird that had become the main component of his past works — Flower Boy is the type of weird that pretty much everyone can relate to: candidly lonely, occasionally happy, and extremely bored.
Cherry Bomb (2015), Wolf (2013), and Goblin (2011) are all very aggressive albums, the soundtrack to everyone's youthful yet ignorant, "Fuck what my parents say I really don't care" phase.
Flower Boy delivers the exact opposite of that. Don't get me wrong — the provocative, controversial, and downright alarming Tyler we've all grown to love shows up on a few songs on Flower Boy such as "Who Dat Boy" and "I Ain't Got Time!" That being said, Tyler shows us that he's changed and developed sonically and emotionally way more than he's stayed the same.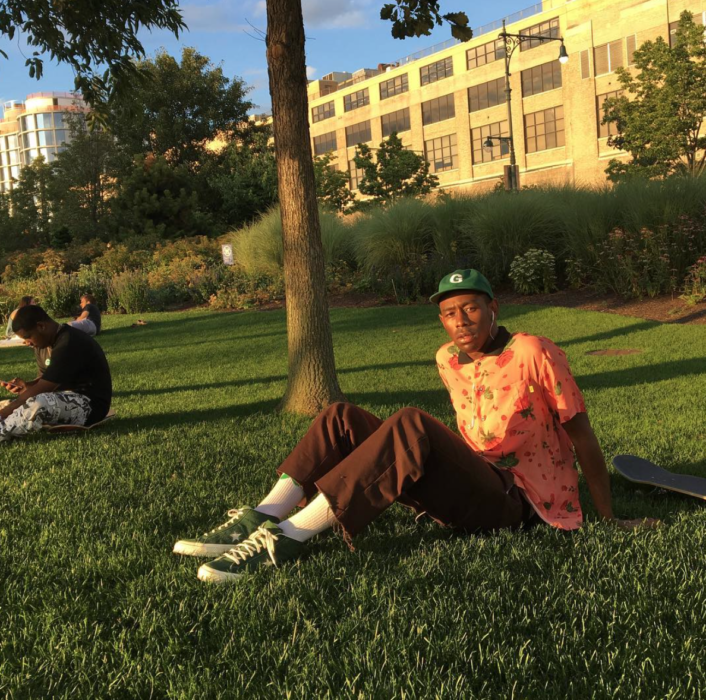 Where Cherry Bomb was hard, Flower Boy becomes soft. Part of what adds to the feelings and themes of softness are the smooth jazz instrumentals and piano-based melodies that show up throughout the album. Take "Garden Shed (feat. Estelle)," for example – it doesn't get much softer than that, not to mention that sweet melodic piano that gently supports Frank Ocean's godlike vocals on "Where This Flower Blooms."
Speaking of features, Tyler brings in some of the most talented, yet most underrated, voices to handle a lot of the singing on the album that was just out of Tyler's insanely low vocal range. Kali Uchis', the Columbian love ballad queen, dreamy voice graces the album and provides the most gooey and love-struck chorus of Tyler's entire career:
"Can I get a kiss? And can you make it last forever? I said, I'm about to go to war and I don't know if imma see you again." – See You Again
Jaden Smith appears on the album's sixth track, "Pothole," and brings all of his deadpan personality with him, which blends perfectly with Tyler's cartoon-like charm. And there's so much to be said about both Steve Lacey and Frank Ocean's collaborations to the project in the form of "911/ Mr. Lonely." Which, if that isn't your summer sunset song… what are you doing?
The crazy and aggressive Tyler is alive and well on the album's first and most hard-hitting single, "Who Dat Boy." A$AP Rocky brings nothing but arrogance and nonchalance to the track. That, paired with Tyler's high energy and a spine chilling visual? A combination you wouldn't expect to work that absolutely does.
On top of bringing in amazing features, Tyler really took his time creating crazy beautiful interludes for the album that showcase his true gifts as a composer. With the structure, flow, and quality of the record, Flower Boy is Tyler, the Creator's signal to listeners that he's ready to be taken seriously as an artist and creative visionary who seeks to make timeless music for a wider audience of emotionally sensitive, weird kids just like himself.
Tyler's discography embodies the growth and development that all young adults experience: the insecurities, the self-hatred, the loneliness, the romance, the heartbreak, and the boredom. It seems as though Tyler has pushed his insecurities behind him and is making more room to express his strengths as a jazz musician and poetic lyricist. He's becoming more comfortable with himself, his style, his sexuality, and his brilliance, and it shines so brightly on Flower Boy. Most importantly, Tyler affirms the notion that it's okay to be sensitive, alone, and strange. It's okay to be you.
Written by Shelby Mayes
Comments
comments