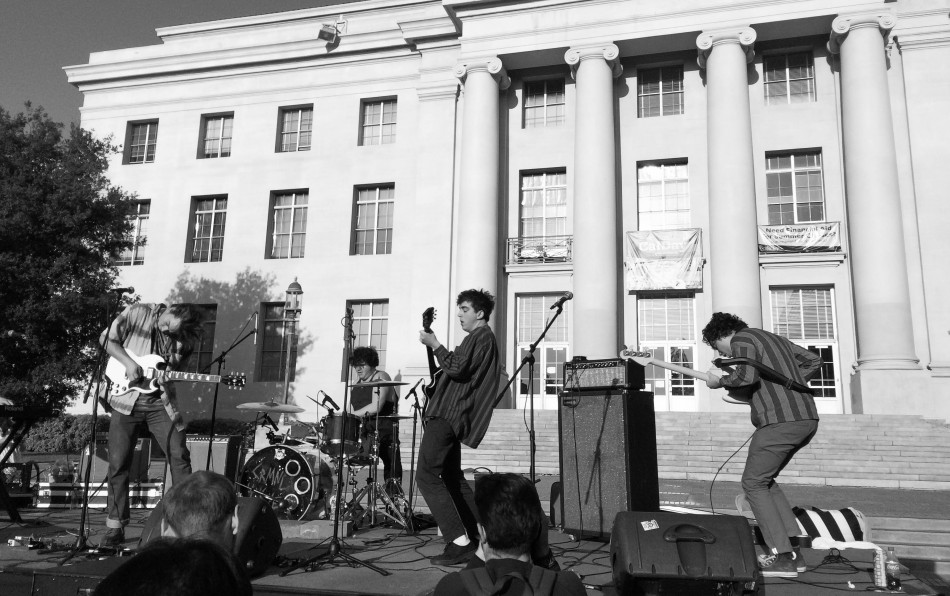 On a warm, sunny Friday afternoon at UC Berkeley, the ASUC SUPERB-hosted event featuring Twin Peaks and their opener, Criminal Hygiene brought a rock-infused taste of summer to Upper Sproul.
Although most of the crowd was undoubtedly there for Twin Peaks, the high energy and excitement was a collective product of both bands. Hailing from LA, Criminal Hygiene's blend of punk and garage rock was perfect for chilling out some stressed-out Berkeley students. By the third song, people were slowly starting to get more involved, and by "Summertime in October," everyone had loosened up and forgotten themselves — and their midterms.
The guys of Criminal Hygiene — Michael "Chili" Hiller (bass/vocals), Michael "Magic" Fiore (guitar/vocals), and drummer Sean "Bird Man" Erickson — joked around with the crowd before the final song, by letting us know that they were staying in Room 304 at the Marriott Hotel. I think we were all pretty curious as to whether the bold invitation would garner any knocks on the door, but even if it didn't, it made for a hilarious interaction with this garage-pop trio.
After a short break and some backstage lovin' between the two bands, Twin Peaks were up and asked if anyone had a spare guitar pick. Naturally, an onslaught of picks was lovingly thrown their way, mostly from one dude who had clearly prepared for this very occasion. Let's all take a moment to thank him.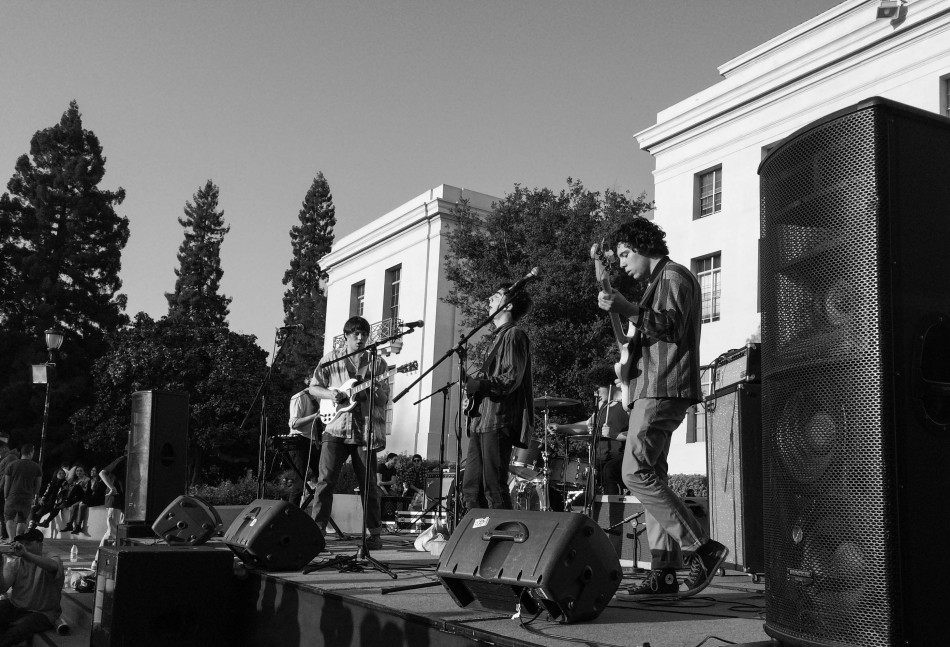 Born in Chicago in 2009, Twin Peaks are made up of Jack Dolan (bass/vocals), Clay Frankel (guitar/vocals), Cadien Lake James (guitar/vocals), Connor Brodner (drums), and the relatively new addition Colin Croom (keys). It was near impossible to focus on one of the guys as each was constantly bringing his own style to the fore. Three of the five members took turns as the lead vocalist giving each song a different feel from the one before it.
The band started off strong, although the energy dropped slightly with the change in tempo on "Good Lovin'." The boys were off in a new direction with the next song, and the pace picked right back up again. By the time "Fade Away" came around, the happy lil' mosh pit had re-opened up at the front of the crowd, and everyone seemed to have forgotten that we were dancing around the steps of Sproul.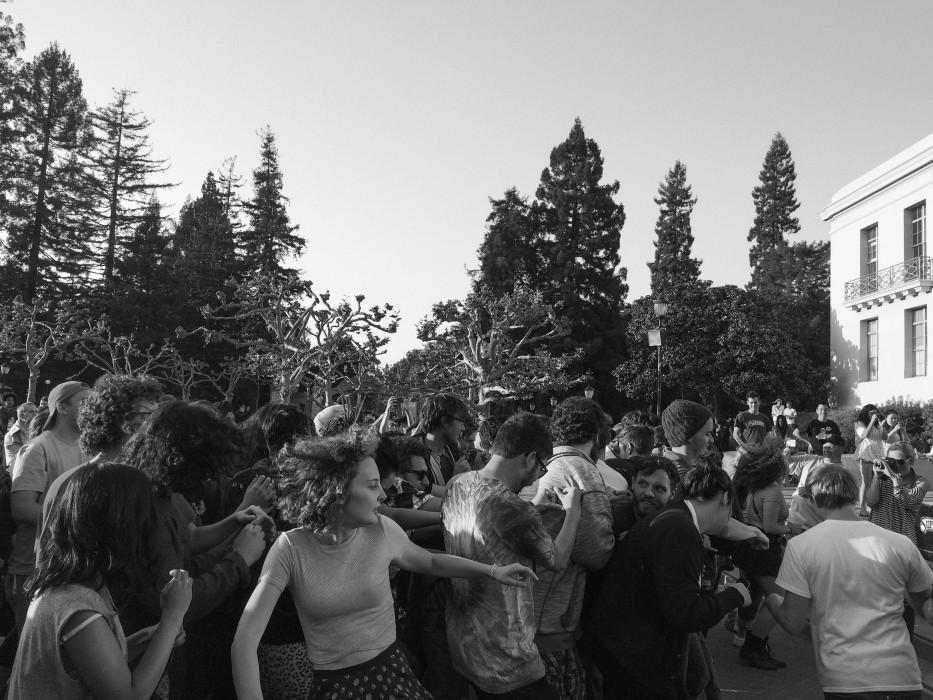 They ended on a high note with "Strawberry Smoothie Baby," which is not quite as cute as the name suggests. Instead, the rowdy punk anthem had everyone losing it at the front one last time. Jack came out into the crowd, and Clay played out the end of the song while lying on the floor. Rock. N'. Roll. Man.
It was this spirit that deserved the most recognition; without their enthusiasm and lack of inhibition, Twin Peaks would not quite be what they are in live performances. Combine this contagious energy with the fact that the group was probably around the same age as the members of the crowd and you get the friendly, fun-loving atmosphere that enveloped that Friday afternoon.
The set could have done without the technical hiccups of Clay's guitar lead falling out and Connor's drum set difficulties — not because we really minded waiting (the impromptu stand up was great), but rather because the music felt like it was being rudely interrupted. Clay did admit to us that he sometimes experiences trouble slipping it in, and we had no choice but to forgive him. It's OK, Clay.
Despite already having two applauded albums to their name, and despite their ever-growing fan base, Twin Peaks keep insisting that the best is yet to come, and, if what we've seen so far is anything to go by, I think we can expect big things.
The moshing and high energy seen that Friday afternoon was a joint effort by both bands, and thanks to both, the show was one of those mid-semester moments where you feel like you've time-travelled to a drunken, care-free summer with your best friends. As the boys reminded us, it's back to homework for the next month and a half. But Friday was a nice glimpse of the break to come.
Article by Alana Jeffery
Comments
comments