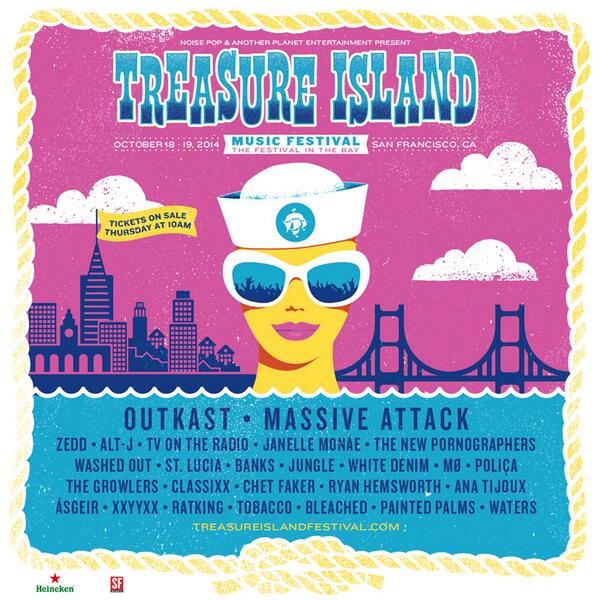 Batten down the hatches and pull in the sails, folks! A storm's a brewin' over the Bay for this year's Treasure Island Music Festival.
Since its origins in 2007, Treasure Island Music Festival (otherwise known as TIMF) has become one of the defining events of the Bay Area, as it caps off festival season on a soaring high note, against a backdrop of San Francisco and the Golden Gate Bridge to boot. Following resounding success in 2013, the 2014 installment has a lot to live up to, but with names such as alt-J, Massive Attack, and Outkast on this year's lineup, the two-day spectacle promises to be one to remember.
Hot off September's This is All Yours, British indie powerhouse alt-J have loads of new tracks and will provide a mystical prelude to their fellow countrymen — Massive Attack. Throwing down for over a decade, Massive Attack still sit atop the-trip hop throne and may have some new gems hidden up their ever-stylish sleeves. Conducting rather than jumping onto the indie bandwagon, Brooklyn's TV on the Radio are right up there with Massive Attack in terms of originality and long-lasting musical prowess. Keeping it hyphe since the early '90s, Outkast is going to be one fat dance party if nothing else, with throwbacks that attendees of all ages will appreciate.
Slightly below the flashy headliners lies a fleet of extraordinary middle-runners. Projecting an ambient, minimal synth-pop sound, Poliça are a group who will assimilate smoothly into the flow of bands for Sunday. Jungle will be supplying ample amounts of boogie and modern soul on Saturday with hits such as "Lucky I Got What I Want." Neither the brother of Liam nor Chris, Canadian producer Ryan Hemsworth will bring rolling rhythms and airy beats to the banquet table. Most notable for his wondrously fruitful collaboration with Flume, Chet Faker continues to construct haunting, contemporary ballads, which have swept the world from the "Land Down Under."
In addition to the headliners and middle-runners, the line-up is riddled with groups to watch. Projecting a tasteful mix between acoustic and electronic elements, Iceland's Ásgeir will be a welcome mood balancer in Sunday's schedule. Keeping the with the European theme, Denmark's MØ will bring Euro synth-pop beats with cutting lyrical accompaniments that are beginning to pose an interesting challenge to industry superwomen such as Grimes.
But the Europeans won't steal all of the Bay Area's thunder: Cathedrals will be offering beautiful harmonies on a quilt of instrumental and electronic elements to put up some marks for the home team. Ensuring that no West Coast festival can pass without a surf-rock installment, The Growlers are bringing the SoCal beaches up to the Bay. With guitar licks resembling those of Thin Lizzy and a characteristic rebel rock and roll attitude, the Lone Star's own White Denim diverge from the more general hip-hop/electronic theme of the festival as a whole.
And if this crew isn't enough to boost your heart rate, Silent Frisco will be bumping along at full speed throughout the weekend with the likes of Bit Funk and Laura Lisbona at the helm.
In summary, pack your things, and jump aboard whatever form of transport you can find, be it a ferry, MUNI, automobile, rowboat, galleon, or parachute, and get yourself to Treasure Island this weekend for a two-day dose of dancing daydreams that would probably be illegal in any other state.
Article by Conner Smith
Comments
comments