Fresh off sleeping on an airport floor — or so they told us — Ballet School showed at the low-lit Brick & Mortar to play a debut gig in San Francisco during an almost quiet post-Halloween Sunday night. The Berlin band, sans opener and finally off their LA flight, faced an intimate crowd that might have been a product of the more seasoned Weezer playing their own intimate gig at the nearby Slim's. Luckily, our dedication to the dance floor and eager fandom kept the trio from easing back into their travel van, and the Cocteau Twins-inspired musicians impressed and entertained us with the private concert we totally deserved.
Given that the crowd was a handful or so (about fifteen of us paid the twelve bucks or had the press credentials to enter), an explanation is likely due to you and every other resident who innocently missed out on this chance performance by the Bella Union-signed talents that are Rosie Blair, Michel Jun Collet, and Louis McGuire — an excellent, tasteful, and entertaining class act and absolutely worth catching live.
Sample Ballet School's first full-length The Dew Lasts An Hour over at Hype Machine while we review the only three reasons you will fall in love with this alluring band, as sourced from their November 2nd performance.
1. Rosie Blair's vocal range.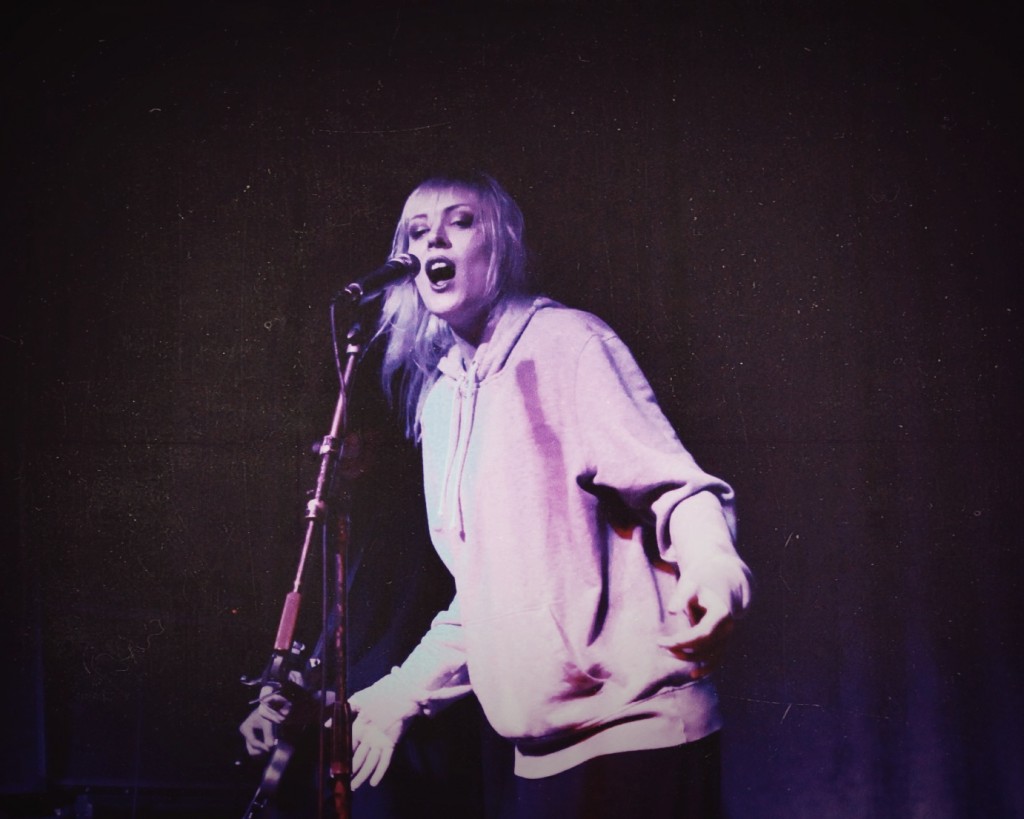 Whether she flawlessly delivered the lyrics to singles like "Lux" and "Heartbeat Overdrive" or brought out our inner divas with a down-tuned mashup of Beyonce's "Partition" and Madonna's "Justify My Love" (I know, it was a cold wave pop miracle), her pitch was unbelievably perfect. If you doubt that seemingly hyperbolic compliment, check further evidence and pause the above-linked album stream to view this clip of the live "Pale Saint," brought to you in low-resolution by my iPhone.
Also notable: I've never seen a bandleader make a baggy hoodie look so obsolete. Proof that it doesn't matter what you wear; true charm is rooted in energy. Though, having a touch of talent plus being an inherently gorgeous Berlinette/Ireland-er probably helps.
2. Michel Jun Collet's guitar tone.
Whether lacing the aforementioned "Pale Saint" with dreamy opening riffage or letting the guitar licks go for it on the gorgeous "Ghost", Collet was more than instrumental support for the band's animated frontwoman. Emerging from a bathroom break to Collet's soundcheck, I swear I'd walked into the Winter Wonderland in which I didn't know I wanted to spend my life. Though aesthetically understated in his Zorro-like ensemble of a gaucho hat and black cape, his total presence, and the execution of those otherworldly sounds courtesy of a decorated pedal board, were statement enough to let you know Collet matters, and it's only a matter of time before too many others start noticing what a brilliant guitarist Ballet School allies with.
3. Louis McGuire's handle on the band's heartbeat.
Word is that McGuire earned his current drummer slot when Collet and Blair spotted him on one-man-band duty at an event; a deft McGuire was handling both his kit and a bass guitar at once, and the Ballet School drum gig was unquestionably his. After witnessing last night's set, it's not hard to believe. McGuire — Young Neck if you notice those things — simultaneously kept mechanical time on his Yamaha drum kit while still keeping things groovy. If he at all had a chance to look up from his length of copper locks, the masterful hero on percussion would have seen his captivated audience unable to sip their beers without sloshing something across their consistently moving hips. McGuire was one of the reasons we had so much fun hanging out with Ballet School that night. I haven't gotten so sweaty on the dancefloor since my last rave. (True; I was also wearing three sweaters, but the point is we had a lot of fun thanks one-third to this guy.)
The only part of the evening that may have been difficult was letting the night end so early. The show was over by 10 p.m., which admittedly was awesome for a weekday job-holder who couldn't afford to fold on responsibility for more party. It's just hard to come down so soon from such a solidly enjoyable performance — the act could have benefited from another booking. The venue DJ could have also stayed more on top of his playlist, as before the show started, he let the music stop once, and our un-packed room got heavily silent and very awkward. He did end up rebooting more tunes, but only after a groan or two from someone across the room. Regardless, those were small glitches in an otherwise sadly of-the-past-now evening.
Luckily, we can keep re-living the loveliness of the night through freeze frames of a few show moments. Take a moment to check out our photo set below and support Ballet School when you get a chance. Maybe when they come back here they'll be able to get themselves off the comfort of the airport floor and into a ritzier Motel Six, if not The Ritz.
Article by Audrey Gertz
Comments
comments