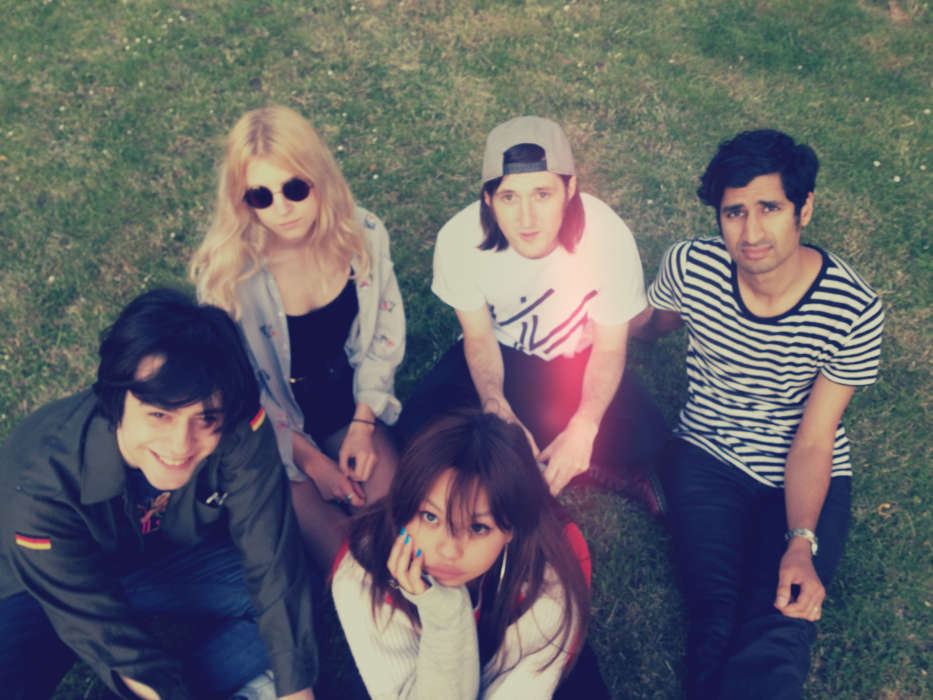 As writers and wordsmiths, we can relate to The History of Apple Pie's sweet-nothing of a moniker. The London band's 2010 inception story is most akin to that of a local jam band, one that plays the showcase night at the neighborhood pizzeria. The difference? Stephanie Min, vocalist, and Jerome Watson, guitarist, were able to assemble a pretty decent quintet via classified ads, which then released an indie chart-topping debut as The History of Apple Pie.
The gang lost one and gained one member last October, with the departure of intermediate bassist Kelly Owens and the addition of the more weathered Joanna Curwood. According to an interview with exclaim.ca, the writing and recording process for sophomore effort Feel Something — released September 30 via Marshall Teller Records — was much more streamlined than that of Out of View (2013).
Either way, the albums go down easy, the latest one being perhaps smoother than the first. Half the time, The History of Apple Pie winds up sounding like a post-riot grrrl unit from the late '90s, straight out of 10 Things I Hate About You (1999). Else, they're a sweet kawaii-pop band, especially on moments such as "See You," their most successful single to date.
The two images aren't mutually exclusive of course; there's a whimsicality in everything The History of Apple Pie does, as though they're playing toy stoves rather than real instruments – in the best way possible. The sugar here isn't sticky, nor is it coarse; it's just polished and refined in misty, mid-range vocals and driving rock instrumentals.
Watson explained to DeadJournalist.com shortly after the release of Out of View, "I find the whole lo-fi DIY thing really annoying. It's like, you're using a £5,000 microphone into a £2,000 preamp into a £10,000 Pro Tools rig and then you decide to purposefully make it sound bad. I've never understood it […] forcing a horrible sound out of amazing equipment, it makes no sense."
Feel Something is even cleaner than Out of View for its noise pop lean. A strong set, intro track "Come Undone" and lead single "Tame" start a lyrical theme — the nonchalant acceptance of things one shouldn't normally accept — but it ultimately isn't that important, because Min's vocals take a lower mezzanine seat to the animated standing floor below.
Even when you can hear her clearly, for most of Feel Something, it isn't apparent what Min is singing; she could be repeating "watermelon watermelon watermelon" the entire album and it would be just as valid. The extraordinarily muted opening of "Keep Wondering" for example, or the sonically claustrophobic and bass-driven "Snowball" don't do their lyrics any favors — simply because we can't hear them.
Like the band's moniker, the words were never the point anyway, and Feel Something accepts that. On this new venture, The History of Apple Pie's musical growth and unity stares its audience in the face, daring it to surrender or retreat. This is the marvelous moment Kat Stratford is in love and everyone else in the school is too self-involved to see it.
Steal a slice of the feeling for yourself with tracks "Puzzles," "Just Like You," and "Ordinary Boy," then watch the Wes Anderson-inspired video for "Jamais Vu" below.
Article by Joanna Jiang
Comments
comments