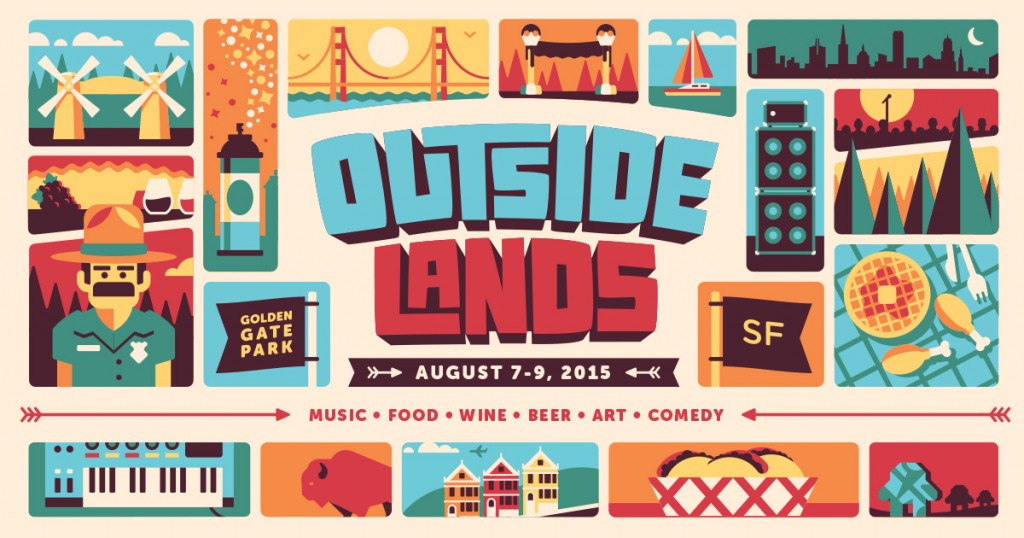 Each year – and despite drought — the grass at Golden Gate Park is greener this second week of August, particularly for Bay Area soundhounds out scavenging for as many headliners in three days as possible. August 7-9, the biggest music event of the Bay Area is hitting San Francisco. Think your SO is cheating on you? Instead of crying into your diary, how about singing "I'm not the only one" alongside Grammy Award winning vocalist Sam Smith? If soothing vibes aren't for you, how enticing would it be to get hyphy alongside Kendrick Lamar himself?
Top prizes at Outside Lands this year include Elton John, Mumford and Sons, The Black Keys, and Kendrick Lamar. No Yeezy, but stacked nonetheless. Here's who The B-Side are eager to see:
---
JOANNA, communications + pr director / managing editor
Unknown Mortal Orchestra (Day Two, Twin Peaks @2:05pm) — You're a fool if you don't show up early for UMO — and if turnout is low at the Twin Peaks stage on Saturday, we'll point our fingers at those who put Ruban and company opposite Mac DeMarco at 2pm after UMO's latest effort with Multi-Love. (On a side note, the fact that both these performers are billed early in the afternoon says tomes about the calibre of this year's lineup.) Tame Impala come a close second for my Day Two pick, also out of mad respect for their recent work.
James Bay (Day Three, Sutro @2:05pm) — Sunday's electronic-heavy lineup is incredible on paper, but it may be less so on a field: from experience, electronic music's not a very outdoor fest-friendly genre, rain or shine. This soulful English songwriter just recently dropped his debut album, Chaos and the Calm. Look out, San Francisco — Bay's soon to be making waves. (Sea what I did there?)
---
St. Paul & The Broken Bones (Day Three, Lands End @1:40pm) — Big band isn't something that tends to headline in today's pop music scene. To be fair, St. Paul are not headlining at Outside Lands, but the fact their gospel/neo-soul genre is being featured at such a mainstream festival is exciting nonetheless. Paul Janeway, the sextet's vocalist, delivers a James Brown-esque sort of punch with his voice, the kind of sound that requires a full-body effort and (probably) a lot of sweating. Given that they hail from Birmingham, Alabama, I imagine the band's performance as what a Southern Baptist preacher might sound like were he placed in front of a collection of brass instruments, maybe a bass, and a drum kit.
If for no other reason but to confirm my theory about the sweating (but also because, you know, given the fire emanating from my speakers right now and the fact that big band players just seem really classically cool), I'm psyched they're heading to SF.
---
Mac DeMarco (Day Two, Lands End @2:20pm) — Mac DeMarco's LP is set to drop the day before he performs. This means new music right as it comes out and probably one of the first chances to hear it live. Plus, it's Mac DeMarco: hearing the happy-go-lucky guitar and vibing in the park is just perfect.
Waters (Day Two, Panhandle @4:30pm) — Definitely check out Waters. This small Norwegian group's first album featured grungy sounds reminiscent of Nirvana and The Pixies, with a synth addition to Waters's original sound. It also includes collaboration with Grouplove's Ryan Rabin… there's no way this pick can go wrong!
---
Chet Faker (Day One, Sutro @6:25pm) — Chet Faker's unique brand of electro-soul is known for its instrumentation and varied influences — his musicianship is undoubtedly impressive. However, what sets him apart most is that his music is not perfect sounding. Much like his stage-namesake Chet Baker, Faker's voice is unique and unpolished, sometimes eerily delicate and other times a soulful sprechgesang ode to American blues.
By all accounts, Chet Baker's most famous vocal piece, "My Funny Valentine", is spooky — dissonant-sounding even. But something about the honesty of his unconventional voice makes the song one that many of us can relate to. hFaker's stripped-down, throaty voice sounds vulnerable enough to allow us to feel vulnerable ourselves. This fact, couple with is minimalistic approach to instrumental incorporation creates an environment to immerse yourself in. This weekend, I look forward to hearing the strained sound of a saxophone roll across damp grass, and thinking, unselfconsciously, "fuck yeah, this song was written for me."
---
G-Eazy (Day Two, Twin Peaks @6:55pm) — G-Eazy has risen in popularity, especially in his homebase of the Bay Area, in the last few years. His songs slap hard and his persona echoes a modern day James Dean. Don't miss his set or he'll never forget — he means it.
Even if you're not a huge music fan, Outside Lands offers a plethora of wonderful experiences. Expect wine, food, culture, art, and even comedy to stretch throughout the park with the best music surrounding you. This is truly one of the biggest annual events of the Bay Area, and it would be a shame to not have something to talk to your coworkers about the following Monday.
Who are you most excited to see? Let us know in the comments below and tweet us your photos this weekend @BerkeleyBSIDE on Twitter.
Comments
comments