Halloween has always been a wonderful ritual in our lives, but its purpose seems to be changing as we age. Instead of going door to door in our neighborhoods looking for treats, we're showing up to the doors of arenas, event centers, and clubs looking for great nights.  As usual the City's nightlife is packed to the brim for Halloween weekend and here at the B-Side we wanted to help out by outlining the biggest events the city is offering.  From massive shows to smaller club joints, there is definitely something for everyone.  I'll also be making my picks for the weekend, and hopefully with this guide in hand you will be equipped for a Halloween to remember, or forget, depending on your life choices.  
Saturday, October 30th – Halloween Eve
BOO SF Night 1
Lineup: Flosstradamus, Oliver Heldens, The Magician, Alison Wonderland, Ghastly, Shaun Frank, Dr. Fresch
Price: $82.45
Location: Bill Graham Civic Auditorium
Age: 18+
BOO SF is the biggest electronic event in the city this weekend.  With a stacked, and varied, lineup there is a little something for everyone.  If you're feeling the need for a full-blown rave this is definitely the way to go, as LED's Jack Yo Lantern in San Jose is sold out.  Do I understand why Flosstradamus will be coming on right after Oliver Heldens? No, but it is very clear this will be an experience you will not want to miss out on.
Temple of Doom
Lineup: Chocolate Puma, Mr. Belt and Wezol 
Price: $82.45
Location: Temple SF
Age: 21+
If you're in the mood to groove and vibe, Temple of Doom on Friday should definitely be your pick.  Chocolate Puma has been on a tear this year with releases on Spinnin, Size, and Heldeep Records.  Also their latest record with Tommie Sunshine- Scrub The Ground– has been played all over the place as festival season comes to a close.  This is by far the best show for the cost, and will be the place for deep and future house fans.
Skream Punk Halloween Weekend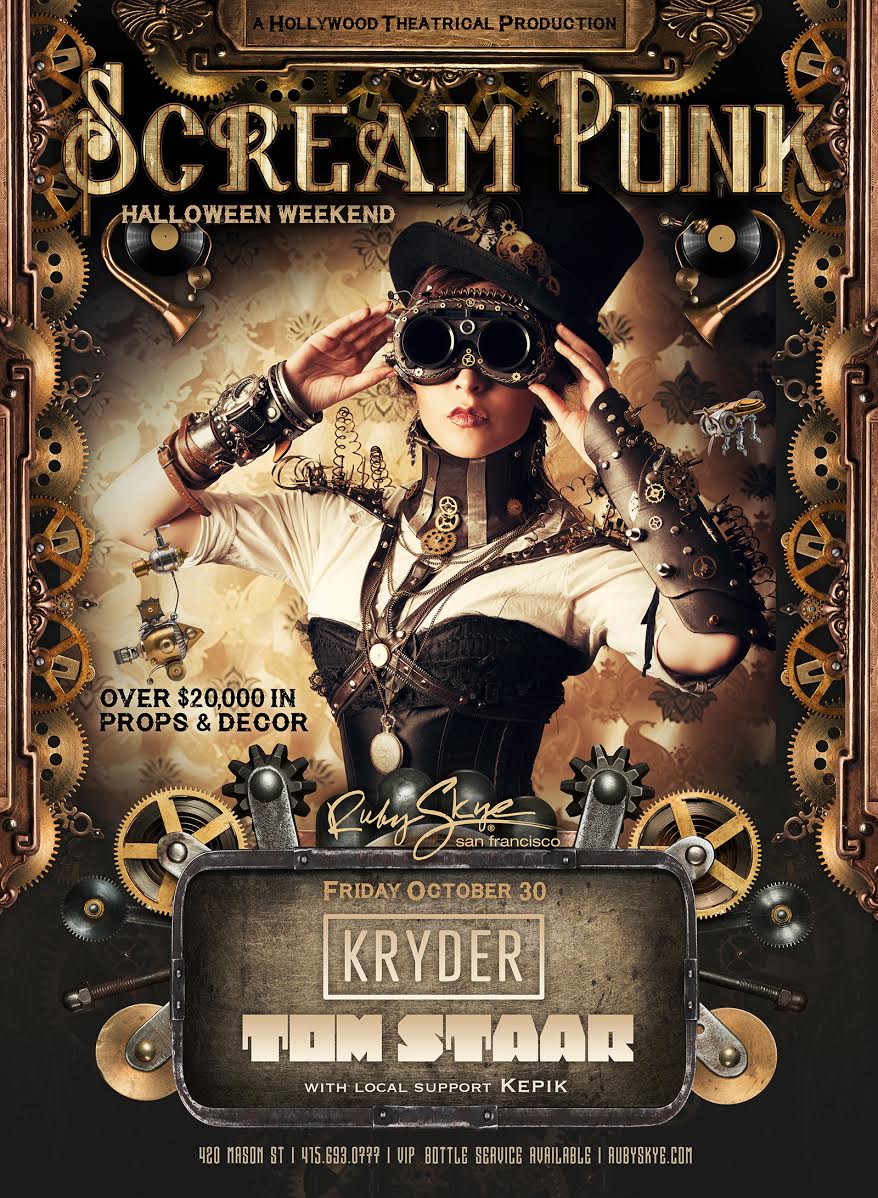 Lineup: Kryder, Tom Starr, Kepik
Price: $35.64
Location: Ruby Skye
Age: 21+
Kryder will pack a punch at Ruby Skye on Friday.  With a lot of variation in his original production, he will definitely keep the dance floor grooving, grinding and bouncing all night.  Also support from Paul Starr will be a perfect introduction as the two recently collaborated together with De Wulf to produce La Puta Madre.  If you're in the mood for a fusion of big room, electro-house, and house music, this will be the show for you.
Mad Hatter's Ball
Lineup: Mr. Carmack, Hayden James, Anderson .Park & The Free Nationals, Nina Las Vegas, Joe Kay of Soulection, Buku, An-Ten-Nae, Masego, Sk!tz Beatz
Price: $40.05
Location: 1015 Folsom
Age: 21+
The Mad Hatter's Ball at 1015 will be packed all night.  This lineup is sensational, especially with San Francisco favorite Mr. Carmack closing out the event.  It's also very diverse with acts like Hayden James, Nina Las Vegas, and Buku all making appearances.  If the initial line-up isn't doing it for you there is also an entire side-room line up that you can check out right here.  If you are a fan of trap music this is where you absolutely need to spend your Halloween Eve.
Halloween Weekend at Audio
Lineup: Nora En Pure, Team No Sleep
Price: $17.03
Location: Audio SF
Age: 21+
Probably the most lowkey major event in the city is taking place at Audio this Friday.  Nora En Pure will be taking over the decks and will play a variety of deep house and indie dance tracks.  This is the cheapest cover charge of any club, and will be perfect for those looking to have a fun, casual, and bumpin night out on the town.
5th Annual Eyeheart Halloween
Lineup: DJ VICE
Price: $30.75
Location: The Mezzanine
Age: 21+
DJ Vice will bring all kinds of music to The Mezzanine on Friday.  As a resident DJ at Marquee Vegas, Vice has the capability to mix tracks of different kinds of genres seamlessly bringing a global vibe to the club.  If you are looking for variety The Mezzanine is bringing it all weekend long, and DJ Vice will be a great way to kickstart your halloween adventures.
Saturday, October 31st – Halloween Night
BOO SF Night 2
Lineup: Nicky Romero, Seven Lions, Will Sparks, Snails, Kennedy Jones, DallasK, 4B
Price: $82.45, ($154.95 for both days)
Location: Bill Graham Civic Auditorium
Age: 18+
Night Two of Boo SF will close out the halloween weekend right.  This lineup has just as much variety as Night One, and hops from genre to genre as the night goes on much more smoothly.  If you are planning on attending make sure you get there when the doors open as 4B and DallasK have both been on a tear this year.  This is the way to go if you are craving a big rave experience, and don't be scared to spend your whole weekend at this event.
Temple of Doom
Lineup: Ummet Ozcan
Price: $66.05
Location: Temple SF
Age: 21+
If you have the capital, and love big room/electro house Temple will be the place to be on Halloween Night.  Ummet Ozcan is one of the world's biggest djs right now and expect to hear him whip out his entire catalog this night.  With classics like Raise Your Hands Up, and Revolution and new additions such as The Hum, and On The Run, Ozcan will keep the energy high and the keep crowd going till they have to shut Temple down.
Skream Punk Halloween Weekend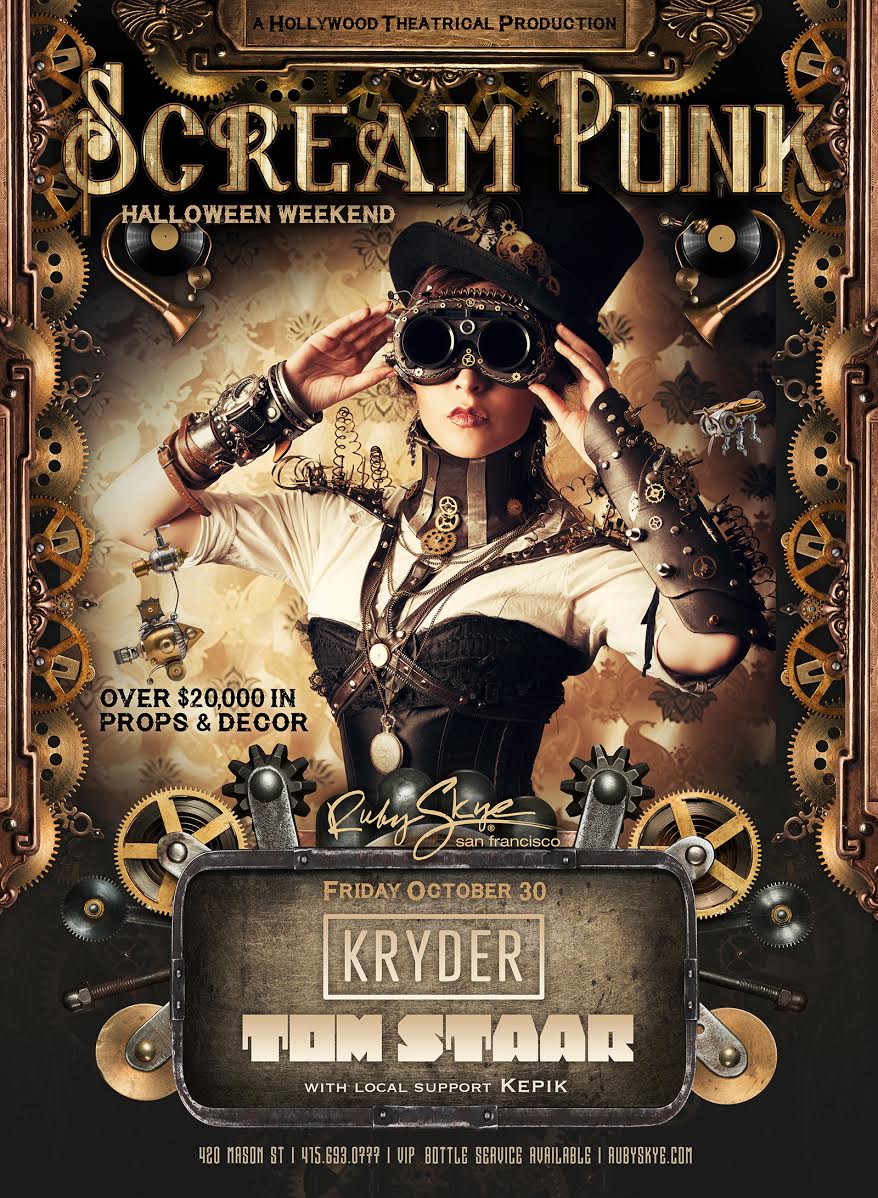 Lineup: Vicetone, California Casual
Price: $56.74
Location: Ruby Skye
Age: 21+
Tickets: https://www.eventbrite.com/e/halloween-weekend-vicetone-tickets-18401489350
Ruby Skye has recruited the Norwegian progressive house duo Vicetone to perform for the most important night of their Skream Punk Halloween Weekend.  Vicetone will flood the dance floor with progressive house on Halloween night, and Ruby Skye will look nothing like you ever seen before as they max out their $20,000 decor budget.
Halloween Weekend at Audio
Lineup: Oliver, MYKILL
Price: $34.05
Location: Audio SF
Age: 21+
This is the show I wish I was attending this weekend.  Oliver is a phenomenal duo that have been pioneers of the nu-disco genre.  They are on my personal shortlist of acts that I need to see because of their incredibly unique style and funky sound.  Definitely check out their latest official remix for Jack U's To U, and don't sleep on their old jams such as their Dangerous Remix, and their standout single Light Years Away.
A Club Called Rhonda Ft. Teed
Lineup: Totally Enormous Extinct Dinosaurs, Metro Area (DJ Set), Soul Clap, Tornado Wallace, Goddollars & Paradise
Price: $56.50
Location: The Mezzanine
Age: 21+
Tickets: http://www.eventbrite.com/e/a-club-called-rhonda-halloween-ft-teed-metro-area-soul-clap-more-at-mezzanine-tickets-18638653715?aff=mezzsite
If you're feeling like hearing some of the best funky and groovy djs in the game The Mezzanine has you covered for Halloween night.  Totally Enormous Extinct Dinosaurs at the head of this lineup are fantastic, and the supporting cast will bring variety and vibes to the dance floor.  This is by far the most diverse lineup of any club show taking place on Halloween night, so there will be a little something for everyone when this party gets started.
My Pick:
I'm going to be brutally honest– if you are trying to rage and make some solid memories with your friends, memories you might not be able to remember come sun up, the Mad Hatter's Ball is the place to be.  1015 is always packed to the brim, and this lineup will keep the line going out the door for a while.  For the cost you get to see a myriad of artists with different mixing talents and unique sounds.  Also if you aren't feeling the main stage 1015 will have a side room going all night so you can easily catch a breath or grab another drink.  Make sure you stay until Mr. Carmack comes on and watch as the entire place begins to vibe with the instrumental trap pioneer.
No matter what you decide to do have fun, stay safe, and check back to the B-Side weekly to know exactly what's going on in the city.
As always, Top Five is written by Chris Farmer.
Comments
comments