What were you doing the summers you had off from school?  Well, probably like me, you weren't doing a whole lot.  But if you were Luke and Tess Pretty, you might have been touring and performing jazz covers all over Canada.  
From a family of classically trained musicians, Luke and Tess have come a long way from busking around Canada with their father and are now embarking on their own journey as the brother-sister duo Tennyson. The moniker is derived from Luke's middle name and started as a project for himself, delving into production and electronic music on the side until he found a way to mesh it together with the extensive musical background he already had.  
This vision later garnered the attention of millions of listeners, producer Ryan Hemsworth, and even Skrillex, who signed them to his label OWSLA just last year. The only thing more puzzling than their prodigious status (I mean, Tess just graduated high school) is the music they make which combines atmospheric electronic synths, intricate jazz rhythms, and video-game like brightness.  These unique sound selections come together to create a soundscape with synesthesia-level visualizations. The prodigious pair exude musicality from their fingertips, showcasing their extensive musical training in a way that is entirely their own.
Tennyson released their latest EP Uh Oh! (2017) on September 29th containing a concise six tracks.  Compared to their past discography, the songs on this EP seem directed at a more mainstream audience although it retains their signature sound.  Known for their almost dizzying use of complicated rhythms and layers of sound, Uh Oh! seems to be a more palatable version of that, offering a more straightforward structure than their past works.
This approach to music writing is something Luke has considered before: "that was a turning point for me where I realized how to consider the audience, in a different way. Kind of like a pop mentality almost…But I think you need both, you need to consider your audience the entire time you're making music but also don't lose your soul or anything."  
Tennyson usually errs on the side of instrumental music rather than vocal and this EP continues with that trend with only two of the six tracks incorporating vocals. The groovy track "Body Language" features vocalist Aloe Blacc, an amazing pairing that brings some needed soul and demonstrates the versatility of the duo.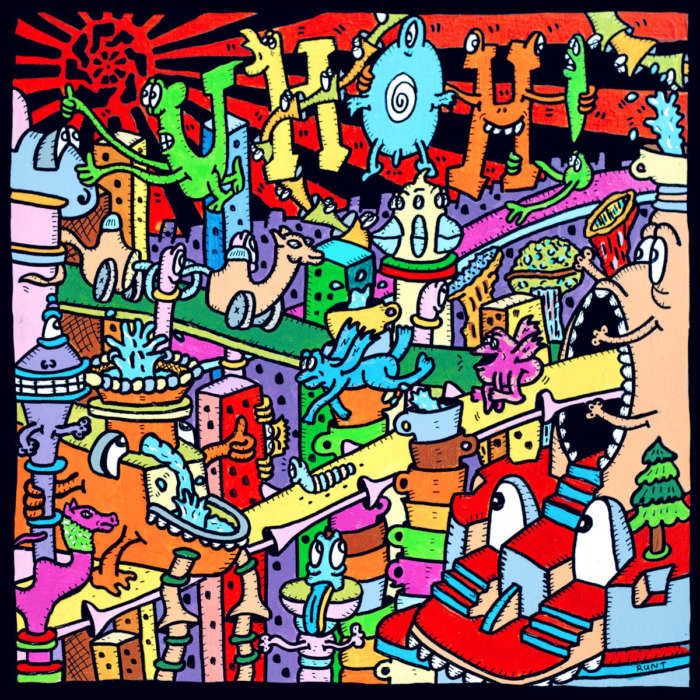 Uh Oh! Tracklist:

1. Uh Oh!

2. Body Language (feat. Aloe Black)

3. Pegasus.exe

4. Cry Bird

5. your face tastes like my happy place

6. Pancake Feet
Tennyson stopped by Great American Music Hall in San Francisco on Saturday, September 30th and will continue their brief Uh Oh! tour until their last stop in Salt Lake City, Utah in October.  Luke meandered onto the stage in a pair of banana socks to set up his own sound boards, keyboard, and various other devices.  Tess's set up consisted of a large drum kit, each surface fitted with sound pads that linked her drumming to predetermined synth sounds.  They brought along their homemade visuals which were featured in their tour earlier this year: a long string of vertical strips of RGB LEDs that they programmed themselves to sync up with their music.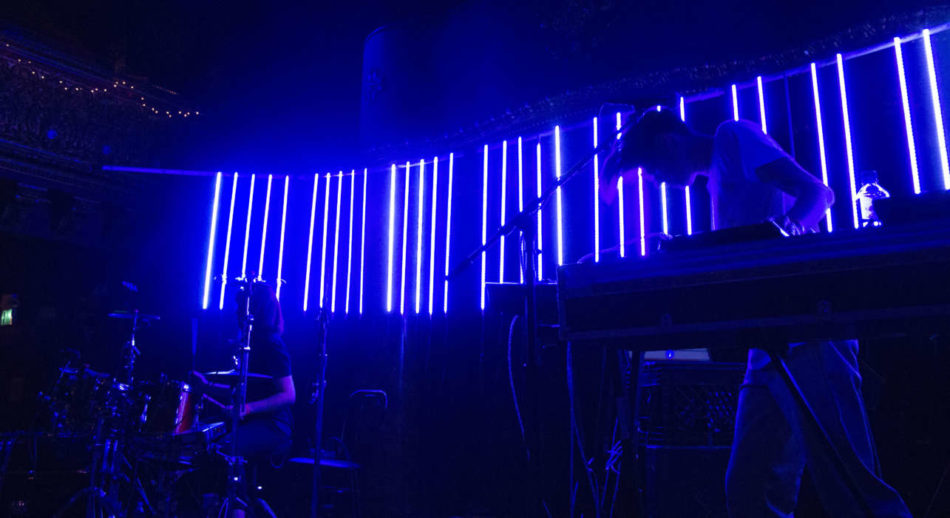 Opening their set with the album's title track "Uh Oh!" the audience immediately started to vibe with their intricate, spunky, and at times simp-y sound. Tennyson is hugely influenced by jazz although that's definitely not the first thing that comes to mind when you hear their music.  Luke dazzled the crowd with his masterful technique of jazz piano riffs while Tess impressed with her ability to keep the convoluted percussion patterns tight.  They played many of their past tracks such as "With You," "Fault Line," and "7:00 AM."  With each song, you get a sense of what peaks their musicality through sample choices that tickle your ear and create an auditory illusion of space.  They have a knack for composing songs that escalate and then burst with a candy-like brightness and intensity of a fruit gusher.  This time around, they showcased much greater depth to their music and included differing elements like prolonged intros to contrast their hyperactive style.  
The most obvious thing about Tennyson's performance is their love for music.  Both of them wore joy on their faces while they performed and created an infectious atmosphere that kept the audience engrossed, all the while killing it in their respective roles on stage.  Luke switched between various sound pads and devices to construct the song and as he did he grooved and bounced enthusiastically.  Tess also had a commanding presence on the stage, capturing the audience with the fluidity of her drumming.  Using all four limbs to keep different tempos, she moved with a graceful, angelic ease that isn't very reminiscent of a traditional drummer.
For Tess though, it's not just drumming — "it's the most complicated and the most fun form of drumming you could possibly do."  Their effort to add variation to their performance manifested in some singing action by Tess who sang for one song in a beautifully, pure tone.  Luke surprised with his robust baritone voice and took more risks vocally, a welcome evolution from their last tour.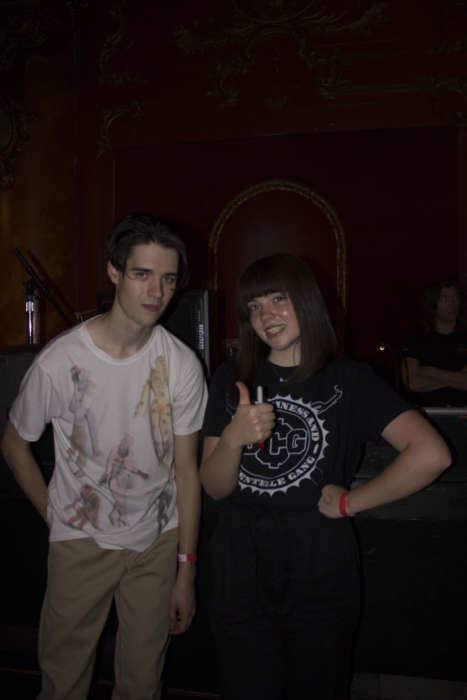 Before the second to last song, Luke reached for a pair of Adidas which he had custom fitted with LED strips programmed to match their visuals.  The crowd cheered their appreciation for his craftiness and he was careful not to go too hard in order to keep the shoes intact.  Taking them off and returning to his banana socks, they ended their set with "Beautiful World" — a multi-dimensional track that asks the listener to realize the simple beauty of the world around them.  Performing an encore of the light-hearted "Tomato Land," Tennyson closed out the show communicating to the audience just how they want to approach music and life: with a little spunk, some complicated bits, and whole lot of enthusiasm.
Written by Anna Nguyen
Photos by Connor O'Shea
Comments
comments