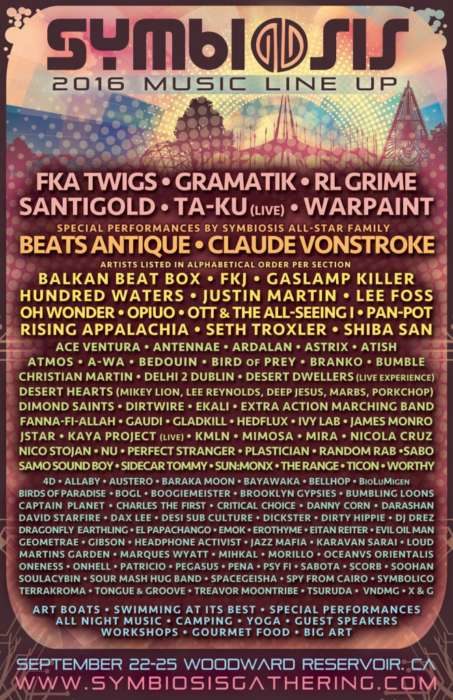 Grab your orca inflatables, heart-shaped sunglasses, and decorated parasols because the incredible Symbiosis team is calling us back to Woodward Reservoir for this year's Family Tree celebration in two short weeks.
With many still reeling from last week's Burning Man, there exists no better venue for decompression than Symbiosis. Picking up on a few of the cultural pillars of Black Rock City, this is one of few places you will find art, art vehicles, and radical self-expression on levels that approach those seen on the playa. A short two-hour drive from the Bay Area in Oakdale, the festival will span the weekend of September 22nd – 25th. In classic Symbi-style, the lineup has our salivary glands firing on all cylinders.
Departing from male-dominated festival norms, this year will feature an all-star cast of feminine powerhouses on both the educational and performance sides. Symbiosis is one of the only events where one can go from a discussion by forefront Ecofeminist Dr. Vandana Shiva in the morning to a heart-wrenching experience with FKA Twigs that same evening. Southern soul sisters of Rising Appalachia are always a gift to connect the Folk/Americana and World Music threads that Symbiosis masterfully curates.
For a limited list of artists to watch, we love:
–Beats Antique– Legendary Bay Area electronic and performance artists sampling Asiatic instrumentation and dance.
– Dirtybird Crew (Justin and Christian Martin, Shiba San, Claude Vonstroke, Ardalan)- Bay Area bass-meets-house music pioneers.
– FKJ– Funky fresh live-electronic fusion sure to get your body movin'
– Warpaint– All-women indie rock power group
– Ott & the All-Seeing I– British electro-orchestral integration
– Hundred Waters– Ethereal and experimental dream weavers
– Desert Hearts Crew– Professional party purveyors of deep house and techno
– Nicole Cruz– Ecuadorean producer mixing Latin, tribal, and world music cultures
– Bedouin– Two-part house music purveyors of Near Eastern influence
– A Wa– Three Israeli sisters who fuse several regional and international traditions
– Dirtwire– Live exotic instrumental experts with electronic fusion
– Soohan– Wormhole Wednesday bass music staple with worldly wanderings
– Treavor Moontribe– Renegade desert trance-techno leader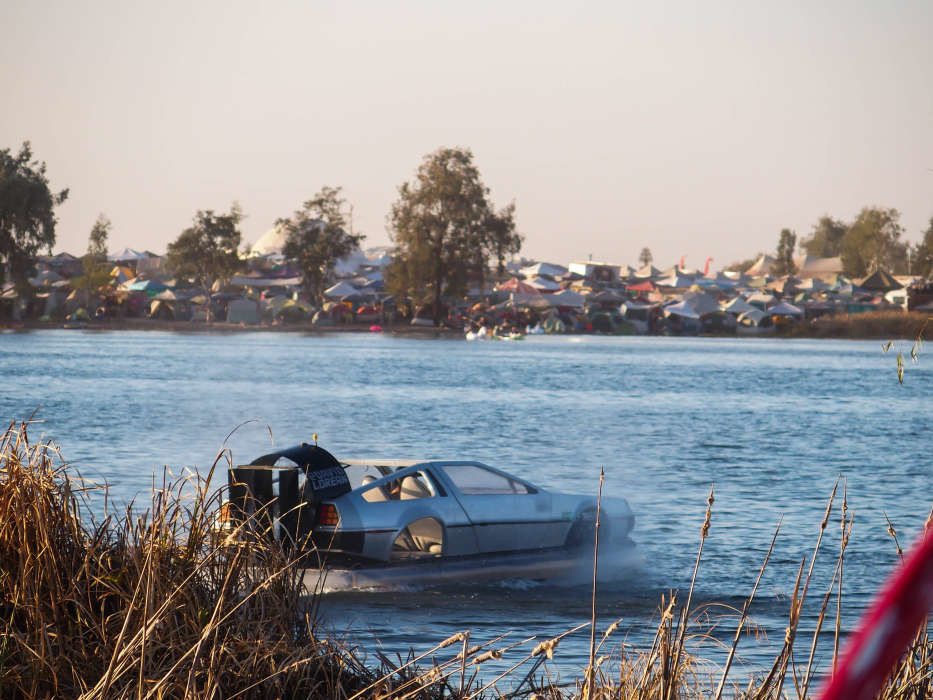 With a stage that spills out into shallow water choked with beer barges, floating dance floors, and Back to the Future-inspired amphibious vehicles, Symbiosis offers an unmatched– if not a little swampy– experience. The clothing optional culture of this event is welcoming of all identities and contributes to an intimacy that many other festivals pay mere lip service to.
World music and cultural crossroads are a focus of this event without slipping as deeply into the appropriation traps as more mainstream events. The Silk Road tent percolates sounds from opulent eras now past where conversations with a myriad of strangers in the tea lounge embody the sheer possibility of exploration and connection that is paramount at events such as Burning Man.
While the music can have you running from end to end of the expansive grounds all day and night, it would be a huge disservice to this cosmopolitan event to miss out on the incredible performances, lectures, and workshops offered daily around the property. There is a whole week of workshops and teach-ins during the "Elemental Alchemy" week leading up to the festival weekend. Already referencing Vandana Shiva, one can attend talks on bamboo construction, Ecofeminist agricultural resistance, how to become "ultra spiritual" with JP Sears, and everything in between. With many artists doubling also as speakers and teachers, the integration of art and activism is central to the Symbiosis impact framework.
"Symbiosis Gathering" is the official name of the event website, and if last year's experience is any proof, this is not a convergence to miss. It is a synchronization, a celebration of life that runs a little deeper than its sister events. Plenty of tickets are still up for grabs, so collect yourselves and your experience passes– we'll see you on the dance floor.
Article and Photos by Conner Smith.
Comments
comments