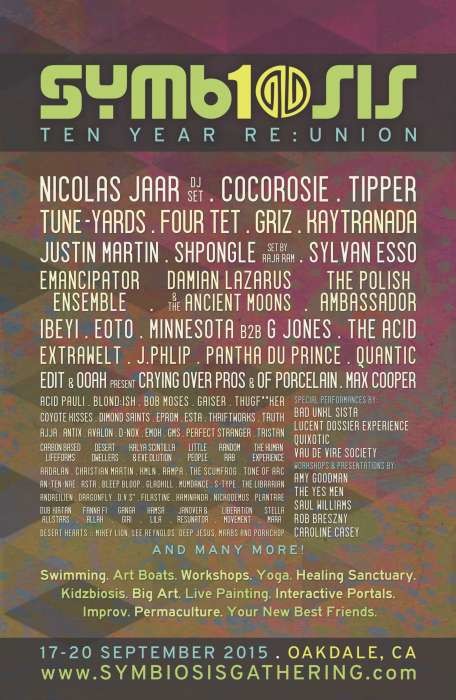 Bay Area and Nor Cal subscribers, stop what you are doing and clear your calendars for the weekend of September 17-20. Just outside of Oakdale on the Woodard reservoir — a mere two-hour drive from the bay — a monumental convergence of artistry and energy will be taking shape under the auspices of this year's Symbiosis Gathering.
This odd year marks the 10th anniversary of this transformational experience and serves as a perfect decompression following Burning Man. For those who were unable to descend on the Playa this year, Symbiosis provides a more affordable and accessible journey in collective consciousness as well as one of the most stacked lineups we have seen, competing with some of the most superlative festivals.
With the likes of Nicolas Jaar, Four Tet, Griz, Pantha du Prince, Justin Martin, Damian Lazarus and the Ancient Moons, Kaytranada, the tUnE-yArDs, Shpongle, The Polish Ambassador, J. Phlip, Max Cooper, Bob Moses, Thriftworks, Eduardo Castillo, and the Desert Hearts crew, 2015's Symbiosis Gathering is shaping up to be an absolute banger.
A jewel in the crown of West Coast transformational festival culture, Symbiosis serves as a space for individuals looking to manifest a variety of dreams and desires. From Dirty Bird's late night bass-blasting sets to daily workshops on mindfulness and meditation, Symbiosis is a real-life fairyland for people of all ages, dispositions, and walks of life.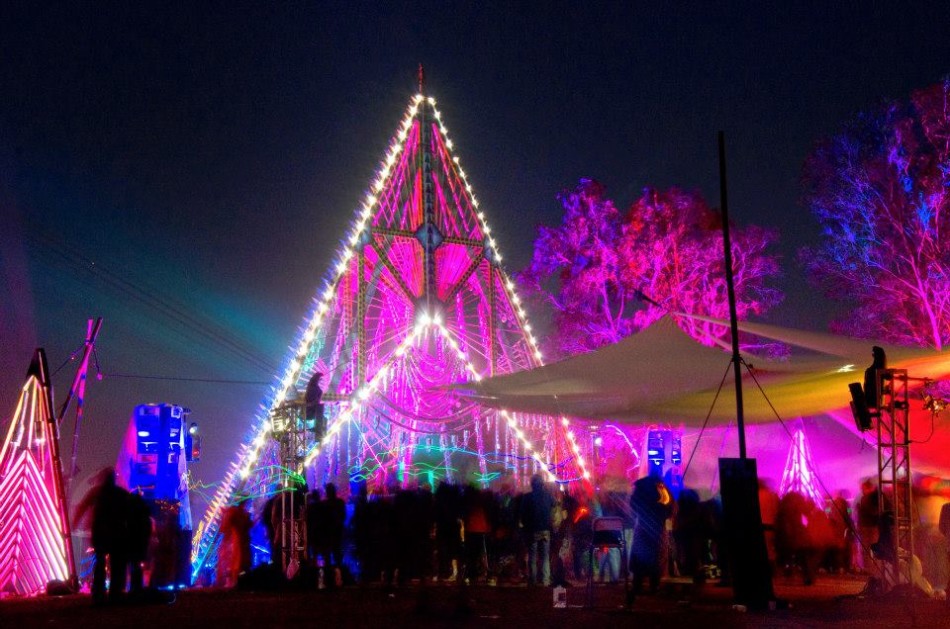 The site will feature a myriad of interactive theme camps spanning genres from world music to New Orleans Jazz, from hubs for recycling and repurposing discarded material to organic juice bars, and from spiritual devotion altars to collective contemplation and exploration at the central temple. Art cars, art boats, and installations will be stationed all throughout the grounds as the guardians and architects of this unique and transient environment.
An assortment of auxiliary events include a staging of Oakland's controversial underground Tourettes Without Regrets, which serves as a venue of expression for an unimaginable diversity of performers including slam poetry, burlesque, and just about everything in between. If the four-day main festivities aren't enough for you, the organization is also offering weeklong community building teach-ins on permaculture, yoga, and art.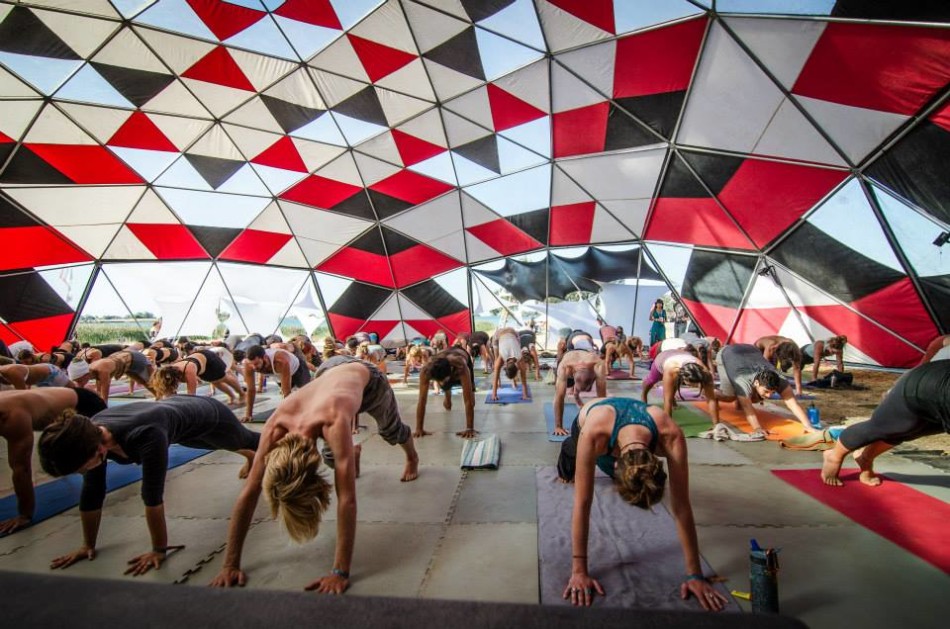 The 10-year reunion of Symbiosis Gathering is not one to miss — featuring local and international artists of global renown, live art and installations from some of the most spellbinding visionaries, and a wide range of intentional space building in the form of yoga, workshops, and group healing, a dreamscape is being constructed in Oakdale. While this experiment is temporary, the interactions and connections that will be forged at this event will carry over well beyond the closing of the gates on Monday and percolate through the lives and relationships of all attendees.
Experience passes are still available for those of you who haven't committed yet; we'll see you out there on the dance floor!
Article by Conner Smith 
Comments
comments