Surfer Blood is on tour fresh off the release of their new album Snowdonia (2017). They stopped by The Chapel in San Francisco Tuesday night, drawing the largest crowd I've seen at the venue since Real Estate's three day residency last summer.
Boogarins, a psychedelic band from Brazil provided support and received a deserved enthusiastic reception.
After a slight wardrobe malfunction, bassist Lindsey Mills laughed it off and joined her bandmates on stage to open with Astro Coast (2010) instrumental "Neighbor Riffs". Immediately after the song came to a close, a fanatical audience member yelled out "Anchorage!", a request which they would sustain throughout the set. As I fantasized about the setlist prior to the show, I came to the conclusion that that song would be the perfect closer due to its triumphant and climactic nature–an obvious choice to end with. I wanted to reply "Not yet!"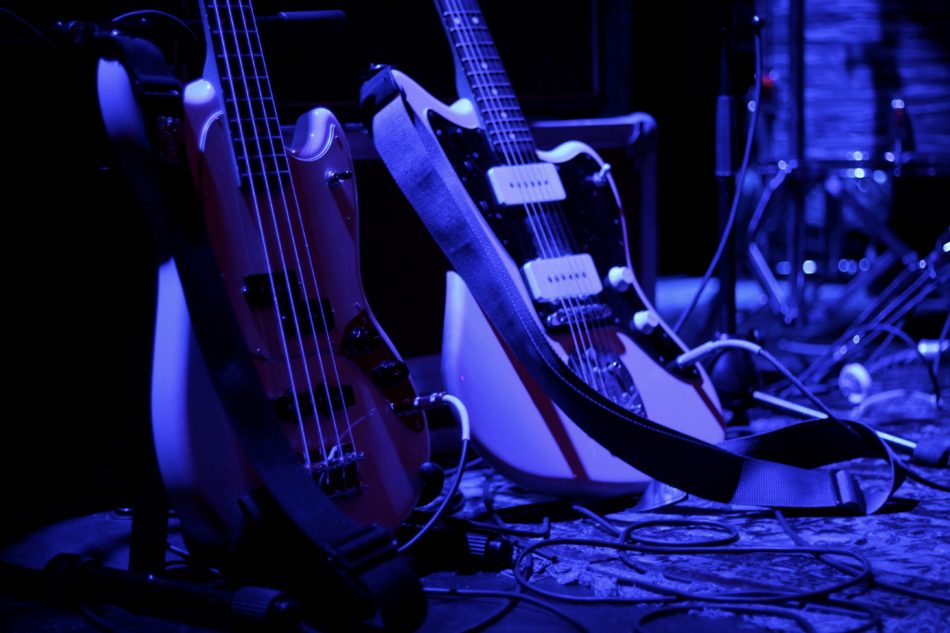 Drooling: Lindsey Mills' all white Mustang bass and John Paul Pitts' white Jaguar (sans tremolo bar) with red tortoise pickguard
All three singles released off Snowdonia were included–"Frozen", "Six Flags in F or G" and "Matter of Time". In addition, they played the title track "Snowdonia" (after a false start and endearing self-deprecating jest) and "Taking Care of Eddy", which reads like a hopped-up take on XTC's "Making Plans For Nigel".
Sometime during the middle of the set, frontman John Paul Pitts set down his guitar, uncoiled the mic, deemed "Take It Easy" his favorite song, and made his way into the crowd to sing. He danced alongside fans armed with Snapchat-ready iPhones and at one point coyly stole a guy's hat and tried it on. It was here where he announced his fellow guitarist's twenty-sixth birthday, which the crowd celebrated with song later on.
Fan favorites populated the set, including "Swim" and "Floating Vibes" from landmark debut Astro Coast and "Demon Dance" from Pythons (2013).
Reappearing so quickly that it seemed they hadn't even made it up the stairs to the green room post-performance, Surfer Blood retook the stage to play a two song encore. It's a rather silly tradition of live music, yet it's a tradition nonetheless. They began their encore with "Gravity" and closed with "Anchorage" obliging the anonymous zealot championing the song (and probably most other fans).
Comments
comments