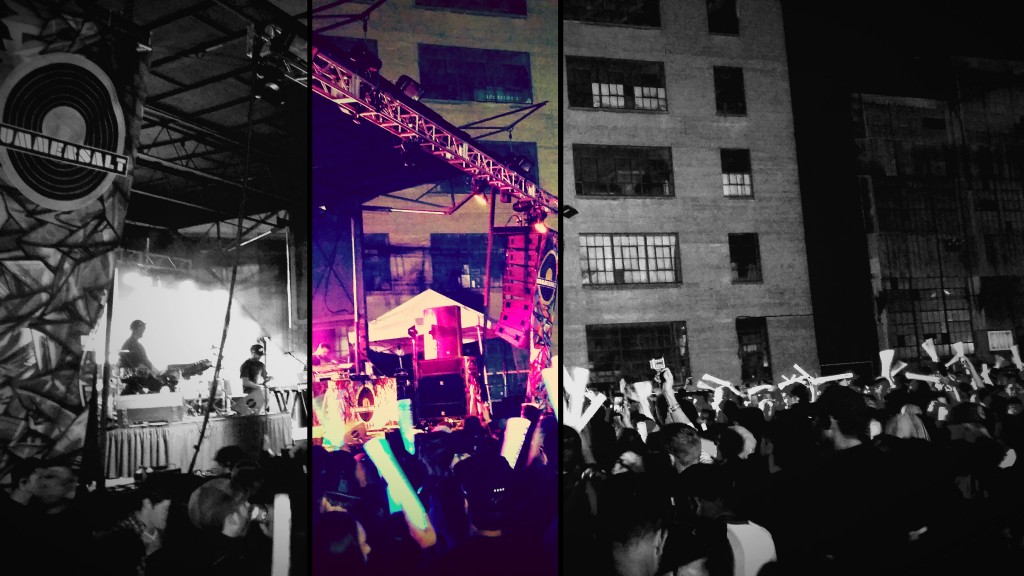 "Are the beach balls the only thing that make this feel like a festival?" William Benssussen (otherwise known as The Gaslamp Killer) confronted the crowd Saturday night at the third annual Summersalt Festival held by local party promoter, Eye Heart SF.
Those, alongside the promotional Vita Coco water and flashing lightsabers (courtesy of clubbing app Tablelist), the 30-minute wait times at food vendors, the on-site EMT, ravers, giant hamster balls, and live art exhibits certainly drove Summersalt 2014 to the top of Summersalt history.
Started in 2010, this year's festival boasted an impressive electro/hip-hop lineup and a relocation from a mid-city block party to a fenced-in and converted Pier 70. On two stages set against the backdrop of abandoned warehouses ("it looks like where they filmed Transformers," a friend commented), the day's showstoppers included Toronto-based DJ Grandtheft, Toronto trio Keys N Krates, local DJ Ana Sia, LA's Salva and The Gaslamp Killer. Rounding out the night were Bay Area homeboy G-Eazy and Colorado duo Big Gigantic.
We rolled into Pier 70 mid-afternoon, just before Grandtheft appeared onstage. A moderate crowd milled about the football-size enclosure, holding onto the final days of summer. Hula hoops and a photo booth bisected the grounds, but the acoustics bounced funny at the midway, creating an audio-bleed zone that averted people from the merch tent and live art display where local artists sprayed designs onto large wooden boards.
Grandtheft was the catalyst in drawing people to the Shipyard stage. Giving a shoutout to fellow Torontonians Drake and Kardinal Offishall, he stormed through a behemoth set — "Started From the Bottom," "0 to 100," "Anaconda," "Watch Out For This," Smalltown DJs collab "Flying," new edits of T.I. and Katy Perry, and Diplo collab "Summer" all made appearances — with his signature trap grinds and drills. He closed out by bringing partners-in-crime Keys N Krates onstage, teasing about a minute of their best-known anthem, "Keep it 100."
We sat down with the producer shortly after his set and gleaned some details about his mixing process and his upcoming projects. "A lot of the time, I have an idea and I'll just do it. I'll bootleg it." (Such was the case with "0 to 100," which Grandtheft dropped about a week after Canadian rapper Drake surprised fans with the single.)
Other times, it's more legit. "Nowadays a lot of things are sent to me officially, such as the Katy Perry and T.I. tracks I previewed tonight." He is a hyperactive performer at best, weaving relatively seamlessly from track to track, often not coming to a conclusive musical idea on his pieces. But for a tight hour-long festival set, this was the way to go. Both his existing and new followers will be delighted to hear that he's currently working on an EP via Mad Decent, which is being recorded on tour as well as at his Toronto studio.
The highest (no pun intended) point of the evening was, without a doubt, the appearance of local rapper G-Eazy (real name Gerald Gillum). It goes without saying that an artist's homebase has the craziest fans, and most of San Francisco came for and left after G-Eazy's set (sorry Big Gigantic).
Gillum brought at least a 15-person entourage with him, including good friend and collaborator Kyle, "Let's Get Lost" singer Devon Baldwin, and Gillum's mother. Still on tour for his June 2014 debut, These Things Happen, he was able to fit most of its best moments — including "Downtown Love," "Lotta That," "Let's Get Lost," "Almost Famous," and "Tumblr Girls" — into his allotted time before being bumped offstage, then called back for a three-song encore. He also shared that the album, as of last week, had sold 100,000 copies.
Gillum knew his territory and marked it Saturday night; needless to say, we felt incredibly sorry for The Gaslamp Killer pulling out all his stops at the Tourbus stage at the other end of the enclosure.
Although Summersalt has been around since 2010, this will only be its second consecutive occurrence, but the change of venue and growing recognition are promising indicators of great things to come. Eye Heart SF also hosts regular Winterfests, as well as a Blocktoberfest and an Eye Heart Halloween to look out for next month.
Article by Joanna Jiang
Photos by Kurush Dubash
Comments
comments