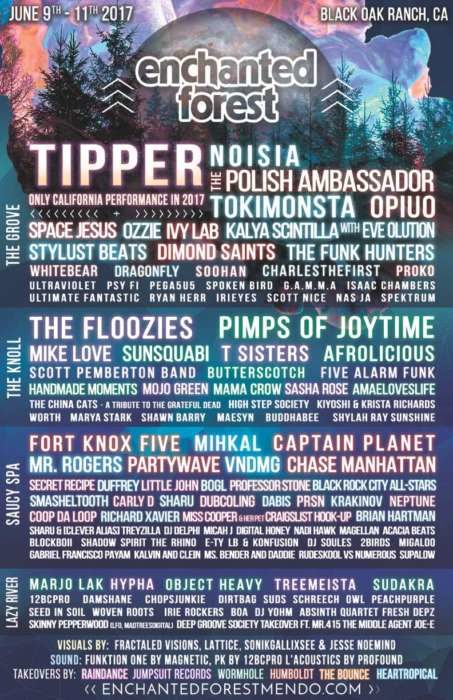 As Karl the fog begins his annual assault on the San Francisco coastline, blue skies and warm winds await us further north. As we cruise on towards the solstice, this weekend's Enchanted Forest Gathering (EFG) is a celebration not to be missed. Boasting what is arguably the most stacked lineup of the early summer, it's time to get saucy with our northern neighbors.
Set in a magical forest aside a stream in Mendocino County, the term "enchanted" can't be overemphasized enough. For those used to sweltering beneath full exposure and desert-like conditions, this festival may truly be a transformational experience for you. There will be ample opportunity to explore new environments, styles of movement, and states of mind as we collectively transition towards longer days and warmer nights.
The collection of artists and musicians set to perform is the essence to this environmental enchantment. Those who aren't familiar with the squishy sounds of Dave Tipper are overdue for some research; performances by this British maestro are sonic journeys that rarely grace American stages. His unique and experimental style is impossible to pin to one genre and almost every set features brand new music. Southern California's TOKiMONSTA is also headlining the bill and is one of the most inventive producers on the circuit. Her ability to masterfully deconstruct and rearrange everyone's favorite hip hop tracks on top of original beats is a gift to the genre.
For those who are still holding out against the rising tide of electronic music festivals, now is your chance to spread those wings and explore a little bit. The EFG team has whipped together a fabulous collection of funk and other live music sure to satisfy even the staunchest skeptics. Folk lovers will find their darlings in Handmade Moments, and Mike Love will satiate all with his reggae-inspired style. The Floozies, Pimps of Joytime, Afrolicious, and more will raise dust devils from off the dance floor as horns, strings, and electric noise ripple out and animate creatures of all forms and fancies.
Tickets are going fast, so grab them quick! We are thrilled to share this space and connect with you all this weekend and — as always — hope to see you on the dance floor.
Article by Conner Smith 
Comments
comments