Next to an overpass of the 101 Freeway in San Francisco is a music venue called the Brick & Mortar Music Hall. It is the evening of Easter Sunday, the day of Jesus' resurrection, yet in this darkly lit hall all that is being resurrected is the music of days past and premonitions into the future – the spirits of 60s rock, 70s psych, and 90s grunge-punk coming together, creating an evening filled with drowsy guitar rifts, echoing distortion, and seas of sonic possibility.
The first group to approach the intimate, cozy stage is a local SF band called Mystery Flavors. Considering themselves, "jangly pop trippers" they provide exactly what their name evokes – multiple flavors of old school 60s rock (especially The Monkees), hints of psych, and a few sprinkles of surf rock that all come together to create something that is unique and enjoyable. As their self-prescribed bio comments: The four piece imbues timeless song craft with meandering jams of stoned shoegaze, fuzz, and shimmering 12-string jangle. Songwriting and vocal contributions by all four members lend the group a versatility that does justice to their diverse range of influences, taking the listener on a trip through a musical rabbit hole. Though their set was only around thirty minutes long, and despite broken strings and continuous adjustments, I happily fell down their shimmying time-warp rabbit hole.
Following Mystery Flavors was Weaves. Hailing from Toronto, Canada, this band is a definite force to be reckoned with. Acknowledged by Rolling Stone in 2014 as a "Band to Watch", Weaves takes the age old genre of guitar driven rock and tries to reimagine worn out tropes, licks, and lyrics by "pumping them full of insanity" and bending expectations. Led by vocalist Jasym Burke, who takes cues from punk, jazz, and pop, the band's music is mesmerizing. As Burke shouts into the microphone in her dirty jazz-pop alto, her three other band-mates maniacally produce music that should not go together but magically does in some sort of crazed sonic explosion. Every song was like a bullet to my brain, Burke a giant walking over me. As their set ended, I was nodding in affirmation that I do want to take a ride on their motorcycle and will be following them closely, waiting to see what happens next.
"We don't want to necessarily identify with a scene, and I think our music holds true to that — it's a bit out there, no matter what kind of music you like" – Jasmyn Burke
The last band and headliner of the evening was Brooklyn based Sunflower Bean. I have been following Sunflower Bean for about a year after I accidentally came across their EP Show Me Your Seven Secrets (2015) online. Since then, the band has gained immense popularity with the release of their first full-length album, Human Ceremony (2016) that came out this February. Receiving accolades from sources such as Rolling Stone, Pitchfork, and NPR, the young, psychedelic-indie trio has begun to make a solid name for itself.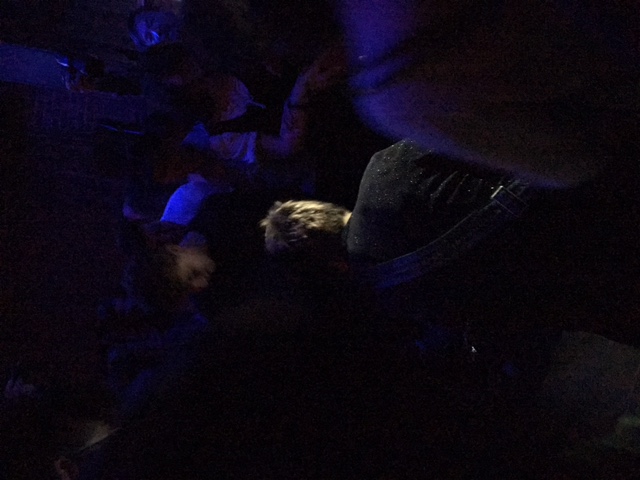 As the first palpable beats of "2013" oozed from lead singer and bassist Julia Cumming, an electric spell overcame the venue, and for the next hour time stood still and all that mattered were the trance-inducing jams that the band cast. During "Somebody Call A Doctor" the band went wild, forgetting the audience and merging themselves with their instruments; Julia jumped off stage and writhed on the floor of the audience with her bass (whereupon returning at the end of the song shouts "Goddamit" because she lost her aux chord). Every song was a demonstration of the band's unison and understanding of the need for neo-psychedelic rock in the digital age, something that steps outside the dominant domain of shoegaze transience that is enmeshed in their generation's drowsy ethos. Drummer Jacob Faber masterfully kept the complex beats and rhythms during the band's auricular build-ups and break downs while Julia moaned into the microphone or hunched over her bass strumming deep, drooling beats. Julia may be the face and voice of the band and Jacob the heartbeat, but guitarist Nick Kivlen is the soul and drive. Watching his long, thin fingers slide up and down the neck of his guitar in frenzied movements and produce the rich, distorted tone of Sunflower Bean was not only unexpected but awesome. The band has massive amounts of skill that I personally was not anticipating, and they are only going to get tighter and stronger as they get older. There is so much in store for Sunflower Bean, and I will wait in anticipation to see what they create next. Who knows, maybe they will live for ten thousand years.    
Article by Meaghan Allen
Comments
comments