Just off Telegraph Avenue, across from the perennially busy Whole Foods that dominates the Berkeley area, sits Savvy Rest Natural Bedroom, a worker-run, eco-friendly mattress store. Late on a Thursday night, a small group milled about, making small talk outside. Upon entering, one found a makeshift stage at an end of the store. Rolled-up blankets perched peacefully above light chestnut shelves. People poured over the large, cloud-like beds, drinking beers and laughing in the silence before the first set.
That's the typical setting of a Sofar, a global concert line dedicated to making the concert experience more intimate for audience members and artists alike. The network, originally created in London by co-founder Rafe Offer, now hosts events in over 300 cities across the world. The events are portrayed as unique musical experiences: they boast intimate venues (living rooms, rooftops, and office spaces, to name a few examples); quiet, pared-down sets by well-known artists; and an incredibly welcome environment to meet others interested in music.
To get into a Sofar — which stands for Songs From A Room — it's not as easy as buying a ticket. Audience members have to apply through the site, with no information about lineup or location. Dean Davis, the director of the Sofar Sounds SF branch, demystified the unique selection process, expressing that the group utilizes "algorithms" in the platform's backend to ensure a diverse blend of culture, race, gender, first-timers, and Sofar veterans at each show.
"Music is meant for everyone," Davis said in a phone interview with The B-Side. "It's not meant for a specific group of people. We want to build a supportive community in a [diverse] community that is proud of where they come from and where they live."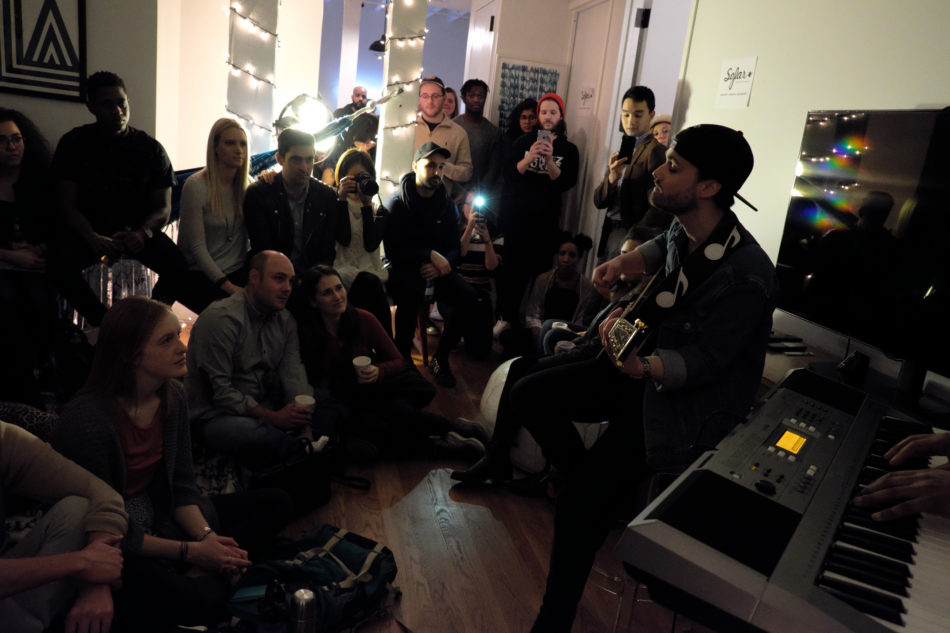 In addition to audience diversity, Sofar also aims to help people delve into music tastes they otherwise wouldn't explore. And that, Davis explained, was why the group refrained from adding a venue or lineup in advance — so that audience members wouldn't prematurely write off a band by looking up the group and deciding whether or not they liked its music beforehand. He stressed that "every artist should have the opportunity to be heard. There are no headliners at our shows."
And for their Berkeley show, that was very much the case. Zosia, an LA-based indie band, were the first to take the stage without any fanfare. Although a bit overdressed for the casual setting (most of the audience had been asked to take off their shoes at the door), the duo played a heartfelt set with nothing but a keyboard and mic, endearingly adding they had "burned CDs" to pass out for free.
When selecting artists to play their shows, Sofar aims to showcase talent integral to the local community. Largely, musicians are selected by volunteers who make up the sprawling "ambassador" network around the world. In fact, Sofar only consists of 40 full-time staff members; the rest of the team is made up of "ambassadors" — people who, according to Davis, want "to have the opportunity to book their favorite artists given the resources." Yet, despite having very little full-time staff, the multiple events they host per week run almost seamlessly. People in the Bay Area community clamor to host Sofar events, somehow leaving the entire booking process as organic as possible — a rarity in the often contrived music scene.
At the Berkeley event, it was clear that everyone who was in attendance truly wanted to be there. Following Zosia's set, almost nobody budged in the five-minute break before Soundcloud singer/songwriter Brent Faiyaz stepped to the mic. Recently finishing up collaborations with Soulection producers Dpat and Atu, as well as releasing his EP, A.M. Paradox (2016), last year, Faiyaz won over the audience with his substantial vocal chops in a bare-bones set. His rich, hip-hop-inspired refrains and Frank-Ocean-reminiscent falsettos were accompanied by only an acoustic guitar.
The night concluded with a performance by Oakland icons down2earth, a rap trio comprised of Dayvid Michael, Clyde Shankle, and AZURE. Playing into the vibrant East Bay energy, the three called for everyone in the mattress store to stand up and dance. Jazzy, upbeat production and the trio's playful flow scored the end of the Sofar show, as audience members and down2earth alike called out "all around the world" (a lyric from their song "DNA") into the drizzling Berkeley night.
Apply for your own chance to attend one of the 20 Sofar events across the Bay Area.
Written by Eda Yu
Comments
comments