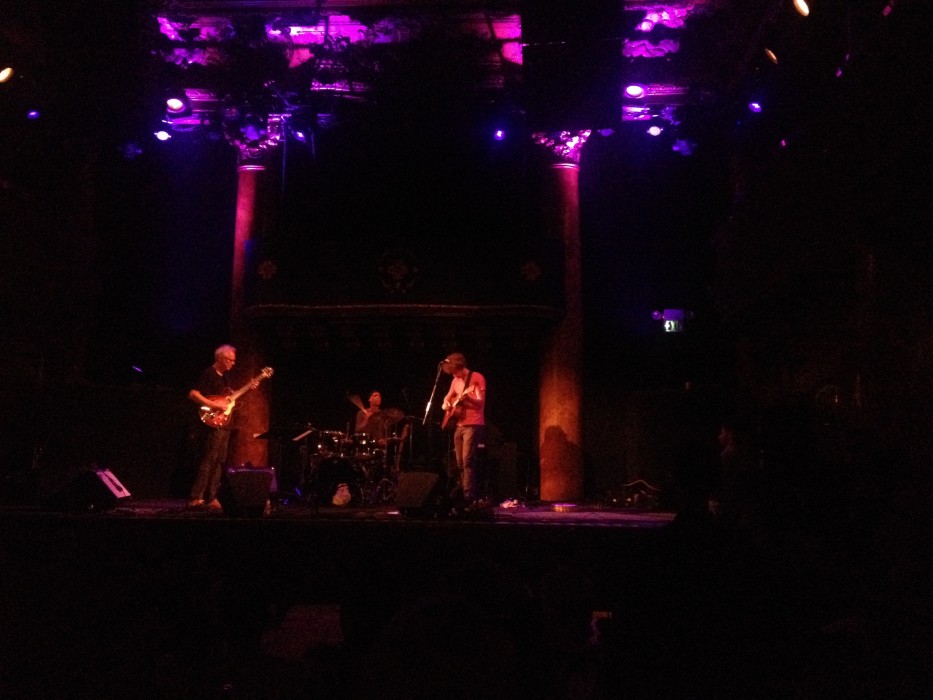 Folk artist Sam Amidon has jazzed up both his new record Lily-O (2014) and American tour with amazing guitarist Bill Frisell and bassist Shahzad Ismaily. Monday October 13th, they pleased their San Francisco audience at the Great American Music Hall. This was an evening with a rather unusual, but also refreshing sound from Amidon, whose tunes are best consumed in a live format avec experimental features.
"I have other musicians with me this time, so I have to tune my guitar," he told the audience, before starting out with "Blue Mountains." The venue was filled with an age-diverse audience sitting politely and stiffly around their tables. Amidon remedied this by inviting them to sit closer in front of the stage after finishing his first song, "else it is just like I am singing to an empty floor."
Frisell and Ismaily contributed to a jazzier feel than one regularly expects from Sam Amidon; together they lifted the pieces to new heights and gave the tunes an appropriately experimental vibe. Amidon also showed us his sarcastic side with a story about the former drummer of his band, a man by the name of Bruno Mars, constantly letting him down.
As a keen storyteller, he presented a scene where he was out in the snow during a cold day with a bottle of wine in his hand, when suddenly the "leaves changed shape into the faces you were trying to forget about." Amidon took the joke surprisingly far, but the audience seemed to enjoy his humorous banter next to the rather serious and often melancholically musical expression of his music.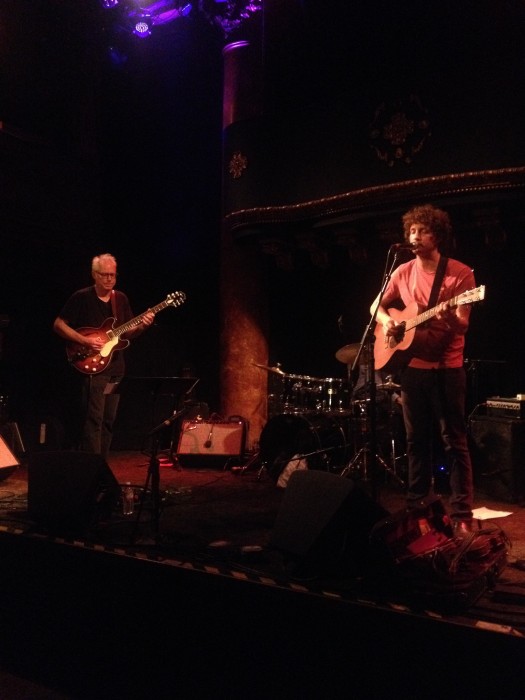 The jazzed-up live version of Sam Amidon was interesting, but comforting. The band came close to creating a few magical moments, and "Saro" was definitely one of them. Amidon's voice seemed to wear over the course of the show, but it added extra texture and character midway through. When Frisell further rocked up the show and filled the room with an electrifying guitar solo, my heart and soul relished.
The audience obviously wanted more of these subtly disguised folk tunes, and dragged Amidon back to the stage with their clapping. Thereafter, "Johnny Brown" was presented in a rawer and harder form than it normally is, topped with a seemingly improvised fiddle solo. The band finished again with a cover of "Wake Up Little Maggie" by Doc Watson, but the crowd was still not completely done for the night.
Amidon re-entered the stage for a second encore, and soon after the whole venue was humming peacefully to R. Kelly's "Relief." As the feeling of optimism about the future washed over me in the middle of the song somewhere, humorous Amidon added a "not" behind the second chorus line, and made sure none of us forgot that the world isn't actually as rose-red as Kelly portraits it, "but we can pretend that it is for now."
The night ended there, in a mix of thoughtfulness and jokes. With their set, Amidon, Frisell and Ismaily convinced us that music sounds best when it is performed live by skilled and soulful musicians. The live version of Amidon's recordings brought his material to a whole new level of beautiful symbiosis.
Article by Ane Skjølaas
Comments
comments