The extraterrestrial rock playgrounds of the Joshua Tree Retreat Center will serve as the location for what is sure to be this year's most auspicious celebration of the spring equinox– Serenity Gathering.
As one of California's premier boutique transformational festivals, Serenity draws together artists, vendors, and patrons of all walks to revel in oneness and foster the bonds of this intentional community. Despite the swelling profile of musicians year after year, the intimate spirit of this event continues to mature and manifest. The third annual installment, this year's line-up is the stuff of dreams with Shpongle, Emancipator, Nahko and Medicine for the People, Govinda, Phutureprimitive, Big Wild, Desert Dwellers, and Pumpkin featuring strongly.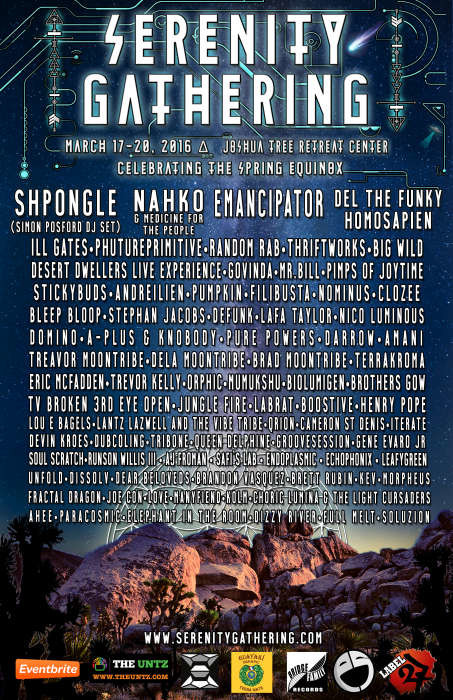 The Bay Area's own Thriftworks (Jake Atlas), smoldering off of latest Low Speed High Drag (2016), continues to develop West Coast bass music culture and will undoubtedly draw faithful followers to the dance floor. With the Moontribe crew, Desert Dwellers, and Terrakroma all on the bill, serenity nights will run deep with techno, trance, and transformation. And as always, festival veteran and sunrise master Random Ram will lead us into the light with his euphoric melodies from Awoke (2015).
In an industry where the term "World Music" is often as appropriated as the rhythms and rhymes it seeks to express, Nahko and Medicine for the People are a breath of fresh air. With members representing and expressing diverse cultural roots, their music exudes collaborative creativity where there is no one genre to which it can be prescribed. Fellow Oregonian of Nahko Bear, Douglas Appling (Emancipator) will challenge the California crew with vibrations that will transport us to the lush fern forests and soaring coastal bluffs of the north.
If the music isn't enough to incentivize you, there will be a bounty of workshops, teach-ins, and vendors willing to spark your interest and broaden your capacity of expression and experiential horizons. Beyond what the festival itself has to offer, the incredible surrounding environment will be equally stimulating. The night sky above Joshua Tree is a wonder to behold and will provide a celestial dreamscape for the events to unfold on the earth below where the lines between the built festival environments and the natural environment will be blurred.
Serenity Gathering will take place from March 17th-20th and tickets are still available.
Article by Conner Smith 
Comments
comments