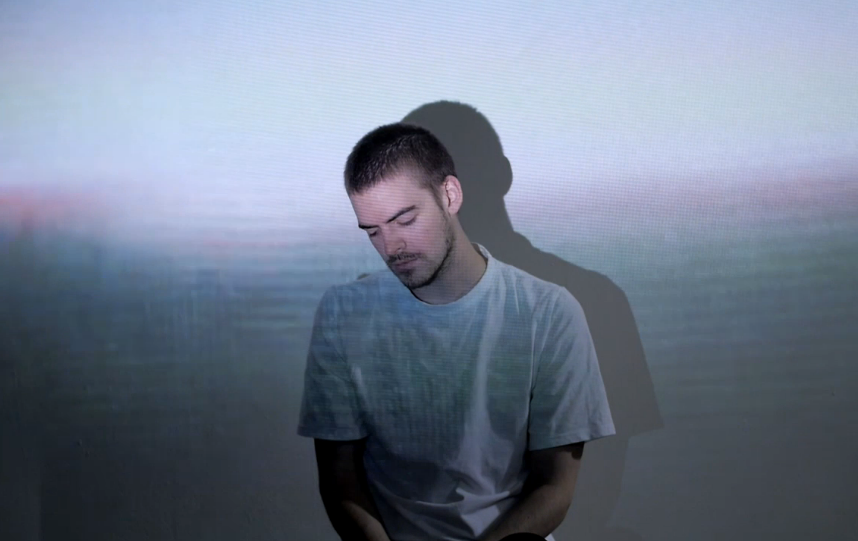 Ryan Hemsworth has a slightly unconventional backstory: from Halifax, Nova Scotia, the young Canadian producer studied journalism at University of King's College before signing to the prominent Last Gang Records months prior to debut release Guilt Trips (2013).
53 weeks later, Hemsworth is dropping his follow-up album, Alone for the First Time.
His time as a keen observer, not unlike many of us, makes him rather humble. He told VOGUE that his music was "happysad" — that it goes back to his first love for emo music. ("Emo" meaning emotional, not black hair and moody pre-teenagers as it is misinterpreted.) He acknowledges the minor tonality of his work, which is perhaps a stance against contemporary dance music. "Happysad" isn't a bad word for him.
Alone for the First Time was hardly a solo project — collaborators include Lontalius, Dawn Golden, Alex G, Kotomi, DOSS, GTW, and LIttle Cloud — and yet it is overwhelmingly introspective. The seven-track record spans approximately half an hour, spinning its listener into a remote winter cabin at a high enough altitude in which a short of breath could be attributed to a change in air pressure.
Or vertigo.
We remained glued to Boiler Room's pre-stream of Alone for the First Time last Thursday for most of its 24 hours, then spent the weekend suffering from withdrawal. (The stream was supplemented with a film by Brian Vo, looped about 45 times along with the album.) If you haven't yet heard lead single "Snow in Newark," listen now and understand — we haven't felt this way about an entire album in a long time.
Dearest Hemmy:
It's the ambient fuzz and bottle blown notes in "Newark;" it's the snowsqualls. It's the drills and soft handclaps; the "don't you hurt me" in weak microtones; the jazzy baby's mobile melody — the whimsicality of intro track "Hurt Me" and our inability to predict your next move. Did you have a child while we were gone?
We see toy houses, pretend families, domesticity. And Vo's clean, calm, but unexplained visual of a bedsheet being lifted from Hemsworth's head during the track is a sort of unabrupt awakening from the life we were once settled in; something's off this morning, but we can't quite place it yet.
Like the visuals, much of the album goes unexplained. "Walk Me Home" continues the musical mystery mansion with blurred vocals and the same curious bell twinkling. It is then clouded by a polarizing "I'll feel better if you walk me home," before the vocalist asks outright to be left alone. This lyrical tug and pull encapsulates most of the record. Alone for the First Time is distant, but in a way that makes the listener a contemporary dancer, bounding across its wide stage, reaching — clinging, then accidentally letting it slip away.
The attention to detail within jazzy windups and daycare melodies is exquisite — a simple downward-stepping motif in "Blemish" makes these two minutes of synth washes a great standalone, but also an excellent transitory piece into "Too Long Here," which rips us out of our white-picket-fence dreams. A creeping, harsh yet delicate pattern (again on glockenspiel or bells of some sort) watches over the song's stream-of-consciousness lyrics: "I met a kid on my trip / Told me to open my mouth / Is this life or am I / Did I figure it out? / Too long yet I keep to myself / I keep to myself / What did I say / I like it."
But it's hard to keep a record like Alone for the First Time out of the public's reach. Especially so when it goes out with a subdued bang (the only finale Hemsworth seems to know). Five minutes each, "Surrounded" and "By Myself" could not be more opposite in nature.
The former starts with an insistent "I need you / I need you / I need you / I need you," before relatively unknown Californian musician Kotomi joins in with an absolutely crystalline feature vocal.
"In the silence there was a sound / In this quiet, there was loud" progresses into the chorus hook of "I want to be surrounded by you," in conflict with the raw, urgent shuffle of "I need you" beneath. The space Hemsworth has created is suffocating, in a sort of light-headed, knees-weak way — with the shuffle, he's captured the flutters, the intimacy. The only visual we have here is vibrant, near-claustrophobic flashes of colour and light — thanks, Vo. As if Kotomi wasn't killing it enough from up top, Hemsworth then throws at us this coy, non-vocal come-and-get-it riff.
However, we'd be mistaken if we thought Alone would end in love. It's not a romcom; it's a happysad, remember? Its final tune is absolutely narcissistic. Deep jazz piano on half-time sixteenths precede pauses that instill a sense of impending doom.
"By Myself" is not a comforting track at all; not only is it narcissistic, it's almost parasitic… it gets under your skin. "You're into you / I'm into me / but into us / enjoying this company […] Kisses for the mirror / I'm just looking at myself / nobody else;" within the instrumentation, THE GTW can be heard dripping, grinning from the dark glossy bass production.
As a grand finale, "By Myself" sticks with the listener. GTW's rap bridge is fantastic, and we catch a glimpse of Hemsworth's musical roots in the shining cathedral of hip-hop production. It's here, at the end, that we come to the realization — "I'm by myself," with a heavy-lidded piano cadenza, supported by symphonic introspection.
Around 7pm PST on the Boiler Room stream, Vo wrote in the live chat: "This album gets better and better with every listen." We heard it at least ten times that day, and couldn't agree more. A salute to you, Hemmy and co..
His newly revealed Sucker for Punishment tour schedule include a 12/11 appearance with Tennyson at San Francisco's The Independent.
Article by Joanna Jiang
Comments
comments