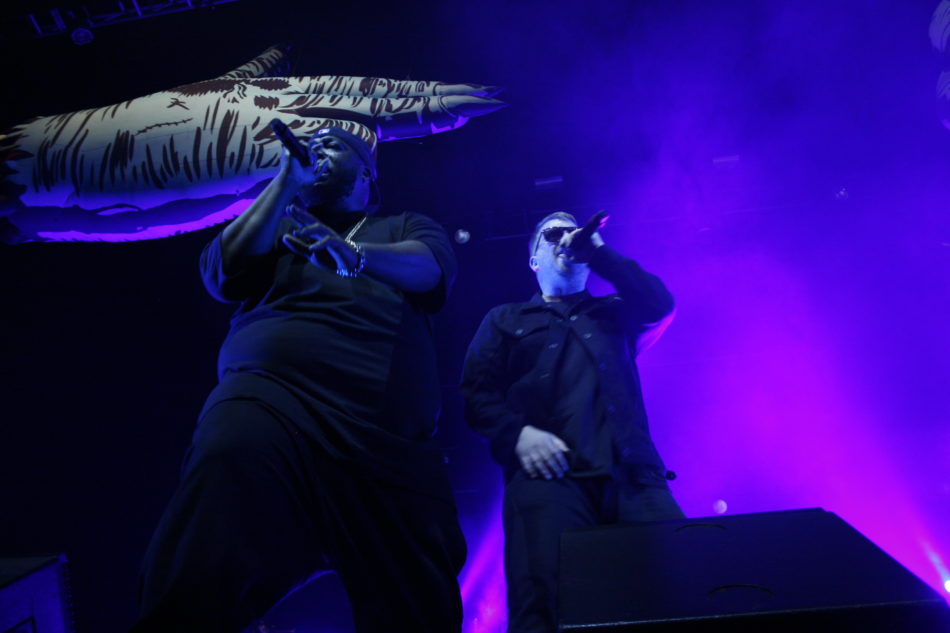 The destructive East Coast duo of Killer Mike and El P shook the Fox Theater in Oakland last Friday (2-3-17), to mark the halfway point of their "Run the World" tour. Run the Jewels is touring to usher in their most recent LP, RTJ 3, which dropped right before the New Year and is the third album in an impressive lineup of aggressive, thunderous hip hop.
The crowd erupted as the duo took the stage. With the first bass drop of "Legend Has It" to the last chant of "Lie Cheat Steal Kill Win," there was a persistent pace that drove the audience like a freight train with blown brakes. While most of the setlist contained tracks from RTJ 3 like "Live Ticketron" and "Don't Get Captured," Run the Jewels could not resist bringing out relics like "Close Your Eyes" and "Oh My Darling Don't Cry." Of course, it would never be a complete Run the Jewels experience without a little piece of the East Coast to accompany them. Gangsta Boo emerged on stage for "Love Again" enticing the entire crowd to scream some wholesome lyrics.  
Killer Mike is the perfect complement to El P. On stage together, both of them evoke an inspiring mix of anxiety, aggression, and hype into the audience. It is, in every sense of the word, electrifying to watch the two switch off from dense rhyme and flow to the trademark dance moves of Killer Mike under the shadows of a blow-up pistol and chain. The chemistry between these two performers is inexplicably beautiful to watch.
Run the Jewels is continuing their tour into the end of February as they wrap up in the East Coast. This tour is theirs for the taking and you need to get a spot on it while you still can. This is a live performance that needs to be experienced.  
  Photos and Content by Arnav Chaturvedi
Comments
comments