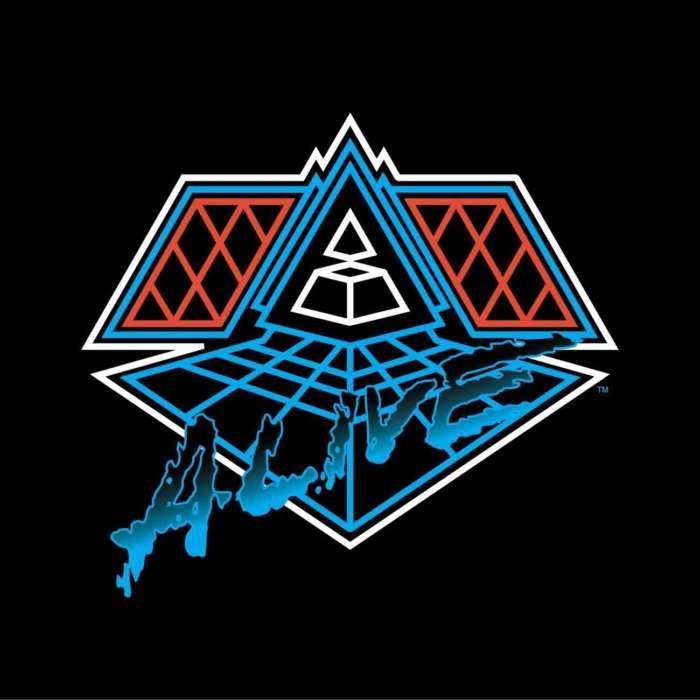 Looking at an artist's discography in retrospect, live albums often don't stand out as particularly important works. For fans, live albums are a nice bonus, a different take on music they already enjoy; but live releases aren't as widely listened to as studio albums. Sometimes, though, live albums stand among an artist's best work.
Daft Punk's Alive 2007 (2007) fits the bill, a masterclass in the concept of the live album that remains, ten years later, among the best work the French electronic duo has ever produced. Recorded on June 14, 2007, in Paris, France, as part of the group's "Alive 2006/2007" tour, Alive 2007 showcases the duo's originality, pairing songs from across their then-decade long discography into new arrangements, all presented with the quality of their studio work.
Daft Punk have never shied away from repurposing their own work. Prior to 2007, their discography consisted of as many live and remix/compilation albums as it had original studio albums. Even the duo's TRON: Legacy (2010) soundtrack got the remix treatment with the following year's TRON: Legacy Reconfigured.
Although Alive 2007 follows in the group's vein of remixing past work, it differs in how they go about it. No song stands on it's own – each track is a mashup of two, three, or even four of their songs, often pairing tracks from different albums. Some, like early track "Around the World/Harder Better Faster Stronger," are more interesting mixed than their individual studio versions, but others – such as "Touch It/Technologic" – remain better alone. Still, the album's misses come few and far between, and the low points are still infused with Daft Punk's infectious energy.
Alive 2007 isn't limited to Daft Punk's discography, either, incorporating tracks from two of Thomas Banglater's side projects – Stardust and Together – on "Human After All/Together/One More Time/Music Sounds Better With You," the ten-minute four-song showstopper that closes out the album. Other highlights include the euphoric "One More Time/Aerodynamic" and rapid-fire heavy-hitter "Prime Time of Your Life/Brainwasher/Rollin' and Scratchin'/Alive."
Alive 2007 represents the midpoint of Daft Punk's career to date, released ten years after their debut album, Homework (1997). Despite being comprised of earlier work, Alive 2007 is infused with some of the more futuristic sounds of their only studio album since (not counting the TRON soundtrack), 2014's synth-infused Random Access Memories. "Too Long/Steam Machine" sounds most like the group's later work, expertly working a synth-infused shine into mix.
Beyond the conceptual soundness of the album, Alive 2007 sounds incredible too, meticulously produced to feel, well, as alive as possible. The roar of the crowd doesn't just announce a song change, it becomes a part of the composition, engineered into the fabric of the music to create a visceral experience. Put on some colored lights in a big dark room, crank up the fattest speakers you own, and, without much effort, you may trick yourself into thinking that you're there, in Paris, rocking right alongside the robotic duo.
Of course it's not the same thing. But with the band's disinclination for touring (they haven't gone on tour since this release), it might just be as close as fans will ever get.
Daft Punk wasn't the first group to produce a must-hear live album, and they certainly won't be the last. But in this millennium, where the list of "artists you have to see live" is a short one and many genres aren't well-suited for live viewing, hearing a live album as innovative, original, and timeless as Alive 2007 shouldn't be taken for granted.
Written by Jordan Aronson
Comments
comments