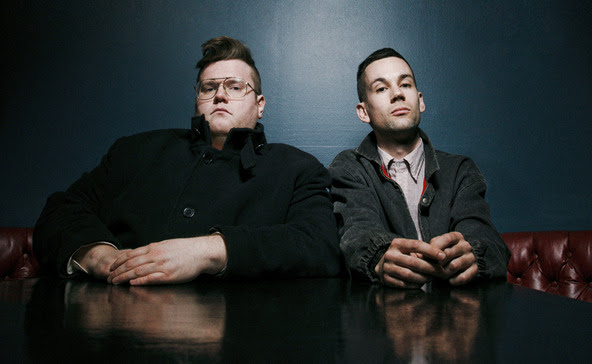 PS I Love You's third album, For Those Who Stay, out July 22nd via Paper Bag Records, will certainly warrant the Canadian indie rock duo yet another Polaris Prize nomination.
Fronted by multi-instrumentalist Paul Saulnier and backed by drummer Benjamin Nelson, PS I Love You is a combination of all good things indie rock: vocals with a slight uptalk and a Brit-pop quality, distorted guitar in the lo-fi style, and a bulletproof wall of percussion. These features transform the band into a tour-de-force on their new album and perhaps, with regards to the Polaris Prize, this third time will be a charm.
For Those Who Stay gets off to an enthusiastic start with the coastal "In My Mind At Least." Saulnier perks up the end of each title phrase like a diva, singing: "In my mind, in my mind at least-ahhhhh." This unconventional lilt makes the track ridiculously catchy, similar to the effect of Tom DeLonge's annunciation for his post-Blink-182 rock unit, Angels & Airwaves.
PS I Love You's characteristic fuzzy layers of guitar and bass appear most prominently on "Advice" and "Limestone Radio," while the atmospheric sound they explored on Death Dreams (2010) really comes to form on other tracks, such as title and lead single, "For Those Who Stay." This mellow, moving piece we first heard in early May is, as its title states, "for those [fans] who stay[ed]." The title also seems to play to the fact that the track comes to a false, fading close at the 3:15-mark but surprisingly progresses into an instrumental just as long –- clocking in at six minutes altogether.
We're particularly impressed by the floating intro to "Afraid of the Light;" until now, we didn't know PS I Love You could do this sort of unrestrained, atmospheric rock. The first minute is like exiting Plato's cave –- the expansive sound renders a sound incredibly new for PS I Love You. Another shining moment can be heard on "More of the Same," which begins by provide more of the same noise-rock and classic guitar licks as preceding "Friends Forever," but then softens into a rock ballad two minutes in.
We wouldn't have anticipated it, but For Those Who Stay steers PS I Love You into a post-punk revival sound that, upon hearing, seems like the only appropriate direction for the band to progress. Stream it now via Pitchfork.
Comments
comments