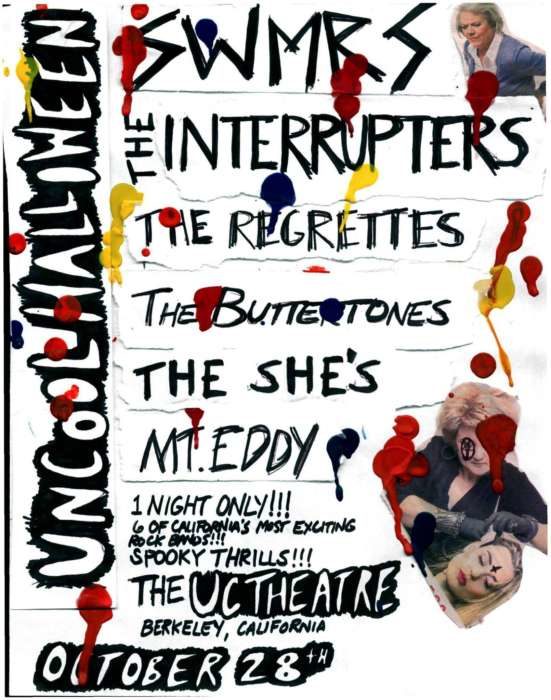 SWMRS are returning back home to the Bay Area bringing punk sounds to liven up Halloween weekend. The event is their second annual Uncool Halloween fest at the UC Theater in Berkeley on Saturday, October 28. Uncool Halloween is a special show on the band's farewell tour for their album Drive North (2016).
The set list includes all California-based bands: The Interrupters, The Regrettes, The Buttertones, The She's, and MT. EDDY. 
Last October, SWMRS got signed to the American record label Fueled by Ramen, who re-released their Drive North album with two additional songs. SWMRS just returned from headlining a tour across the U.K., and are now concluding their farewell Drive North tour back home on the West Coast.
The Interrupters are a Los Angeles-based ska punk band. Their sophomore album, Say it Out Loud, was released in June 2016 and produced by Tim Armstrong. The Regrettes are a punk rock band who released Feel Your Feelings Fool! on Warner Bros. records this past January. Alt-rock band The Buttertones hail from L.A., and released their album Gravedigging in March 2017. The She's are a band from the Bay Area, anticipating to release their record this November. MT. EDDY, formerly Jakob Danger, released their album Chroma this past June under the label Uncool Records.
Costumes are encouraged at this show!
Hosted by The UC Theater, the show is less than twenty dollars and all ages. Additionally, The B-Side is doing a free ticket giveaway. For more information on how to enter the ticket giveaway, follow The B-Side's Facebook page for details and updates.
Written by Celia Davalos
Comments
comments